Description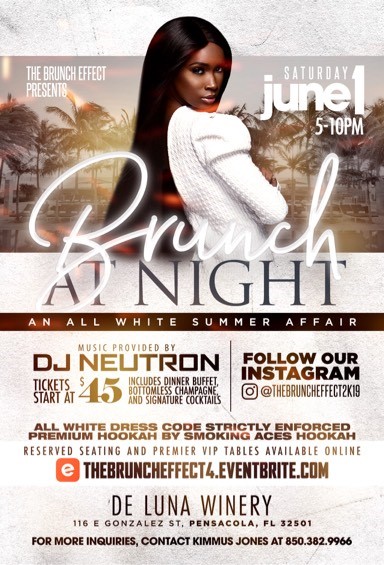 The Brunch Effect presents BRUNCH AT NIGHT. We are bringing you an ALL WHITE summer affair with the same party that you have already grown to love. Now is the time for you & your squad to come dripped in ALL WHITE to celebrate summer in style the evening of June 1.
What: The Brunch Effect! We will offer a full Dinner & Brunch Buffet, Bottomless Champagne and Bottomless Signature Cocktails. Music curated by DJ Neutron. Buffet provided by C6 Celebrations. Hookah Catering by Smoking Aces Hookah. Event Decor by Everything Events. Commerative Drinkware by Everything by Ruth.
Dress Code: ALL WHITE! STRICTLY ENFORCED!
When: Saturday, June 1, 2019 5:00pm-10:00pm
Where: De Luna Winery, 116 E. Gonzalez Street, Pensacola, FL 32501
How Much:
$50 General Admission
$300 Reserve Seating Table (For 6)
$400 Premier VIP Table (For 6)
***EARLY BIRD SPECIALS UNTIL MAY 1...GET YOUR TICKETS EARLY***
We are Social! Follow us on Instagram @thebruncheffect2k19, be sure to TAG US & use #thebruncheffect2k19
RAIN or SHINE it's going down!
For questions or to setup payment contact us via DM on Instagram or call/text JB at 412-290-5817.
We are CashApp and Paypal READY.
CashApp: $thebruncheffect