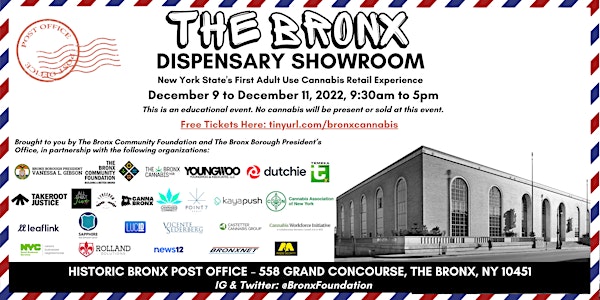 The Bronx Dispensary Showroom - a cannabis retail pop-up experience
This is the first-of-its-kind retail dispensary education experience as New York prepares to open our adult use cannabis retail market.
When and where
Location
The Bronx Post Office 558 Grand Concourse The Bronx, NY 10451
About this event
The Bronx Community Foundation and The Bronx Borough President's Office, in partnership with organizations helping to propel the New York cannabis industry forward, is launching "The Bronx Dispensary Showroom - a cannabis retail pop-up experience."
This event will be the first of its kind in New York State to provide an end-to-end retail dispensary education experience (a built out dispensary), a workforce development fair with organizations who can provide training and jobs in the industry, along with a speaker series of state and local officials, community groups and professionals providing education on social equity, advocacy and overall opportunities in the cannabis industry.
This event emphasizes combating the stigma associated with cannabis, advocacy needed to support social equity in the industry and discuss opportunities the industry provides to build generational wealth in the Bronx and beyond.
Event Dates: Friday December 9, Saturday December 10 and Sunday December 11
Time: 9:30am - 5:00pm
Place: The Bronx Post Office - 558 Grand Concourse, The Bronx, NY, 10451
No cannabis will be present, allowed or sold at this event. You must be 21 years of age or older to enter the event. Only bottled water or snacks (e.g. chips) will be allowed on site. No other liquid or food will be permitted in the building. Please also dress warm.
Be sure to attend the trainings and workshops offered throughout the event:
Friday, December 9, from 11:00 AM - 5:00 PM
Legal Cannabis, Workfor & Regulations
11:00 AM - Introduction to Cannabis Workforce Development and Cannabis and Transferable Skills - Tiffany Walters, New York State Cannabis Connect (NYSCC)
11:30 AM - Introduction to New York State Department of Labor CEED Team
12:30 PM - Legalization of Cannabis
2:00 PM - Basic Regulations of Cultivation/Processing/Retail
4:00 PM - 5:00 PM - Networking
Saturday, December 10, from 9:30 AM - 5:00 PM
Cannabis the Plant, Advocacy, and Retail Business
9:30 AM - Welcome with TakeRoot Justice and All That Jive NYC
9:45 AM - PANEL: The intersectional harms of prohibition and why we must fight for social equity Facilitated by: Liz G, BlueDream Radio, Panelists: Carmen P, (Bronx Defenders organizer), Michele Fields (Mary Jane Consulting Group), Juan N (NorthWest BX organizer), Damian Fagon (Office of Cannabis Management), and NYC NORML
11:00 AM - Business formation workshop with CUNY Law, ICA Group, Cooperative members
1:15 PM - Overview and retail opportunities with Cannabis Workforce Initiative (CWI), Hospitality Pathways, and Department of Labor
2:45 PM - Workers' Rights with CWI
3:55 PM - Cannabis Plant Science and Terpenes with CWI
Sunday, December 11, from 9:30 AM - 5:00 PM
Legal Cannabis, Job Training, and The Science
9:30 AM - Introduction to Cannabis Workforce Development and Cannabis and Transferable Skills with New York State Cannabis Connect
10:00 AM - Introduction to New York State Department of Labor CEED Team
11:00 AM - Cannabis Plant Science Terpology, David Serrano (CWI)
1:00 PM - SOS: Safe, Organic & Sustainable Cannabis Cultivation with The New Grow Center
2:45 PM - Niche & Networking with Queen Mixxy/Cultivate Community Foundation
3:45 PM - Mock Interviews with Scheril Murry Powell, JustUs Foundation
4:30 PM - 5:00 PM - Networking
-------------
Important Disclaimer: The goal of The Bronx Dispensary Showroom is to educate potential regulated operators and interested parties about the operational aspects of a compliant retail dispensary business through the creation of a dispensary replica (with no cannabis present) using all currently available state laws, regulations, and guidance provided by the The Office of Cannabis Management (OCM). Visitors (who must be 21+) should note that the Pop Up is only a replica dispensary for educational purposes. The information in this pop-up is based on proposed regulations, current guidance, and MRTA, and such information is subject to change. The regulations are in draft form and are subject to an ongoing comment period where OCM is accepting comments regarding suggested changes. Further, for operational aspects not currently covered by applicable laws or regulations, the information displayed will be based on best practices in other regulated markets and is also subject to change.
-------------
La Fundación de la Comunidad del Bronx y la Oficina del Presidente del Condado del Bronx, en colaboración con organizaciones están ayudando a impulsar la industria de Canabis en Nueva York en lanzando "Sala de Exposición de Dispensario del Bronx- una experiencia en la venta del Canabis"
Este evento será el primero de su tipo en el estado de Nueva York en brindar una experiencia educativa integral sobre la venta en dispensarios (detalles de dispensarios), una feria de desarrollo de la fuerza laboral con organizaciones que pueden brindar entrenamientos y empleos en la industria, junto con una serie de oradores de funcionarios estatales y locales, grupos comunitarios y profesionales que brindan educación sobre equidad social, abogacia y oportunidades generales en la industria del canabis.
El evento va ser desde Viernes, Diciembre 9- Domingo Diciembre 11 de 9:30am a 5:00pm en la Oficina Postal Historica del Bronx, Bronx Post Place, 149th Street Grand Concourse, Bronx, NY.
No habrá Canabis presente, permitido, o a la venta en el evento.
Este evento enfatizara en como combatir el estigma asociado con el canabis, la abogacia necesaria para apoyar la equidad social en la industria y analizar las oportunidades que brinda la industria para generar riqueza generacional en el Bronx y más allá.
La oficina postal del Bronx es un edificio histórico y, como tal, no habrá comida ni bebida presente en este evento. Por favor, vistense para el frío.
------------
NOTICE OF FILMING AND PHOTOGRAPHY:
When you enter The Bronx Dispensary Showroom ("BDS") event, you enter an area where photography, audio, and video recording may occur.
By entering the event premises, you consent to interview(s), photography, audio recording, video recording and its/their release, publication, exhibition, or reproduction to be used for news, web casts, promotional purposes, telecasts, advertising, inclusion on websites, social media, or any other purpose by BDS and its affiliates and representatives. Images, photos and/or videos may be used to promote similar BDS events in the future, highlight the event and exhibit the capabilities of BDS. You release BDS, its officers and employees, and each and all persons involved from any liability connected with the taking, recording, digitizing, or publication and use of interviews, photographs, computer images, video and/or or sound recordings.
By entering the event premises, you waive all rights you may have to any claims for payment or royalties in connection with any use, exhibition, streaming, web casting, televising, or other publication of these materials, regardless of the purpose or sponsoring of such use, exhibiting, broadcasting, web casting, or other publication irrespective of whether a fee for admission or sponsorship is charged.
You also waive any right to inspect or approve any photo, video, or audio recording taken by BDS or the person or entity designated to do so by BDS.
You have been fully informed of your consent, waiver of liability, and release before entering the event.
-------------
AVISO DE FILMACIÓN Y FOTOGRAFÍA:
Cuando entra al evento The Bronx Dispensary Showroom ("BDS"), entrara a un área donde se pueden realizar fotografías y grabaciones de audio y video.
Al entrar a las instalaciones del evento, acepta entrevistas, fotografías, grabaciones de audio, grabaciones de video y su lanzamiento, publicación, exhibición o reproducción para ser utilizadas para noticias, transmisiones web, fines promocionales, transmisiones por televisión, publicidad, inclusión en sitios web, redes sociales o cualquier otro propósito por parte de BDS y sus afiliados y representantes. Se pueden usar imágenes, fotografías y/o videos para promover eventos similares de BDS en el futuro, resaltar el evento y exhibir las capacidades de BDS. Usted libera a BDS, sus funcionarios y empleados, y a todas y cada una de las personas involucradas de cualquier responsabilidad relacionada con la toma, grabación, digitalización o publicación y uso de entrevistas, fotografías, imágenes de computadora, videos y/o grabaciones de sonido.
Al entrar a las instalaciones del evento, renuncia a todos los derechos que pueda tener sobre cualquier reclamo de pago o regalías en relación con cualquier uso, exhibición, transmisión, transmisión web, televisión u otra publicación de estos materiales, independientemente del propósito o patrocinio de tal uso, exhibición, transmisión, transmisión web u otra publicación, independientemente de si se cobra una tarifa de admisión o patrocinio.
También renuncia a cualquier derecho de inspeccionar o aprobar cualquier foto, video o grabación de audio tomada por BDS o la persona o entidad designada para hacerlo por GDS.
Se le ha informado completamente de su consentimiento, exención de responsabilidad y liberación antes de ingresar al evento.