About this Event
When we hear the word, "Extracurriculars" in Australia, we often think of sport, music or a school activity such as debating.
While there is great value in these activities, there are so many more amazing extracurricular opportunities for students to discover!
These opportunities can help students deepen their learning, find their passion and influence their decisions and pathways for years to come.
The Extracurricular Summit has just been run in Melbourne and Sydney to fantastic feedback from students and parents! The event is ideal for students in Year 7 and above.
SCHEDULE:
10:30AM: Arrival
10:45AM : An Introduction - Rethinking Extracurriculars
11AM-12PM: COMMUNITY IMPACT SUMMIT
The power of the student voice
Fundraising for a cause
Creating a lasting legacy
PANELISTS INCLUDE: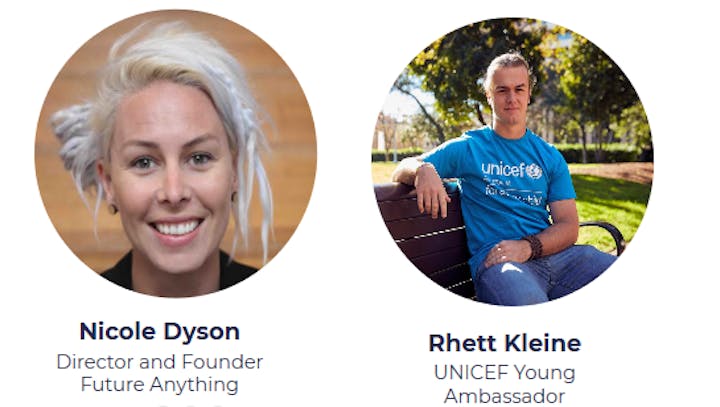 Founder & Director of Future Anything - Nicole Dyson
ABOUT NICOLE DYSON
Nicole is a globally recognised expert and practitioner in project-based learning and student entrepreneurship and is the founder of Future Anything, an award winning, curriculum aligned entrepreneurship program for high school students. She also represented Australia as a delegate for the G20 Young Entrepreneur's Alliance, held in Argentina in 2018.
As a teacher in the USA, UK and Australia as well as a Head of Department and Head of Year at some of QLD's top performing public schools, Nicole has repeatedly led the design and implementation of whole school changes to support future ready learning; placing young people at the forefront of co-designing solutions.
As the Director of Future Learning at Education Changemakers, Nicole leads the (re-)development of 'Future Ready' curriculum with teaching teams nationally and internationally; empowering educators to design learning experiences that tangibly link learning to life.
UNICEF Youth Ambassador - Rhett Kleine
ABOUT RHETT KLEINE
Rhett is a UNICEF Young Ambassador who is currently studying Photojournalism and Psychology in hopes of pursuing a career reporting on big issues as the backdrop to individual stories. He works casually while studying as a disability support worker. Throughout his schooling career, he enjoyed a plethora of extracurricular activities, including service opportunities such as Rosie's, Relay for Life and Worlds Greatest Shave as well as playing in rugby, cricket and debating teams.
He finished at Toowoomba Grammar as Vice-Captain of service, coordinating service projects across the senior school. He believes that a well rounded education includes a wide range of extra-curricular activities to allow young people to develop life skills outside of the classroom.
12PM-12.30PM: SHORT LUNCH BREAK & STUDENT NETWORKING
12.30PM-1.30PM: ACADEMIC EXCELLENCE SUMMIT
Developing your academic interests beyond the classroom
Finding inspiration and like-minded students
Competing on the world stage
Panelists include: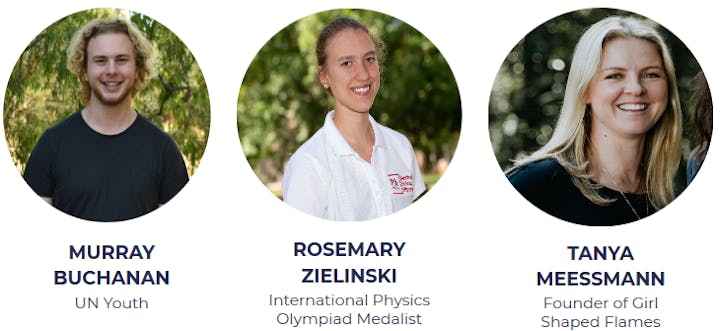 UN Youth - Murray Buchanan
ABOUT MURRAY BUCHANAN;
Murray is a long-time volunteer with UN Youth Australia, having served on the Queensland and National Executive Committees. He is currently in his 5th year of an Arts/Law degree at the University of Queensland, with arts majors in international relations and economics. Murray is passionate about the intersection between rule of law and development, having spent a year interning with the Indonesian government whilst on exchange as a New Colombo Plan scholar. He hopes to pursue a career in this field when he graduates.
International Physics Olympiad Medalist - Rosemary Zielinski
ABOUT ROSEMARY ZIELINSKI
Rosemary had the privilege of being part of the Australian Physics Olympiad team for 2019, which this year went to Israel to compete. From learning about really interesting physics, to travelling the world and meeting like-minded students, Rosemary now plans to pursue physics further at university, and aspires for a career in the field.
Founder of Girl Shaped Flames - Tanya Meessmann
ABOUT TANYA MEESSMANN
Originating from regional Yeppoon, Tanya Meessmann is an internationally-experienced Communications, Branding and Film professional and the founder of Girl Shaped Flames: a Brisbane-based social enterprise connecting Secondary girls with Extraordinary Women across a variety of industries for experiential opportunities that help them identify the fire within, and break through limitations to reach their full potential. Over the past 2 years she has connected over 2500 girls, parents and educators with over 180 strong, female role models through more than 60 live events across the state.
1.30PM-2PM: DEVELOPING YOUR EXTRACURRICULAR PROFILE (Workshop)
Balancing Out Your Extracurriculars
Student Case Studies - Social Entrepreneurship at its best!
The summit is free to attend but we will be accepting gold coin donations with proceeds going to Yalari, a not-for-profit organisation offering secondary education scholarships at leading Australian boarding schools for Indigenous children from regional, rural and remote communities.
BECOME AN EVENT AMBASSADOR!
Students, leadership roles are everywhere - even here! Become an Event Ambassador and you could win a fantastic merchandise pack! Use the ticket order form to show your interest and Crimson staff will be in contact soon.
VENUE:
The Summit will be held at the QLD Multicultural Centre in Kangaroo Point (below). There is ample parking which is free to the public.