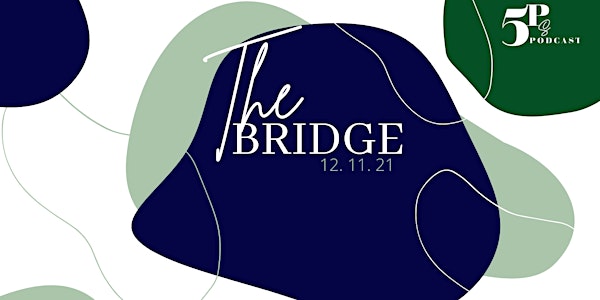 The Bridge: 2022 Purpose Planning For Leaders and Entrepreneurs
This will be a fun, faith-filled event, aimed to provide you with tools to stay on track with your goals, faith, fitness, family and friends
About this event
Do you want to connect with like-minded leaders?  This is the event for you. The purpose of the event is to bring together dynamic leaders who range from career professionals to entrepreneurs while fostering a community of courageous, bold, faith-led, change agents. 
The goal is to share tools and tips on how to align to purpose, accomplish goals, and stay motivated.  During the event, you will hear from speakers from across America who will share their journeys to success. You will be able to participate in an open forum where you can ask questions and share things that have helped you in life. 
You don't want to miss it!
Purpose Planning Workshop:
Understanding Goal and Purpose
Breakout Planning Session
Defining Your "P": Purpose, Prayer, Productivity, Pressure, Possibilities
Keynote Speaker Topics:
Courageously Becoming
Finding Balance In All Areas
Transformative Leadership
Round Table:
How Will You Win in 2022?
About Our Speakers:
Sylvia MateKole
Sylvia MateKole works for a leading healthcare organization and has for accountability for developing and executing upon strategies to transform the experiences of customers and their health and wellness through the delivery of enhanced technologies, and the application of customer insights to improve care. Prior to her current role, Sylvia served as the program leader for clinical products and advocacy programs that were targeted at improving the wellbeing of health plan members. Sylvia is dedicated to delivering programs that drive value and promote health and wellness while advancing health equity. Sylvia has over 20 years of healthcare experience and has held various operational and strategic leadership positions in managed healthcare.
Sylvia earned a bachelor's degree in Law and International Studies from Coventry University (United Kingdom) with study in International Development at the University of Aalborg (Denmark). She has an MBA in Healthcare Management from Concordia University and is PMP certified.
Sylvia has served as a mentor to local high school students through the BestPrep organization since 2013 and she has supported youth growth and development through her local her son's Boy's Scout troop by serving on the Eagle project review board.
Sylvia lives in the Twin Cities, MN with her husband and their two beautiful boys.
Stevonne Fuller:
Stevonne is a proud MBA graduate of high honors from the illustrious Florida A&M University. Through my work as a podcast creator and host, I have been able to use my passion for effective communication, encouragement, and all-around self-love to empower people to live their best life in 30 countries and territories around the globe.As a wife, mom and entrepreneur, I am all too familiar with the expectation to wear the cape and play the role of superwoman to everyone in your life. Trying to carry the burden of being a superhero and a busy mom is tough and puts us on the path of burnout faster than a speeding bullet. My podcast, the Antithesis of Superwoman has provided a platform for me to be a worldwide advocate for redefining genuine success through self-love, balance, and healing. Join me in the movement of dropping the cape!