About this Event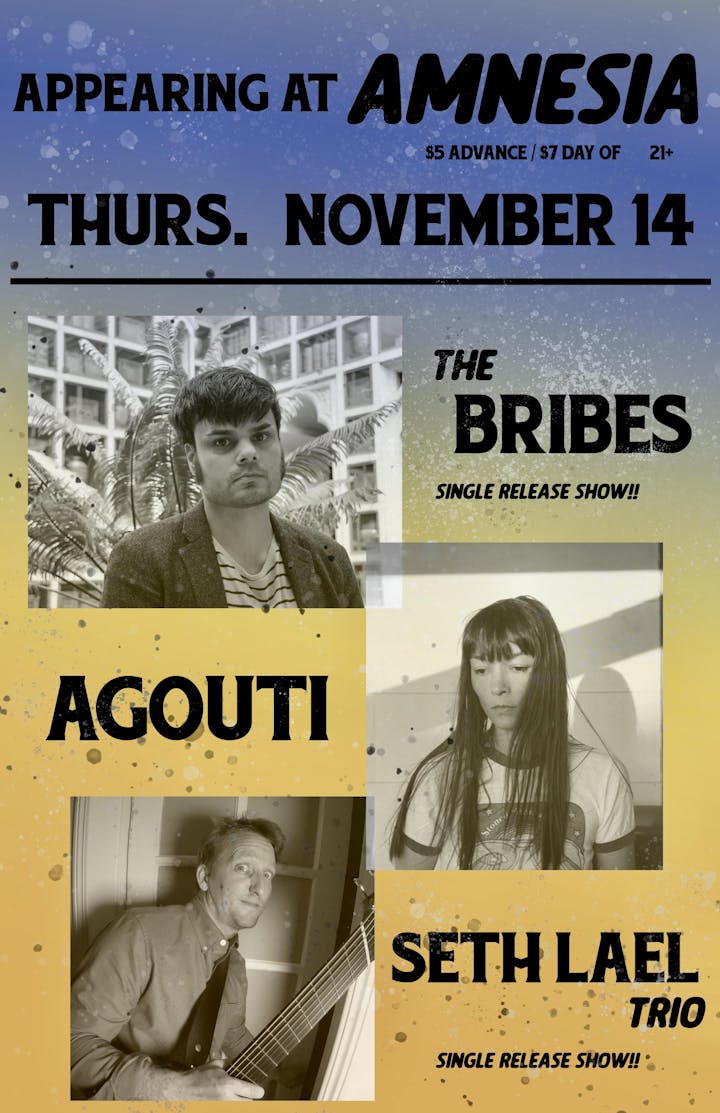 The Bribes
With The Bribes, Philip distills the urgency of early rock n' roll and the majestic drama of classical music into an aesthetic that's both earthy and elegant. For Philip, the primal punch of Chuck Berry is just as valid as the ornate compositions that makeup the Baroque music canon. "People like John Lee Hooker and Chuck Berry were unabashedly themselves—you don't need music theory as long as you have essence and color," Phil, who is a self-taught musician, shares.
The album's evocative first single, "Wawona Ranch," slowly unfolds, traversing melancholy 1960s garage-ballad territory, raucous rave-up classic rock, and vaguely Eastern-flavored musical modalities. The span is like a mini Queen epic, and, lyrically, it's a portal into an emotionally candid dialogue between Philip and an imaginary friend named Felix. "Wawona is the street I live on in San Francisco. The name is a metaphorical representation of the realizations and truth I've found in my nighttime walks and contemplations," he details.
Agouti
Agouti is a psychedelic rock band that surfaced from songwriter and producer Carmen Caruso after a trip to Costa Rica's cloud forests. Escaping from chronic fatigue and dysfunctional routine, she ruminated on what to do next. Caruso realized many of her musical facets - early experiences in choir, infatuation with 60s and 70s rock, forays into building new instruments, and making experimental music - all oscillated around psychedelic rock.
When Caruso returned home to San Francisco, she started down a path to produce her own brand of psychedelic music. She created a recording studio in her basement, gutting the entire room and rebuilding it into a soundproof space. She fixed up a 70s bass amp, a 4-track reel-to-reel, and a vintage mixer. Finally, she began writing a new set of songs. Agouti's debut album 'Nodes' has been featured in Happy Mag, Brightest Young Things, The Bay Bridged, and included in KQED's Mixtape of up-and-coming psychedelic bands.
Seth Lael
Hailing from the sunny California shores of San Francisco, singer/songwriter and multi-instrumentalist Seth Lael has firmly established himself as a must-hear artist. With his distinctive combination of alternative folk, experimental pop, and a dab of Americana, Seth's music is winning adoring fans from around the globe. With his equally intimate and playful work on the guitar, mandolin and banjo reminiscent of Punch Brothers, and lyrical imagery akin to Iron & Wine, Seth lovingly alludes to his musical influences all while blazing his own path forward.
Performers
Date and Time
Location
Refund Policy