The Bremen Town Musicians - Psappha and Enrica Sciandrone ENLIGHTEN Manches...
Description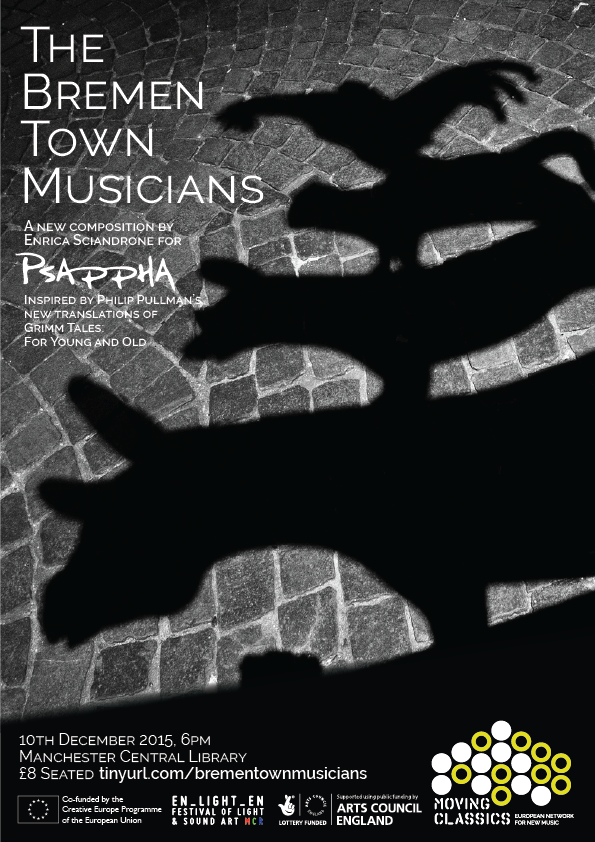 A new musical and live illustration work from Enrica Sciandrone inspired by Philip Pullman's new translations of the Brothers Grimm for Psappha Ensemble.
Curated Place and Moving Classics present the Premiere of "The Bremen Town Musicians" a new music and live animation work by Enrica Sciandrone for Psappha Ensemble as the launch concert of Enlighten Manchester Festival of Light and Sound Art.
Celebrated film composer Enrica Sciandrone has spent 2015 as Moving Classics composer in residence with the leading new music ensemble, Psappha. Inspired by author Philip Pullman's new translation of the Brothers' Grimm fairy tales (with Pullman's full support) she has created a new suite of works bringing "The Bremen Town Musicians" to life, drawing on her experience of storytelling through music for the moving image.
Throughout the development of the piece Sciandrone has also worked with illustrator and animator Louise Wilde and a/v expert Nick Malbon to create a multi-projection visual performance around the musicians and audience. A striking combination of new music and live illustration will see the ensemble progressively grow as the performance traces the journey of the irrepressible donkey, dog, cat and rooster seeking freedom making for a playful and fitting climax to an exciting experimental evening.
Presented in Manchester Central Library as the launch concert of the new ENLIGHTEN Manchester Festival of Light and Sound Art Psappha will also perform works by Halldór Smárason, who was inspired by the archive of the Antony Burgess Foundation during his Moving Classics residency last year, and feature a performance of "Nightswimming" by Joe Duddell.
Moving Classics is led by Curated Place and is supported by the Creative Europe Programme of the European Union & using public funding by Arts Council England.
Psappha are:
Benjamin Powell: piano
Tim Williams: Cimbalom
Benedict Holland: Violin
Jennifer Langridge: Cello
Programme:
"It means what you think it means" Halldór Smárason (2014)
"Nightswimming" Joe Duddell (2012)
"The Bremen Town Musicians" Enrica Sciandrone (2015)