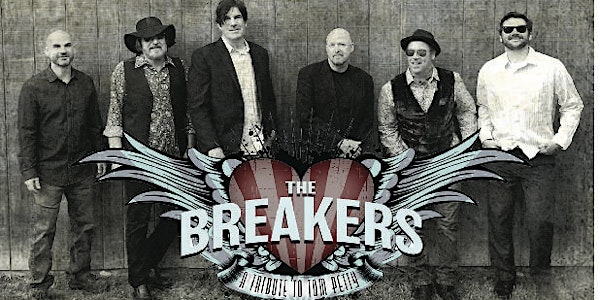 The Breakers - Tom Petty Tribute Band
The Breakers are a no-frills rock band who meticulously encompass the Tom Petty sound and musically establish an emotional connection.
By NARA Park - Town of Acton, MA
When and where
Date and time
Friday, August 6, 2021 · 8 - 10:30pm EDT
Location
NARA Park 25 Ledgerock Way Acton, MA 01720
Refund Policy
Contact the organizer to request a refund.
Eventbrite's fee is nonrefundable.
About this event
The Breakers are a no-frills rock band who meticulously encompass the Tom Petty sound and musically establish an emotional connection with the crowd that's palpable. When asked why they didn't take the impersonation and prop-driven approach, founder Tom Smith says "we wanted to approach the tribute genre as a true live band, and in (lead vocalist) Chris Chartier we have what no one else has - the most genuine sounding Petty experience in the country."
The members of the Breakers all come from a background of recording and touring with original bands and perform the music of The Heartbreakers with the same passion and dedication. They have paid tireless attention to detail to each and every song which appeals to both casual and diehard Tom Petty fans alike. Since the fall of 2018 when Tom Smith, Chris Chartier, Evan Smith, Rick Hiller, Tom Booth, and Steve George joined forces, they have been practicing and honing their sound. In May 2019, they posted a homemade video compilation to YouTube which in three months has over 5k views. Playing to an emotional and packed house, their debut show at The Newport Blues Cafe in August was a resounding success. The Breakers are currently booking venues through-out New England and the east coast. If you want to experience Tom Petty & the Heartbreakers music there's only one band that can deliver that sound authentically...The Breakers.
-------------
In order to enter into the Event, You must have Your own valid Ticket. One (1) Ticket is required per attendee and will only be valid on the day(s) of the Event and area(s) of the Event as indicated on the Ticket. CHILDREN 10 AND UNDER ARE FREE WITH PAID ADULT. ADULT MUST SUPERVISE / ACCOMPANY CHILDREN AT ALL TIMES.
Your Ticket is not redeemable for cash. There will be no replacements for Tickets that are lost, stolen, destroyed or damaged and You unconditionally accept the risk of damage to, loss of and/or theft of Your Ticket.
All seats are general admission.
No alcohol, drugs, weapons are permitted to be brought on event property.
Beer and wine and food will be available for purchase via cash or credit card. No alcohol is permitted to be brought into the venue. This is a non-smoking facility.
1. Ticket holders must check-in at the door prior to entering the concert room where a wristband will be issued and must be worn throughout the event as proof of ticket purchase.
2. This ticket is proof of purchase of the above event and must be presented at the time of admission electronically or paper print out.
3. Tickets and processing fees are non-refundable. Please see #17.
4. The price of the ticket shall be the price set at the time we accept your ticket order. Ticket price doesn't include any credit card convenience fees or delivery fee.
5. Tickets cannot be exchanged or rescheduled.
6. This ticket is non-transferable and only one ticket is valid per ticket purchased.
7. Tickets are not to be duplicated for the purpose of falsifying entry.
8. The Town of Acton reserves the right to refuse entry.
9. This ticket has been created and managed using the EventBrite site and is also subject to the Terms and Conditions of EventBrite.
10. As the Town of Acton is hosting this event, the Recreation Department is solely responsible for all issues relating to the sale of tickets. If you have any questions regarding this event, please contact the Acton Recreation Department, 978.929.6640 Ext. 0 or email recreation@actonma.gov
11. Proof of age will be required for any person who purchases or consumes alcohol.
12. Doors open thirty minutes before the event.
13. Any person(s) who are noisy, drunk, threatening or unruly will be asked to leave the premises. No refunds will be issued for dismissal.
14. Smoking is not permitted within 50' of the building. Designated smoking area is in the parking lot only on the paved surface.
15. No dogs are permitted in the Rec. Center except service animals.
16. The Town of Acton has all rights to film, photo and video production of this event.
17. In the event that we have to cancel an event for any cause beyond our control including, without limitation, act of God, war, insurrection, riot, civil disturbances, acts of terrorism, fire, explosion, flood, theft of essential equipment, malicious damage, strike, lock out, weather, third party injunction, national defense requirements, acts or regulations of national or local governments. We will not be liable to you for failure to perform any obligation under these Terms and Conditions to the extent that the failure is caused by Force Majeure. A full refund will be issued to all patrons who request a refund in writing accompanying your unused tickets within one month from the date of the event. After this time, no refunds will be issued; however, the ticket holder may use their ticket for a different concert within one calendar year. If ticket price is higher than original ticket, ticket holder will be responsible to pay the difference.
18. All concert tickets are void after twelve months from date of event. Voided tickets are non-refundable.
19. It is the purchaser's responsibility to ascertain whether an event has been cancelled or re-scheduled and the date and time of any rescheduled event. Where an event is canceled or rescheduled, we will use our reasonable endeavors to notify you using the details you provided us with at the time of ordering. We do not guarantee that you will be informed of such cancellation before the event. It is your responsibility to inform us of any change to the contact address, phone number or email address before the date of the event.
20. Where reasonably necessary, the Town of Acton reserves the right to make alterations to the published event program.
21. Ticket holders must comply with all relevant statutes, safety announcements, and Town of Acton regulations while at the event.
22. Neither the Town of Acton, its employees, volunteers, band performers and production crew will be responsible for any loss, theft or damage of your personal belongs.
23. If If the Event is cancelled in whole, or in part, due to a Force Majeure Event (as defined below), You will not be entitled to a refund. Notwithstanding the foregoing, the Town of Acton may issue, at the Town of Acton's sole and absolute discretion, a partial or full refund of Your Ticket, by accounting for, among other considerations, the extent and nature of the cancellation. A "Force Majeure Event" shall mean an act of God, act of terrorism, earthquake, wildfire, flood, tsunami, strike or other labor condition or dispute, an order or injunction of any court or administrative body or any other act of public authority, global pandemic, severe weather threatening the safety of Event attendees or similar contingency or unexpected event, and any such occurrence beyond the reasonable control of the Town of Acton. You understand that in all instances, the maximum remedy You may receive for any cancellation of any part of the Event, if any, will be the face value of Your Ticket, excluding all fees, taxes and/or service charges paid by You in connection with the purchase of Your Ticket.
By entering the Event, You assume any and all risk and/or danger, known and unknown, foreseeable and unforeseeable, resulting from, or incidental to, the Event, whether occurring prior to, during, or subsequent to, the Event, including, but not limited to, any death, personal injury or loss, damage or liability whatsoever. You understand that Your use of Your Ticket is contingent upon Your voluntary assumption of the risk and danger that may result from, or be incidental to, Your presence at the Event, whether occurring prior to, during or after the Event, including, but not limited to, any actions or omissions of the Town of Acton (as defined herein).
You acknowledge and understand that the Ticket is a revocable license to attend the Event for which it was issued, which is subject to revocation and denial of admission without compensation for any reason, including, but not limited to, Your attempted or actual violation of any of the rules set forth herein, policy or regulations and for any other action taken by You in violation of any local, state or federal law, or that may endanger other ticketholders.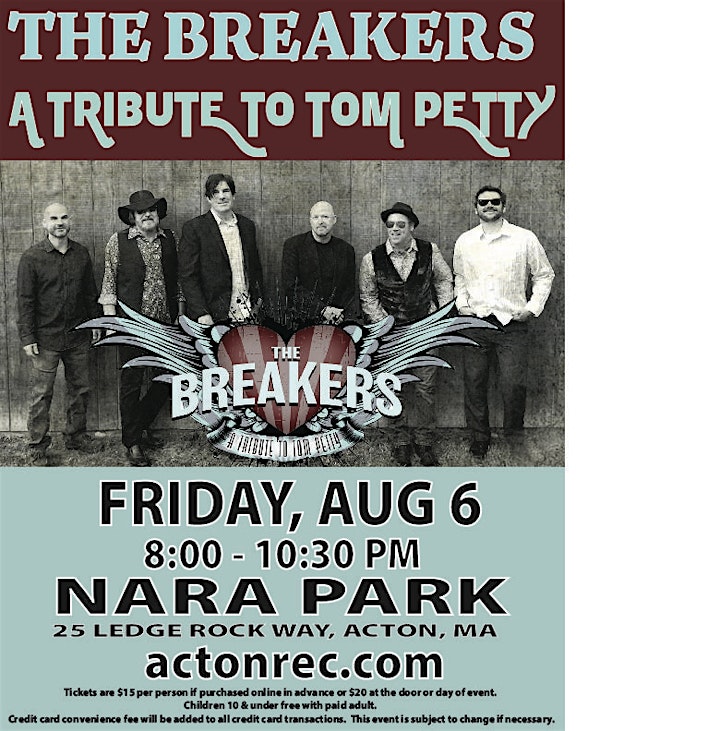 About the organizer
NARA Park is a 40 acre park with a large amphitheater that has a large bowl shape. The stage is large (30x50) and the bowl can hold comfortably 3,000+
Parking for NARA concerts is free and onsite. Most events have beer, wine, soft drinks, snacks and grilled food available for purchase. Attendees need to bring their own lawn chair or blanket as the bowl is all lawn seating. Alcohol is not permitted to be brought into the park. No weapons, illegal drugs, smoking, vaping, and dogs must be leashed. All events are open to non-Acton residents.