The Breach Film Screening & Reception

Friday, May 8, 2015 from 6:30 PM to 9:30 PM (MDT)
Event Details
You are invited to an exclusive screening and reception with the filmmakers and special guests of THE BREACH. Ticket price includes entry to screening and special wild Alaska salmon reception.
Doors: 5:30pm
Event Start: 6:30pm
Event End: 9:30pm
---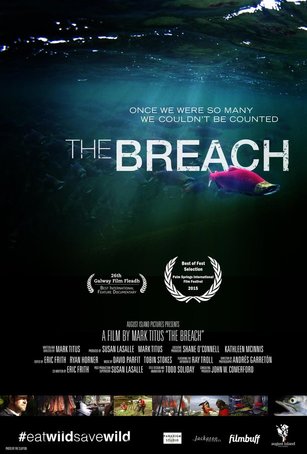 When fishing guide & filmmaker Mark Titus learns why wild salmon populations plummeted in his native Pacific Northwest, he embarks on a journey to discover where the fish have gone and what might bring them back.
Along the way, Titus unravels a trail of human hubris, historical amnesia and potential tragedy looming in Alaska –all conspiring to end the most sustainable wild food left on the planet. 
THE BREACH is Writer/Director Mark Titus's personal journey with the ancient and mythical wild salmon as well as a call to action for all who, as stewards of the wild, care about sustainable and abundant natural resources.
Have questions about The Breach Film Screening & Reception?
Contact eTown
Organizer
eTown's mission is to educate, entertain and inspire a diverse audience, through music and conversation, to create a socially responsible and environmentally sustainable world.
eTown Hall is located in the heart of downtown Boulder, Colorado. A world-class performance venue, full service recording studio and community center, eTown Hall is also home to the famous eTown radio show. A non-profit organization since 1991, eTown has been committed to environmental education and "doing the right thing." This building, converted from an old church facility, is quite possibly the greenest music and media center in Colorado!
eTown Hall is unique – not another venue in the country like it. It's recycled (a former church), rebuilt (a total renovation from the ground up), renovated (state of the art sound systems, recording studio) repurposed (a green building that makes its own solar power, has extremely efficient heating and cooling, used recycled and repurposed materials in the renovation) and reinvigorated (the community LOVES eTown Hall!) .
eTown Hall Refund and Exchange Policy: eTown does not provide refunds or exchanges for any ticket purchases. If you have further questions, please call us at 303-443-8696, ext. 100.
When purchasing a ticket to an event at eTown Hall, you will be automatically signed up for the eTown mailing list. You will have the option to opt-out of this list at any time.
NOTE: If you are trying to reach us over the weekend about a weekend show or event, the best way to get in touch with us is by calling our Box Office at (303) 443-8696, ext. 117. Someone should be on-site a couple of hours before doors open the day of the show to answer your call, or return your message as soon as possible.