Description
Saturday, August 29, 2015
6:30 Welcome Reception in the WCAC Gallery Space
7:00 Pre-Concert Talk
7:30 Concert in the WCAC Atrium
Scholars believe the six concerti for 'plusieurs instruments' -- some newly written, some adapted from existing works by J.S. Bach for the Margrave of Brandenburg -- were never actually performed in the court of that most fortunate nobleman. The Six Brandenburg Concertos, filled with dancing melodies and infused with joy and spontaneity, have survived into the 21st century as one of the most enduring and popular works in Baroque orchestral repertoire.
ATL Symphony Musicians Foundation and Anacrusis Productions Ltd. invite you to join them on August 29 at the Westside Cultural Arts Center for a performance of Bach's entire masterpiece: all Six Brandenburg Concertos in a single evening's concert, featuring ATL Symphony Musicians, conducted by Maestro Michael Palmer.
The Brandenburg Affair is a chamber music concert and reception event, to bring musicians, artists and music lovers together in an intimate social setting.
We hope to introduce an annual end-of-summer tradition of classical music in the city of Atlanta. What better way to mark the summer's end and look ahead to a stellar artistic season?
FAQs
What are my transport/parking options at the event?
We have assisted self-parking in adjacent lots for your convenience, with on-lot security throughout the concert. Those needing wheelchair assistance can park in designated areas on 10th St.
How long is the performance?
Approximately 2 hours, including an intermission.
Is there an age restriction?
No; students are welcome. Bartenders will be checking all ID's
Organizer of The Brandenburg Affair
ATL Symphony Musicians Foundation, a non-profit, is a steward of the art, culture, and history of classical music, the symphony, all its various instruments and the musicians who play them. Our mission is to promote classical music by example: performing with our state's young people and with local band and orchestra directors, giving school concerts, holding audition clinics and master classes, giving group and individual lessons, offering question and answer sessions and career planning.
The mission of Anacrusis Productions Ltd. is to preserve and advance the tradition and legacy of classical music and related arts for future generations, through intimate classical music performances, strategic artist management services, and focused educational outreach. 
ATLSM Foundation and Anacrusis Productions Ltd. are pleased to commit their two organizations to making this historic concert program a reality. Proceeds from this concert will fund the Foundation's continued educational mission.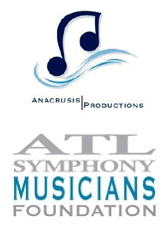 For more information, please visit our websites
ATL Symphony Musicians Foundation www.atlsmfoundation.org
Anacrusis Productions Ltd http://anacrusisproductionslimited.org/