The Brand Building Bootcamp

Thursday, May 23, 2013 at 8:30 AM

-

Sunday, May 26, 2013 at 5:00 PM (AEST)
Event Details
 Be one of the first to see this new WORKSHOP!
               Here's the Quickest way
to Authentically
"Brand Yourself"
As The Authority In Your Industry
With Jump The Q's, Rachel Quilty
featured recently on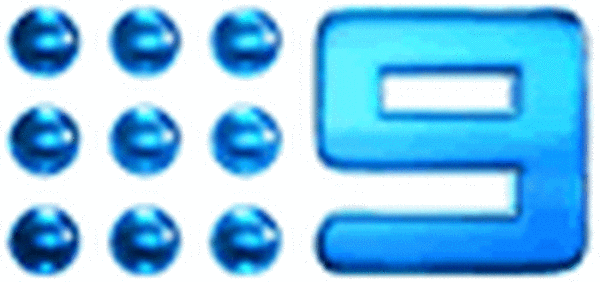 Learn the secrets to designing, building and positioning your professional profile to leverage your personal brand today!
Now is your chance to be one of the first to re-engineer yourself with this cutting-edge opportunity – all will be revealed at my BRAND NEW, "no stone left unturned"
3-Day Workshop...
"The Brand Building Bootcamp"
  Gold Coast 23rd – 26th May 2013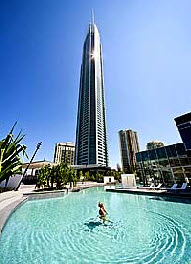 Q1, 9 Hamilton Ave, Surfers Paradise
*****This is not an introduction ... it is jam-packed with "Unique - Nothing-Like-It" content -- that you can use straight away.
In fact... you will receive homework before the workshop so you can get started straight away on re-engineering your personal brand to quickly become the "Authority" in your industry.
Dear rising star ...
If you've always wanted to be recognised as the authority in your field, or be the preferred choice for promotion, then this is the workshop you.
Because I am going to reveal exactly how I apply my successful "Brand Yourself" strategies on you ... so that you can turn your knowledge into profit or promotion.
You are going to learn how you can build your personal brand and get greater recognition, opportunities and income, by branding yourself as the authority in your Industry - starting from the foundation up... whether this is within an organisation or in your own business.
It's a simple, step by step process to build your credibility and authentically position yourself as the authority ... AND you can start immediately ... at the workshop!
Plus ... you'll see in the feedback from people who have heard me speak before ... that I don't hold back on the details.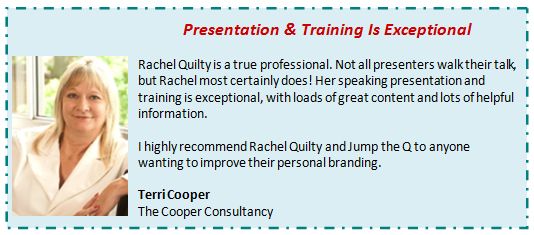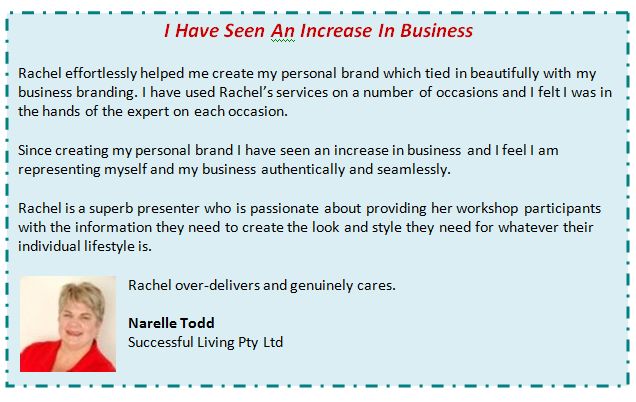 So ... why should you listen to me?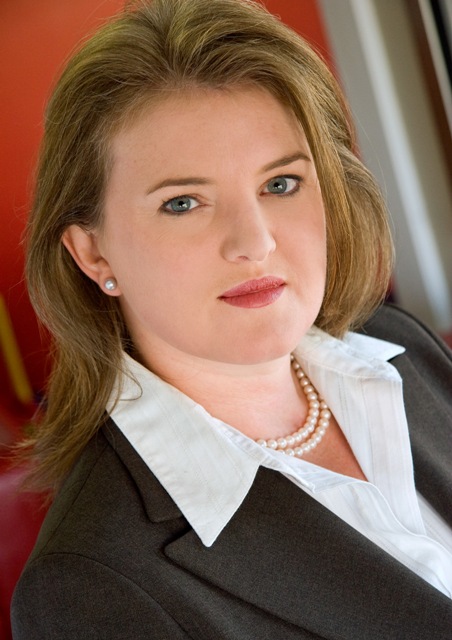 Hi ... I'm Rachel Quilty, Your Personal Brand Strategist. As the owner and CEO of Jump the Q, a Personal Brand consulting firm I regularly speak at seminars, conferences and workshops on personal branding, strategic image management and positioning your personal brand as the Authority in your marketplace.

I have positioned myself as THE Authority In Personal Branding, Media Personality, and am the Best Selling Author of "Brand Yourself".
Jump the Q's work addresses educating individuals and businesses on vital verbal and non-verbal communication. 
The key to getting the right message to your market is to manage your personal and corporate identity and image to achieve a positive response, successful promotion and business positioning.
Our clients are often treated as celebrities because they behave like celebrities. They are people who don't wait for things to happen, they make them happen.  Our combined objective is to get the "look" for the result and deliver...
We recognise that those who strategical manage their personal brand are in control of the response they receive.
Our clients don't wait in line, they….. Jump the Q!
This is my BRAND NEW workshop and it has been specifically designed for YOU ... so that you can create your professional and business brand and Jump the Q, too.


Here's a quick look at what you can expect ...
Discover your existing personal brand

… knowing what you are starting with is crucial to transforming your brand

Determine your brand target audience … learn how to niche your audience so you know you are marketing to the right people before you start the transformation process

Define your true personal brand … your brand must be authentic and the real YOU or you will not be able to sustain it ... I show you how to uncover your true personal brand

Dominate your marketplace as the authority … find out how to be seen and heard delivering superior advice and service in your niche regularly and in a variety of ways

Design your unique personal brand … discover how to identify what sets you apart from your peers so you can consistently deliver the right message

Develop your brand's signature style … knowing how to present yourself to the world and your market is vital and you need to reflect both personal and business values in it.

 

I help you identify your signature style for success

Devise your personal brand marketing plan … this is the key to re-engineering your personal brand and become recognised as the authority in your industry

Decide on your desired outcomes, resources & skill set … find out what else you need to do to achieve your brand goals

Deploy and disseminate your brand message … this one's easy, ACTION your plan

Deliver your personal brand promise

… discover how to stay committed and consistently over-deliver your brand with exceptional value and service
In fact ... Here's The Agenda For The 4 Days
Day 1 – Thursday
·        What is Personal Branding?
·        Why is Personal Branding critical to your success?
·        Personal Branding Results... and What You Can Expect
Day 2 – Friday
·        Create a Brand Yourself Action Plan
·        Determine the Action Steps to Become the Authority
·        Learn the Secrets to Dominate your Marketplace
Day 3 – Saturday
·        Learn the Strategies Used by some of the Biggest Brands
·        Determining your Personal Brand Purpose
·        Discover the True Secret to Building Your Personal Brand
Day 4 – Sunday
Hot Seats 

Determining your Brand Message & Promise

Next Step to Building Your Personal Brand
and Yourself ... And Jump The Q
Doesn't that sound like an amazing event ... if you have any thoughts of changing your destiny ... grab your ticket today ... as seats are limited and they won't last!
These tickets are valued at $1,997.  But... here's the sensational part ... you don't have to pay $1997.  Because this is a NEW workshop ... the tickets are:
Secret Early Early Bird Available... Register Immediately to Access. 
Only $997 (Value $1997)
Only available until midnight 30th April, 2013
$1997 from 1st May, 2013

Gold Coast 23rd – 26th May 2013
You Owe It To Yourself To Be At This Workshop
You can coast along in life and you will probably do OK, but:
if you want to learn the real secrets to positioning yourself as the authority in your industry

i

f you want to open your eyes to the way leaders are created

if you want to get the knowledge to create your personal celebrity brand
Then find a way to get yourself to my exclusive workshop.
For three full days at the No. 1 luxury hotel on the Gold Coast, I'll be sharing all my inside branding secrets. And there are going to be some incredible people in this room - can you imagine the extraordinary networking opportunities and conversation you'll likely have in a room full of entrepreneurs and go-getters like this?? You may just find an ideal business opportunity or business partner at this event.
So What Now?
Take action NOW and register to attend my 3-Day "Jump The Q, Brand Yourself" workshop ... this could well be the incredible turning point in your life that you have been waiting for!
If you have any interest in:
·        getting promoted
·        being an entrepreneur, or
·        being seen as the authority in your industry
Get yourself educated now!
The bottom line is this: You need to attend because "Jump The Q, Brand Yourself" will give you the knowledge you need to successfully re-engineer your personal brand quickly and easily, and give you the confidence you need to create the lifestyle you deserve...
This event is going to SELL OUT FAST ... so click on the "Register Now" button below, right now.
I'll enjoy meeting you there!
All the best,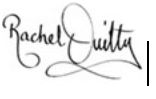 Rachel Quilty
Personal Branding Specialist
PS: Remember seats are limited! This is my launch workshop – so don't miss out on this 3 day "no stone left unturned", 100% content filled workshop that can change your career, business and financial future. Don't miss out on your place for this incredible experience.
          Gold Coast 23rd – 26th May 2013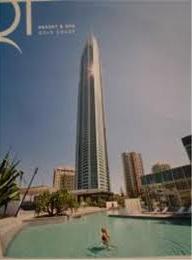 Q1, 9 Hamilton Ave, Surfers Paradise
Here's what people are saying about my book: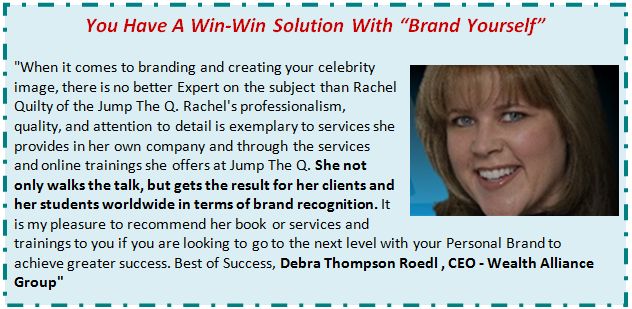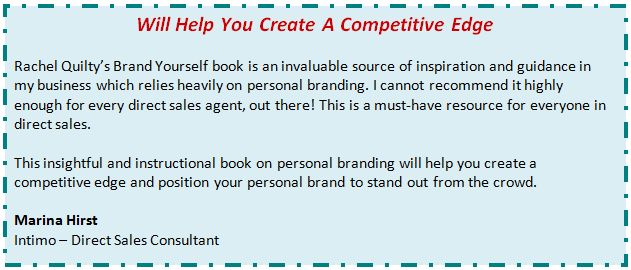 What our clients have said: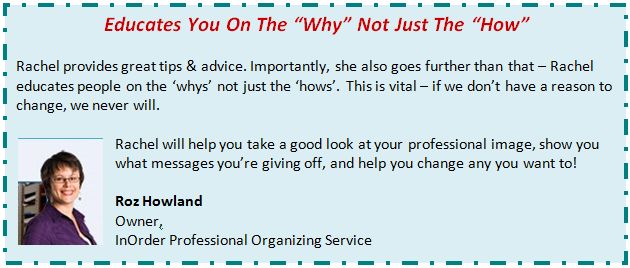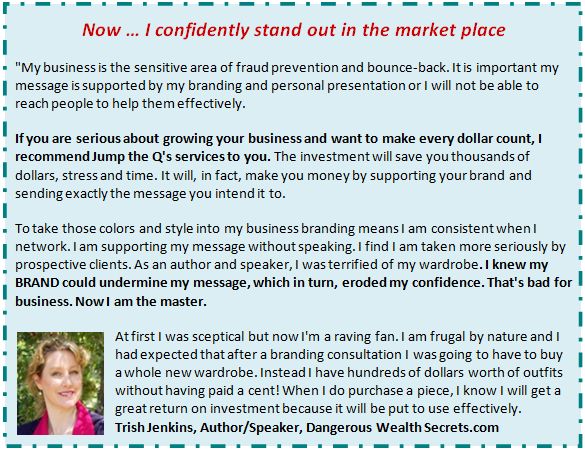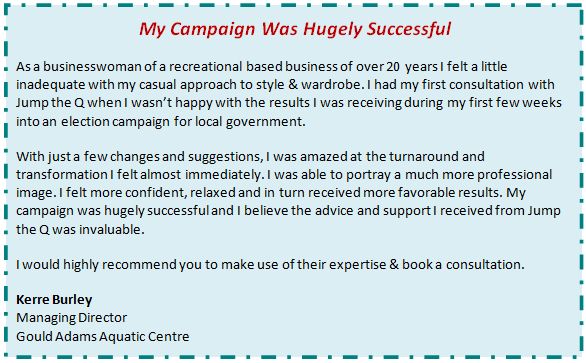 Gold Coast 23rd – 26th May 2013

Q1, 9 Hamilton Ave, Surfers Paradise
When & Where

Q1 Resort and Spa
9 Hamilton Avenue
Surfers Paradise
Gold Coast, Queensland
Australia

Thursday, May 23, 2013 at 8:30 AM

-

Sunday, May 26, 2013 at 5:00 PM (AEST)
Add to my calendar
Organizer
Jump the Q
Rachel Quilty is a Personal Branding Strategist. She is also known as the "Authority" on Personal Branding within Australia.
Rachel Quilty is the CEO Jump the Q, a Personal Brand consulting firm with offices in Brisbane in Australia as well as in Las Vegas, in the USA.
Rachel is also the Author of the book, 'Brand Yourself: How to design, build and position your personal brand' now listed on Amazon for USA clients and www.brandyourselfbook.com for Aust clients.
They specialise in personal branding and strategic brand management to leverage your professional profile to become the recognised leader within your industry.
They regularly speak at seminars, conferences and workshops on personal branding, brand awareness campaigns, social media marketing  and developing your signature brand.
Rachel has also been featured in Australia on the Today show as well various national radio programs. She has also been featured in popular magazines such as Cosmopolitan, Cleo, Marie Claire and national newspapers include the Sun Herald and the Weekend Australian highlighting the benefits of developing a signature style and your personal brand to become mini-celebrity in your profession.
Rachel has made a splash in the USA with a recent interview on Voice America Radio on the Money Answers Show hosted by Jordon E Goodman. Jordon is the author of a dozen best sellers on personal finance and debt management as well as a regular guest presenter on CNN and The View. Rachel also recently spoke in Las Vegas with the Ultimate Joint Venture Boot Camp with some of the most prominent speakers in the world.
Join us at Jump the Q to discover her strategies on how to develop your own Signature Personal Brand and become a global brand.
The Brand Building Bootcamp