Description
Last year we were able to travel to 6 Cities, This year we are GOING TO 14! You will not want to miss this year's tour!
The Br8kthrough Tour is a two- part event! The Tour will consist of the YouTube Meet & Greet and The Breakthrough Main Event. This event is open to men and women.
Part 1 of The Br8kthrough Tour- Meet with Top YouTubers, Bloggers & Social Media Influencers!

Includes, Meet & Greet, Workshops/Seminars & Q/As

Hosted by Living for Jasmine



Meet up with some of the hottest youtubers, bloggers and social architects for sessions on the most interesting subjects from Social Media to Finding Your Passion.
The Br8kthrough Tour - YouTube Meet & Greet- Doors Open at 5:00PM
Featured YouTubers & Topics:
According 2 Kori -"SHIFT: LETTING GO OF THE PAST TO EMBRACE THE FUTURE"
Larissa - "PLANTED NOT BURIED - BLOSSOMING IN ADVERSITY"
Sha'Tarra La'Nay & Javier (The Reeds) " CELIBACY IS THE NEW WAVE"
Hey Toni - " STYLING THE NEXT GENERATION"
Socially Awkward Mom - " MINDING YOUR MENTAL HEALTH TO CARE FOR YOUR WHOLE SELF"

Laurina Rochelle - Bloody Moves
Jena Utley - " YOUTUBE ON PURPOSE"
According 2 Kori
Living for Jasmine
Que Morgan
Yasmine Paige
Kaelin Anne
Angel - Saved Chic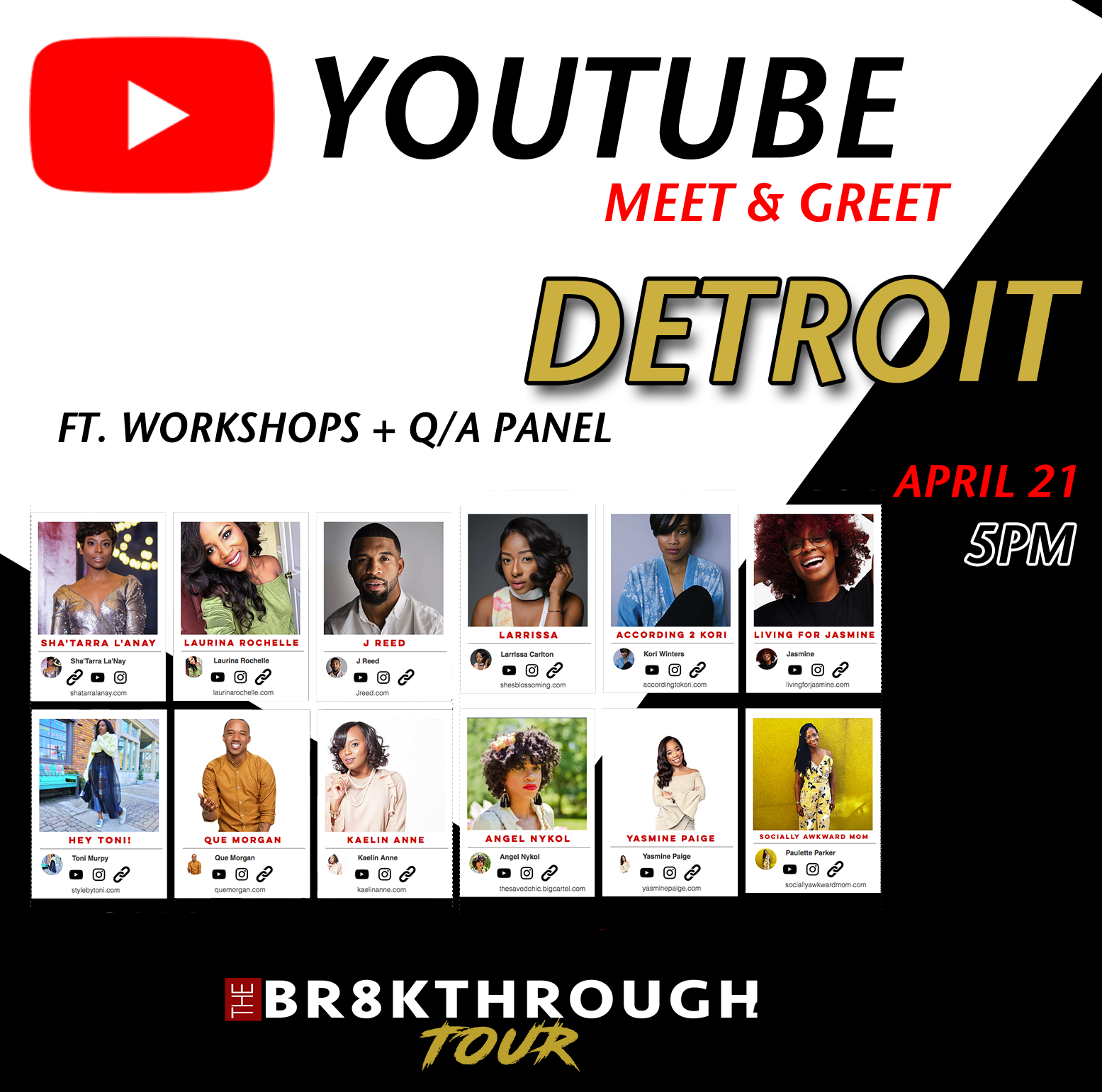 _________________________________________________________________________________________
The Br8kthrough Tour Main Event -
Part 2 of The Br8kthrough Tour- Br8kout Sessions and much more!
Includes, Live Performances, Breakout Sessions and Worship!
Our purpose and intent is to close the gap of suffering in silence, and create a space for like-minded women and men to gather, grow and learn from one another. Join Men & Women in the city as we encourage each other to live freely and boldly for God! Come out to an event that will CHANGE YOUR LIFE, we will be discussing topics that will release you from things you have been struggling with for years! This is your awakening, This is Revival.

Featured Speakers :
Que Morgan & Yasmine Paige
Speaker Topics
Que Morgan - " Cycles & Walking on The Path of Truth "

Yasmine Paige "

Breakout Group Topics - Addictions, Lust, Anger, Abandonment, Brokeness, Sexual Abuse, Unforgiveness, Backsliding, Marriage/Divorce Identity, Holiness & Set apart, Finding Your Purpose, Celibacy
The Br8kthrough Tour - Main Event- Doors Open at

7

:00PM

ABOUT THE BREAKTHROUGH TOUR:

The Breakthrough Tour is a unique opportunity for people to come together from around the country to receive support and encouragement in all areas of their lives. The vision of the tour is to create bonds, a true sense of community and accountability in each city. Through the tour, men and women are provided with a very intimate, non-judgmental space to release the struggles they are facing. The purpose and intent of the tour is to close the gap of suffering in silence and create an environment for like-minded believers to gather, grow and learn from one another.

The 2017 tour included cities all around the US - Atlanta, Houston, New Orleans, New York, Los Angeles and Washington D.C. This year we are expanding to even more cities including Seattle, Nashville, Charlotte, Chicago, Miami, Las Vegas and even internationally with our last stop in St. Lucia! Our prime focus is empowering those in the community with the foundation of God. Keep us in prayer as we empower people all over the globe to Br8kthrough!
The Br8kthrough Tour is spearheaded by Laurina Hedd-Williams. In 2017, she started The Breakthrough Tour - since then the tour is widely recognized and highly regarded.










___________________
About the Founder - Laurina Hedd-Williams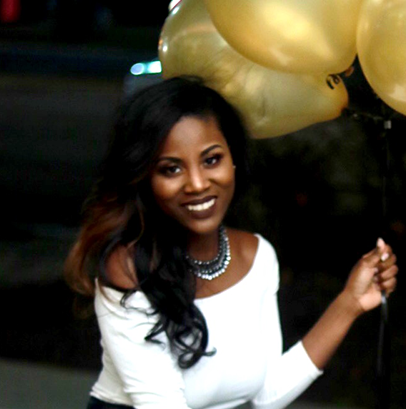 Laurina's |Personal Website: https://www.LaurinaRochelle.com

Recently named DMV's Top 30 under 30, Amazon's Kindle Best Seller Author, Laurina Hedd-Williams, is a dynamic woman in her generation. She is an serial entrepreneur launching her own design, clothing and ministry. Originally from Liberia, Laurina was raised in Atlanta, Georgia. After transferring from Kennesaw State University she graduated from the prestigious Howard University with a B.S. in Health Science. In May 2015, Laurina released her first book " Spread Your Wings" - Soaring Through God's Kingdom and Released it in April 2017. Currently, Laurina travels around the USA for The Breakthrough Tour.

Book: Spread Your Wings: https://www.amazon.com/Spread-Your-Wings-Soaring-Through-ebook/dp/B00WH2I0XS/ref=sr_1_1?ie=UTF8&qid=1490106369&sr=8-1&keywords=spread+your+wings+laurina
More about Featured Speakers:
Que Morgan


Que Morgan is one of the most energetic, passionate and promising millennial leaders of today. Que was licensed as Associate Minister at the age of 17 years old in which he begin his journey of preaching, leading workshop and creating events for millennials at his home church. He is passionate about ministry and eager to empower a generation to be more conversational. In a day and age were we hid behind comments, Que has made it his goal to create more real God moments through genuine conversation. He live by the passage of scripture that says we overcome by the stories we share. He graduated from Rochester College with a degree in Mass Communication and a focus in Public Relations. Que has hosted over 45 events including; panel discussions, workshops, seminars and worship nights. Que developed his very own radio show in 2015 called "The Que Morgan Show" which now airs in Michigan, New Jersey, Chicago and the United Kingdom. He is also the esteemed host of Millennial Meal which is features on The Word Network with over 1.2 million facebook followers. Que, was recently chosen as the announcer for the 2018 Eddy Award Show. His focus for 2018 is to create more unconventional ways where God can show himself.

Speaker | Event Host | Radio Personality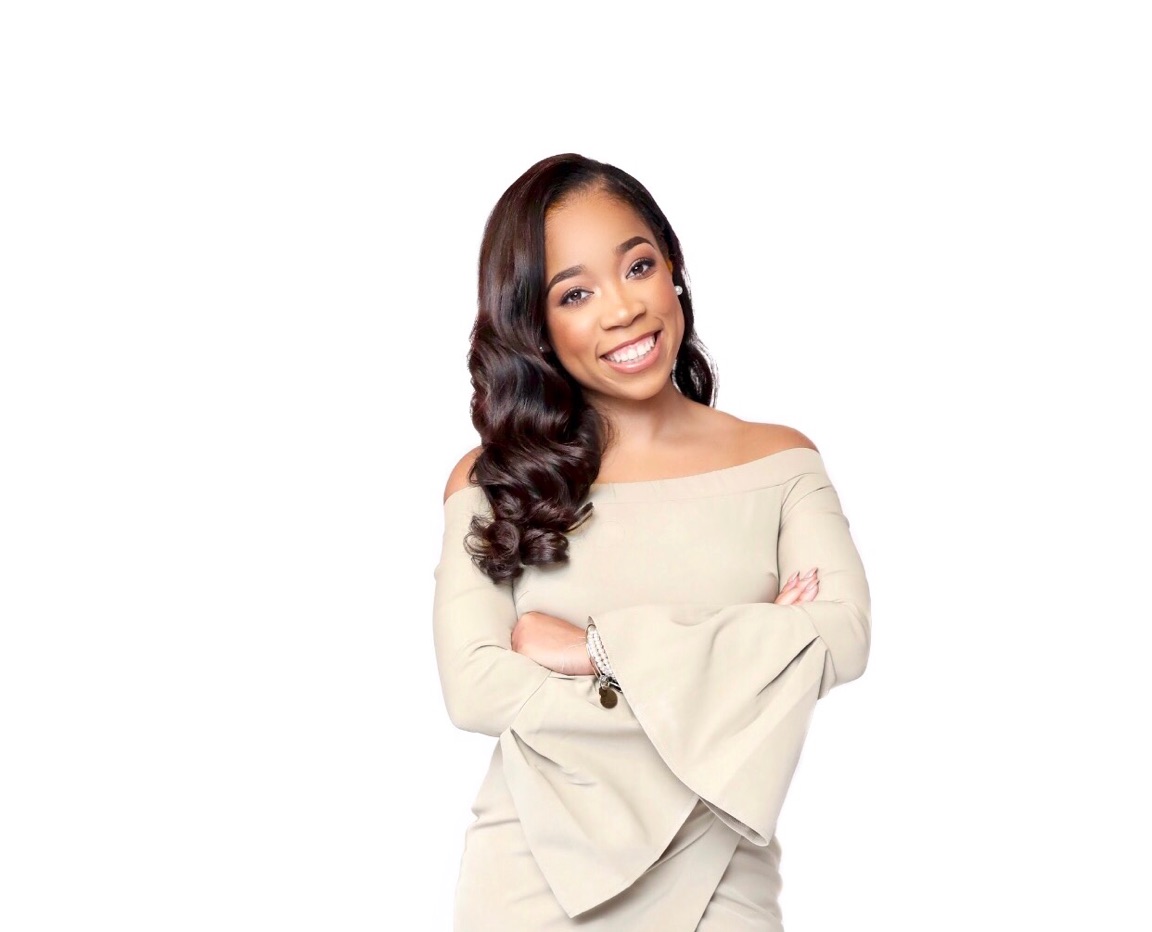 Yasmine Paige

Yasmine is a 21 year old college student, studying to become a nurse. Currently building her brand and learning the ins and outs of being a wardrobe stylist. She has a natural eye for beauty, glamour, elegance and style. Yasmine's passion is to help people feel their absolute best. She believes her relationship with God has given her, her momentum and is her motivation to accomplish everything she sets her mind to. She has faith that her ultimate purpose is to speak life into Gods people.