Description
WE WILL SELL TICKETS AT THE DOOR.
The Br8kthrough Tour | ATL

See the lineup here https://www.thebr8kthroughtour.com/atl
Come out for a night of Faith, Food & Freedom with women & men in your city!
This event that will CHANGE YOUR LIFE!
We will be discussing topics that will release you from things you have been struggling with for years!

This event will have featured panelist, music, breakout group sessions and much more!
Our purpose and intent is to close the gap of suffering in silence, and create a space for like-minded women and men to gather, grow and learn from one another.

Breakout Group Topics - Addictions, Lust, Anger, Abandonment, Brokeness, Sexual Abuse, Unforgiveness, Backsliding, Marriage/Divorce Identity, Holiness & Set apart, Finding Your Purpose, Celibacy

The Br8kthrough Tour - Doors Open at 7:00PM
Featured Speakers : Karolyne Roberts & Darrell Spearman

Breakout Leaders: Laurina Hedd-williams, Amanda Pittman, Michael Pittman, Danielle Tashe, Winston Mayo, Autumn Griffin & Gabby Symone B

_________________________________________________________________________________________
YouTube Meet & Greet - Doors Open at 3:30PM - Ends at 6:15
Includes, Meet & Greet, Workshops/Seminars & Q/As

Featured YouTubers:Ms. Britney, The Blessing Report, Bloody Moves, Cyrus Speaks, The Roberts TV, Amanda & Michael, Glam Tam, Sunday 2 Sunday, Actually Autumn, JaMichael Moore, Simply Passionate Life, Gabby B Symone

Social Media Meet & Greet - Workshops
1) "Social Media Is Not Real Ministry" - @the_blessing_report
2) "The Making of a Millennial Influencer" - @amandaapittman .
3) "Being Popular Vs Profitable: Making a Profit for your Followers" - @msbritneym .
4) "The Truth about Social Media Fasting" - @karolyneroberts.
5) "Living Outside the Highlight Reel" - @simplypassionatelife .
6)"The Dangers of Christian Dating" @j_mikemoore .
7) "Forgiving Yourself: Living the Life God Intended " - @actuallyautumn_ .
8) " Sacred vs Secular vs Satantic : Redeming Secular & Discerning What's Satanic " - @cyrusspeaks . .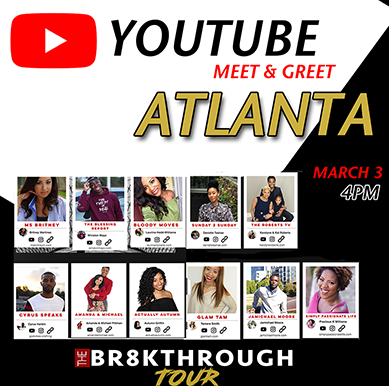 To see more infromation: https://www.thebr8kthroughtour.com

ALL guest must RSVP and be on the list in order to enter.
2018 Tour Dates & Cities
______________________________________________
ATLANTA - March 3
NEW ORLEANS - March 17
DETROIT - March 24
HOUSTON - April 7
NEW YORK - April 14
LOS ANGELES- April 28
WASHINGTON DC - May 5
ST. LUCIA - May 25 - 29th
CHARLOTTE - August 4
SEATTLE - August 18
CHICAGO - September 1
NASHVILLE - September15
MIAMI - September 22
PHILLY - October 6
VEGAS - October 20
______________________________________________
About the Founder - Laurina Hedd-Williams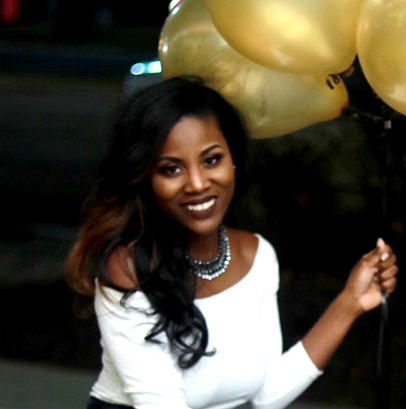 Laurina's |Personal Website: https://www.LaurinaRochelle.com

Recently named DMV's Top 30 under 30, Amazon's Kindle Best Seller Author, Laurina Hedd-Williams, is a dynamic woman in her generation. She is an serial entrepreneur launching her own design, clothing and ministry. Originally from Liberia, Laurina was raised in Atlanta, Georgia. After transferring from Kennesaw State University she graduated from the prestigious Howard University with a B.S. in Health Science. In May 2015, Laurina released her first book " Spread Your Wings" - Soaring Through God's Kingdom and Released it in April 2017. Currently, Laurina travels around the USA for The Breakthrough Tour.

Book: Spread Your Wings: https://www.amazon.com/Spread-Your-Wings-Soaring-Through-ebook/dp/B00WH2I0XS/ref=sr_1_1?ie=UTF8&qid=1490106369&sr=8-1&keywords=spread+your+wings+laurina
More about Featured Speakers:
Karolyne Roberts: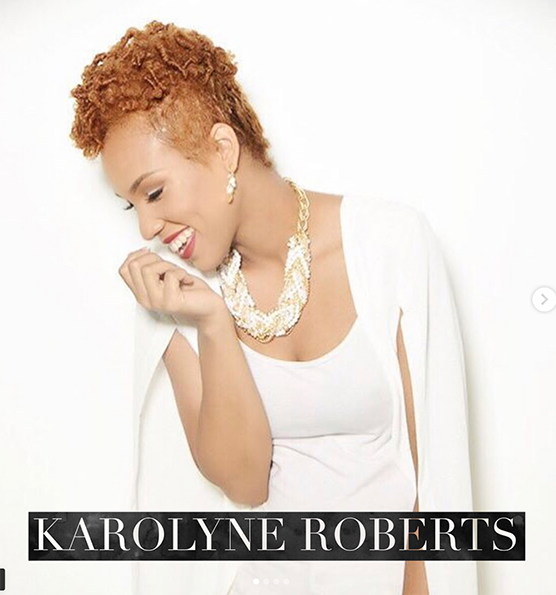 Karolyne Roberts is The Founder of The Writers Retreat @thewritersretreat and Write VIP Network. @writevip. She has recently launched the @writeshoppe . She resides in Atlanta, Georgia with her husband Kal and their two children. Karolyne takes pride in being a stay at home mom and believes that her home is her first ministry. She is thankful that God has allowed her to travel the world with her husband doing what she loves, hosting writers retreats and coaching those who are seeking to birth their God-given writing projects. Above all else, she is a follower of Christ and influencer for her generation, dedicated to sharing the Gospel through creative media. .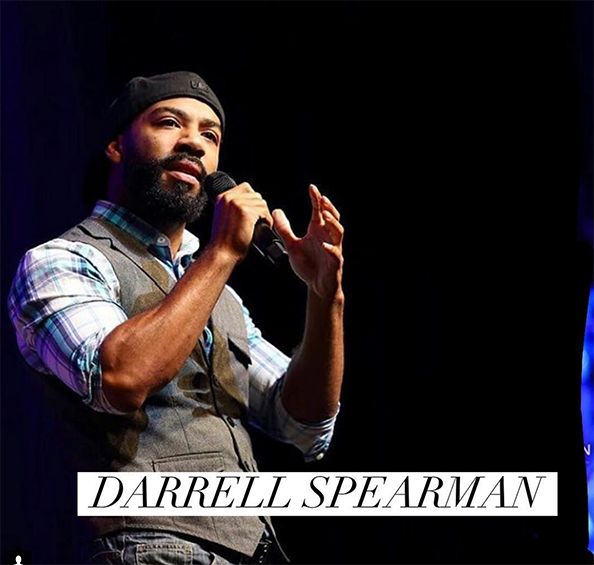 We are so excited to have Darrell Spearman as one of the Keynote speakers @drspearman555 for the ATL Tour Stop. He is a powerful speaker, Prophetic Kingdom Man, Spoken Word Artist & Business Professional. He is living his life without bondage & limitations and can't wait to share some wisdom!