Description
You are the chosen ones. The ones brave enough to face ten days straight of IPFA endorsed events. For that we applaud you and bow down to your courage and fearlessness in the face of battle.
Presented by Hutchinson Builders, AMD, Game The System and The BPAC Massive
Price - $300
Ticket includes entry in to 15+ IFPA and non-IFPA endorsed events from the 9th to the 18th of August, 10 x gate entry passes, a Brisbane Masters t-shirt, a limited edition pin and a bunch of other swag provided by our generous sponsors.
All event lanyards, pre-purchased merchandise, swag bags and gate entry passes must be collected from Netherworld prior to heading to the showgrounds. All items can be collected from Netherworld from Monday the 6th of August.
The barcode from each gate pass will be logged to the relevant competitor so gate passes can not be sold, swapped and if lost can be easily cancelled and replaced.
The Zipper Lanyard is NON-REFUNDABLE in whole or in part though special circumstances will be considered
By purchasing this ticket you agree to abide by the BPAC code of conduct and etiquette guidelines transcribed at bnepac.org/pinball-etiquette and bnepac.org/general-etiquette.
Tons more information can be found at bnepac.org
Links for extra merchandise coming soon
Remember mates
Yellow and red card system in use throughout the BPAC Showcase
- no load swearing
- aggressive or intimating behaviour
- rage tilting or shoving a machine after a ball has drained
- machine abuse or slapping/hitting the glass or lock-down bar
Also
- have fun
- be kind
- introduce yourself
- the machine you're playing is someones baby
- have fun
- play well
- play fair
- play better
- have fun
- be kind to the TD's
- be kind to the Ekka staff
- be rad
- have fun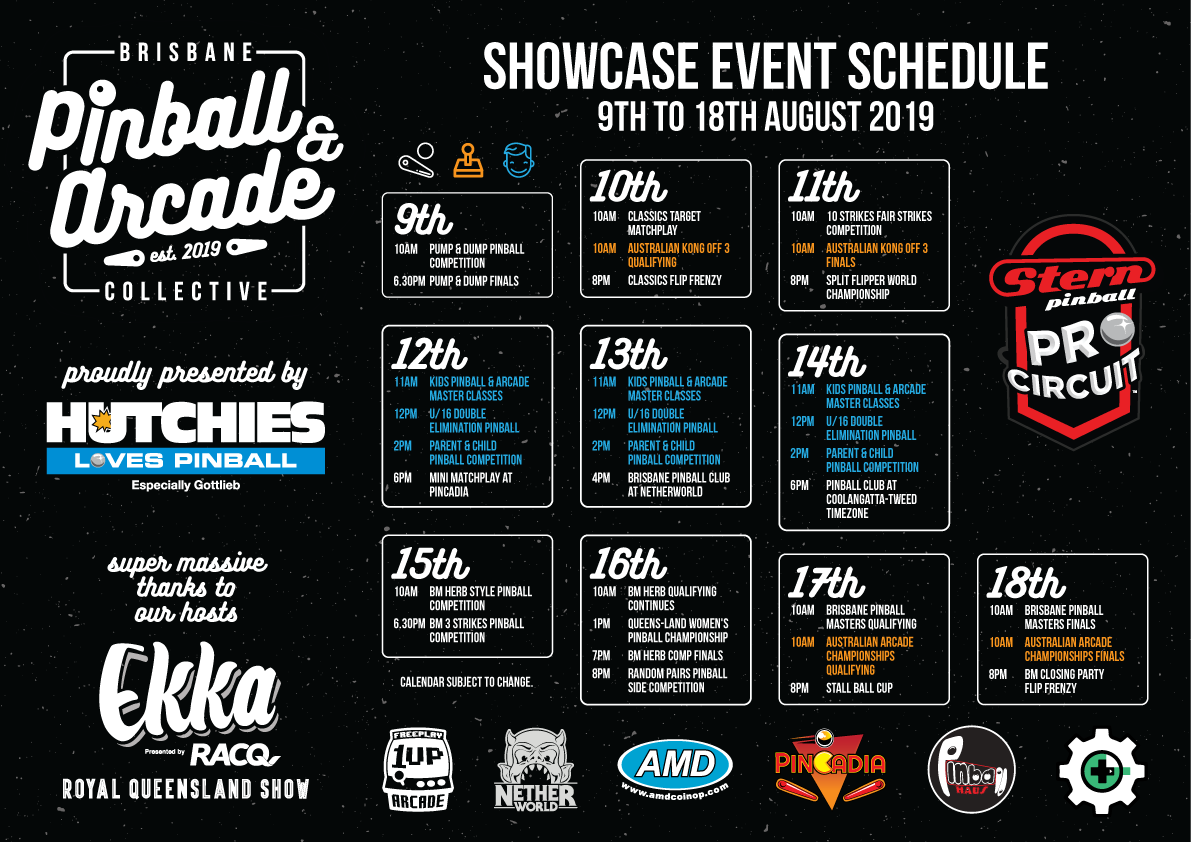 Events included:
Pump & Dump Pinball Comp
Classics Target Matchplay
Classics Flip Frenzy
10 Strikes Fair Strikes Comp
Split Flipper World Championships
3 x U/16 Double Elimination Pinball Comp (IFPA)
3 x Parent & Child Pinball Comp
Mini Matchplay at Pincadia
Brisbane Pinball Club at Netherworld
Pinball Club at Coollangatta/Tweed Timezone
BM Herb Pinball Event
BM 3 Strikes Comp
QUEENS-Land Women's Pinball Championship
BM Herb Finals
BM Random Teams Side Comp
Brisbane Pinball Masters Qualifying
Stall Ball Cup
Brisbane Pinball Masters Finals
BM Closing Party Flip Frenzy