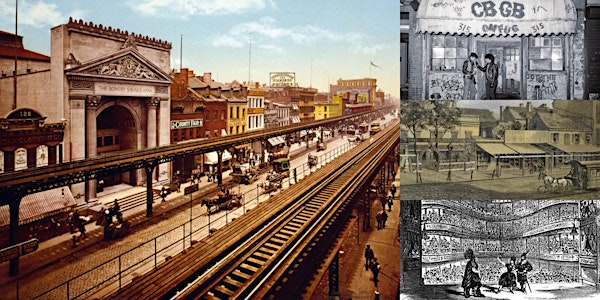 'The Bowery: Rise, Fall, & Resurgence of NYC's Oldest Street' Webinar
Can't make it live? Register and get access to the full replay for one week! New York Adventure Club | www.AdventureClub.com
About this event
While every street in NYC has a story, the oldest of them all doesn't disappoint. For over four centuries, the Manhattan corridor of the Bowery has taken on many personas, ranging from a Native American trail, to a hub of middle-class entertainment; a shadowland of hard-knuckle saloons to a musical and cultural hotspot. This is the story of one of New York City's most storied neighborhoods, from the good, the bad, and downright spooky.
Join New York Adventure Club as we explore the history of the Bowery, a 400-year-old thoroughfare through Manhattan that shares a colorful history with New York City — though a history that people of yesteryears preferred to forget.
Led by historian Stephen Paul DeVillo, our digital showcase of the once-notorious Bowery and its curious history will include:
A historical overview of the Bowery and how it evolved from a rural pathway to the "Boulevard of the Forgotten"
A deep dive into the Bowery's often raucous and scandalous history, from infamous saloons to dime museums, and street gangs to places of ill repute
A look at New York's early theater scene, and colorful characters such as "Peg Leg" Peter Stuyvesant, Harry Houdini, and others
Historic photos and paintings illustrating the Bowery's variegated scene over the centuries, including things that remain, and those long gone
A discussion around today's Bowery — while it has slowly reclaimed its old heritage as a scene of music and culture, this renaissance is threatened by encroaching hyper-gentrification
Ghost stories from the infamous stretch
Afterward, we'll have a Q&A with Stephen — any and all questions about the Bowery are welcomed and encouraged!
Can't make it live? Don't worry, you'll have access to the full replay for one week!
See you there, virtually!
*Immediately upon registering, you will receive a separate, automated email containing the link to join this webinar
**For the best possible viewing experience, please ensure you're using the latest version of your internet browser — Google Chrome is the most compatible. Exact technical requirements and a webinar user guide will be shared in the automated confirmation email upon registration.
***A full replay of the experience will be available to all registered guests for up to a week
About Stephen
Local historian Stephen DeVillo is the author of The Bowery: The Strange History of New York's Oldest Street and The Bronx River in History and Folklore. In recent years he had led annual Jane's Walks for the Municipal Art Society along the Bowery and elsewhere, and the Bronx River Rambles for the Bronx River Alliance. A lifelong walker and urban explorer, he is fascinated by the big histories to be found in small places, and seeks out their obscure and half-forgotten tales, tragedies, and folklore.
Testimonials
"The speaker was engaging and extremely knowledgable about the topic being discussed. Length of the presentation was perfect." -Cindy
"I learned a lot of new things that I wouldn't have expected. Especially liked the anecdote about John Clapp starting the first regular NYC St. Patrick's Day celebration." -Lauren
"Very knowledgeable and touched on both ends of the spectrum, inc ghost stories :)" -Liz
"Extensive & diverse history & current situation. I also like how the current speaker affirmed colleagues, other writers and, and showed a lot of empathy for the sad stories that seem to be dominant there as well as the theater origins" -Sharon
"Brilliant presentation, Stephen covered so much ground & brought the whole history of the Bowery to life." -Mary
"Excellent storytelling and historical perspective. Presenter is clearly very knowledgeable and passionate." -Jessica
"I loved the speaker, he was well informed and had a great demeanor. The information presented was very interesting and well organized." -Monica
"Mr DeVillo is not only knowledgable but has a very relaxed, easy manner, and is a pleasure to listen to." -Michael
"Very informative. I'm not from NY city, so it is interesting to learn about the history of the different areas." -Barbara
"I learned so much from Stephen and I am going to buy his book! He knows his stuff and was an engaging speaker!" -Trish
"The deep dive into history! It's so fun to focus on a relatively small part of the city and follow it through centuries." -Anna
"The speaker was superb. He really painted a vivid picture of what times were like on the Bowery to the point where I felt like I was there. I loved his presentation and visuals he used to support his talk." -Linda
"Extremely informative, with a number of interesting anecdotes. Another chapter into the vast history of Manhattan and New York City." -Marsha
"It was an interesting blend of history and fun anecdotes and stories. Stephen was obviously extremely knowledgeable." -Cathy
"Fascinating content. Very well researched." -Barbara
"Everything! I loved learning how the Bowery tied into the Five Points." -Lisa
"Very comprehensive and detailed history many new facts to light." -Robert
"Stephen is so knowledgeable about the Bowery. His visuals are excellent. He is an excellent orator." -Ellen
"Very informative and the presenter's flow was impressive." -Martin
"I like the visuals. The presenter provided a wide variety of information." -Maria
"I was at the Bowery as a kid in the 50's and I did not know much except I was told it was a very dangerous place. I learned so much tonight. He is a great presenter. I also enjoy the chats during the lectures. The Q and A afterward is also interesting." -Pam
"Excellent historical overview of The Bowery; I will certainly follow-up on several topics. I would love to take the walking tour." -Harry
"I missed all but the last five minutes. I hope to see it it sounded good." -Anina
Disclaimer
By attending a New York Adventure Club experience, you accept our terms of service.
Categories: Virtual, Neighborhoods
Photo Credit: CBGB - Jack Vartoogian/Getty Images