National multi-disciplinary Hip Hop arts event in support of youth programs that foster resilience, leadership, and connection to community.
About this Event
Join us virtually on March 11th for the Bounce Back, a celebration of Hip Hop, community, & resilience that will raise funds for Unity's 'Hip Hop meets mental health' programs for youth. This is not your typical charity event – it is a unique opportunity to attend a dynamic, multi-disciplinary Hip Hop arts event AND support youth programs that develop resilience through positive outlets for stress, mentorship, and connection to peers and community.
The theme for the evening is all about resilience (hence the name, "The Bounce Back"!) The intended impact of Unity's work is always to help young people develop resilience, and The Bounce Back will artfully share stories and performances from the Unity Community across Canada that highlight how Unity's programs, Hip Hop, art and meaningful connection have helped youth, artists and others from Unity spaces to feel and be resilient in the last year (and beyond).
The evening will be filled with uplifting stories and will feature....
A special Rap performance from Keysha Freshh
A special Street Dance performance from Lady C
Hosts with most, Britta B and Akeem Raphael
Fresh spins from DJ Iced Misto
A National Rap Cypher from Nereo & Osani (Winnipeg), Maje & Fiifi (Halifax), and Eyeda Sophia & Yasmin Wright (Toronto)
A Beatmaking performance from Fresh Kils, Gee, & participants from Unity's weekly Beatmaking programs
Exclusive time lapse footage of a graffiti piece by Rock
A Breaking performance in collaboration with BREAKSPACE in Halifax
A Spoken Word performance from Desiree McKenzie & participants from Unity's weekly Spoken Word program
PLUS, you can scoop up some new, limited edition throwback merch from our Unity Shop (check out the items below!)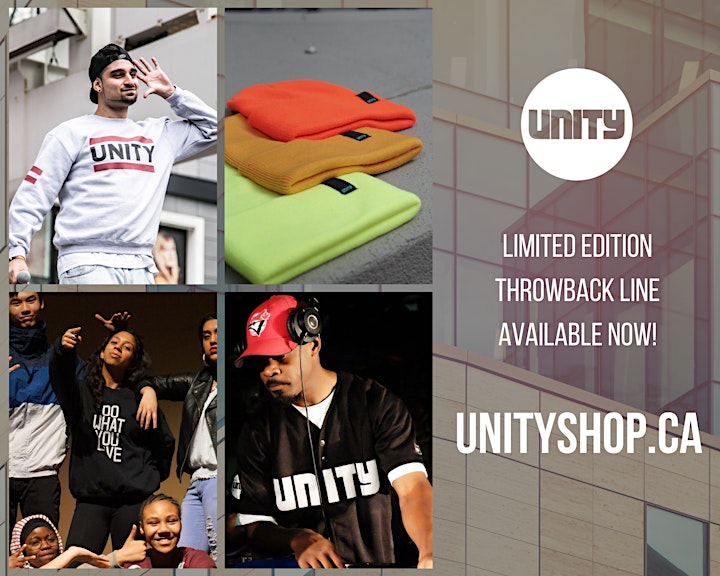 Don't sleep on this opportunity to party with a purpose - get your tickets today!
Click here to learn more about Unity's programs for youth across Canada.