Description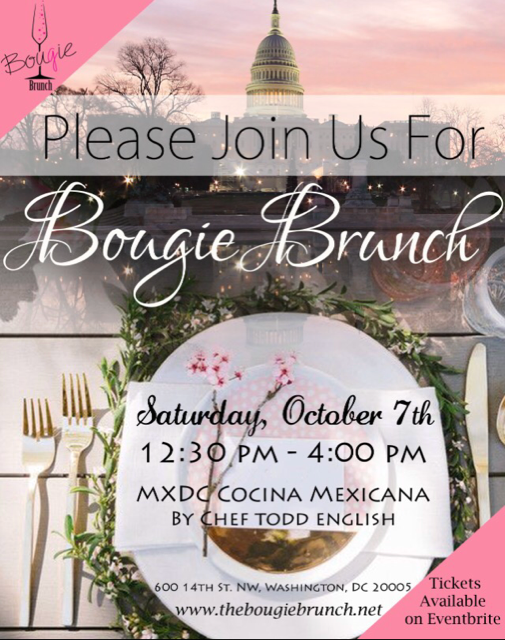 We are excited to host the Bougie Brunch in the nation's capital! The event will include:
--Brunch buffet and bottomless beverages
--Professional headshot station by Dapper Depictions
--Professional style consultations by Lizzmore
--Bougie swag bag
--Giveaways (please bring "Bougie Blessings" to enter raffle)
Bougie Blessings
We will accept donations of toiletries which we'll donate to Biscuits with Boots, a nonprofit organization based in D.C. that seeks to assist in providing basic needs to ensure that homeless individuals have a sense of pride and dignity. Biscuits with Boots arranges care packages that include the following items: soap, deodorant, washcloths, toothbrush, toothpaste, shaving cream, sanitary napkins/ tampons, baby wipes, razors, combs and brushes, and non-perishable snacks and water. For each ziploc bag filled, donors will receive 1 (one) raffle ticket. Bring several bags filled to increase your chances!
Gift Bag & Giveaway Sponsors:
Jane Carter Solution -- Miss Jessie's -- Cesare Regazzi -- ORS Hair Care -- Janomi Hair, LLC. -- Ambition Magazine -- Jamaican Mango & Lime Hair Products -- DID Nails -- SHE Boutique -- LipSense/Must Lippies -- Nicole Nixon NYC -- Shop ML Couture -- It Works -- Lizzmore Clothing -- PRMP Beauty Studio -- "The Undivorced" -- "Pretty Powerful" -- Unapology Beauty -- Omeyeni Jewelry -- Prettiest Pearls -- House of Hillary -- Mother Tree Naturals -- Sheree Alexis -- Tunnel Vision Marketing
We look forward to seeing you October 7th! Follow us on Instagram (@_thebougiebrunch_) and Facebook for updates.
Be Blessed and Bougie!
Date and Time
Location
MXDC Cocina Mexicana | By Chef Todd English
600 14th Street Northwest
Washington, DC 20005
Refund Policy