The Boston Landmarks Orchestra Presents: The Witness Cantata by Swanee Hunt

Sunday, June 9, 2013 at 1:00 PM (EDT)
Event Details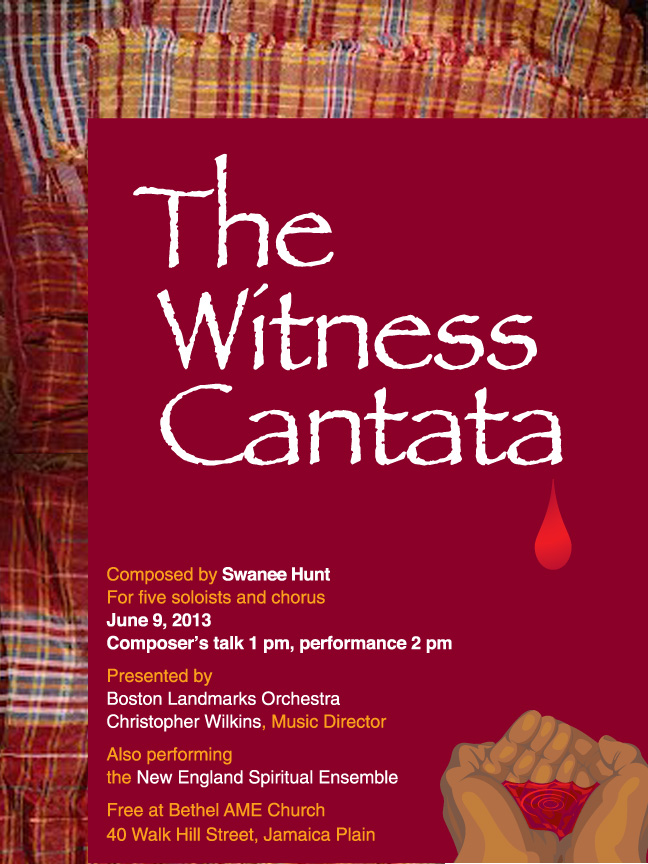 Prior to the performance, Swanee Hunt will discuss the musical, theological, and literary themes of this hour-long cantata composed for five soloists, chorus and chamber ensemble. Rev. Liz Walker (Roxbury Presbyterian Church), TV journalist well-known to Bostonians, will narrate the Witness Cantata. 
Boston civic leaders Ray Hammond and Gloria White Hammond are co-pastors of Bethel AME Church. This event is a tribute to the work of Dr. Gloria White-Hammond and her efforts in the Sudan. The Rev. Liz Walker who, as a journalist, has covered so much of the agony of that country will narrate the "Wiitness Cantata". Pastor Ray Hammond will narrate "Cry the Beloved Country". We are pleased to be holding this event at the Bethel AME Churchbecause of its mission for good in our community.
__________________________________________________________________________
Program:
Selected Spirituals performed by the New England Spiritual Ensemble joined by:
Sopranos:                               Altos:
Cassandra Extavour           Julia Cavallaro
Margot Rood                         Thea Lobo
Brenna Wells
Tenors:                                   Basses:
Michael Barret                      Jonathan Barnhart
David McSweeney              Brett Johnson
Cry, the Beloved Country, excerpts (Weill)
Solosits:
Myran Parker Brass
Davron Monroe
The Witness Cantata (Swanee Hunt)
Soloists:
Jayne West
Mary Westbrook-Geha
Yeghishe Manyucharyan
Donald Wilkinson
Nicholas Olbash
__________________________________________________________________________
Host Committee:
Kathi Aguero & Richard Hoffman                               Mona Miklosik
Christina Bain                                                                    Arnie Miller
Elyse Cherry                                                                        Anne Peretz
Rev. Kim Crawford Harvie & Kem Morehead          Gene Robinson
Susan & Westy Egmont                                                   Susan Rodgerson
Abigail English                                                                  Carol Rose & Tom Harrington
Judy Goldberg                                                                     Elizabeth Ross & Richard Wrangham
Bob Goldman & Jose Paiva                                             Holly Taylor Sargent
Ellen Goodman                                                                  Kate & Ben Taylor
Geri Guardino                                                                    Lisa Tysal
Pamela & John Humphrey                                             Clara Wainwright
Joan Bennett Kennedy                                                     Bill Walczak
Ellen Langer                                                                       Ben Zander 
Jeff Makholm                                                                      Dorothy Zinberg
Berneda & Louie Meeks
__________________________________________________________________________
The Witness Cantata is a moving meditation on the nature of faith. It presents a series of reflections on human suffering and hope, with text drawn from poetry and scripture organized around the Seven Last Words of Christ. It is a work rich in imagery, summoning responses and questions related to nature, community, and family relationships.
The richness echoes the life experience of composer Swanee Hunt, whose career includes contributions in the fields of ministry, social justice, music, literature, philanthropy and public service. The work has left a powerful and enduring impression on the many who have heard it since its premiere in 1985.
The tone of The Witness Cantata is lyrical, approachable and prophetic, and this quality it shares with Kurt Weill's Broadway masterpiece, Lost in the Stars, based on Alan Paton's novel Cry, the Beloved Country. Like The Witness Cantata, Cry, the Beloved Country asks how it is possible to maintain hope in a troubled and unjust world. Both works look for answers in the mysteries and miracles of the everyday, in life as it is experienced, in common acts of compassion, and in the beauty of nature that is "lovely beyond any singing of it."
As the principal figures of both works seek light in the midst of darkness, the music itself refutes the bleakness of the world. Both Kurt Weill and Swanee Hunt have imbued their works with the consoling resonances of traditional American hymns and spirituals. Appropriately, the New England Spiritual Ensemble will open the evening at Bethel AME Church by singing the repertoire they were founded to perform, African-American spirituals.
This performance is FREE to attend, but space is limited. Reserve your space today! 
*Free parking is available at Bethel AME Church and on Walk Hill Street.
When & Where

Bethel AME Church
40 Walk Hill Street
Jamaica Plain, MA 02130


Sunday, June 9, 2013 at 1:00 PM (EDT)
Add to my calendar
Organizer
Boston Landmarks Orchestra
Since 2001, the Boston Landmarks Orchestra has brought together diverse communities of Boston through the common language of music. Its civic mission of inclusiveness distinguishes it from other performing arts ensembles in the city.
Made up of some of Boston's most accomplished professional musicians, the orchestra presents free concerts at the DCR's Hatch Shell along the Esplanade adjacent to the Charles River. It also offers family concerts and educational programs at no cost in the neighborhoods of Greater Boston. More than 50,000 people attended Landmarks events in 2013.
Collaborating with arts, cultural, education and social service organizations, the orchestra seeks to ensure that great music is available to audiences across ethnic, economic and cultural boundaries. It makes special efforts to bridge the limits that have traditionally provided barriers for people with disabilities.
The Boston Landmarks Orchestra Presents: The Witness Cantata by Swanee Hunt