Description
How to become a sought-after speaker that can convert your words to wealth.
Let's review the facts:
- Let's be honest the speaker industry is saturated.
- There are people that will help you create and craft your story, but how do you take that to the next level and make a living from speaking and touching lives?
- It's easy to find people that will let you get on their stage for free, but not pay you.
This event will teach you the business of speaking from people who are currently doing it in today's saturated market and winning. International speaker Jose Flores will share with you his journey from working a corporate job, to speaking to fortune 100 companies. Jose will explain how to break past the gate keepers, and get to the decision makers, but more importantly he will let you know what to do once you get there to take full advantage of that opportunity! (Know how to negotiate.)
He will be having his team join him on stage as well. Jose will teach you when to take paying and non-paying speaking opportunities and still get paid, how to sell from the stage, and the importance of touching the heart of your audience. Jose will share tips and tricks you can implement right away.
SPEAKERS
Luis Marcelino - CEO, Software Developer, Real Estate Investor, Business Consultant and Inspirational Speaker.
Luis Marcelino is a War Veteran, Former Deputy Sheriff, Serial Entrepreneur and the Author of the upcoming book "You Have To Be Crazy To Win!" CEO of Marcelino Enterprises, a family of Companies, one of which is a Business Coaching and Training Company empowering businesses to automate systems with proven tools and strategies, along with the mindset and framework necessary to accomplish your life and business goals.
Dr. Kimmi Stulz - Educator, Entrepreneur, and Founder of JuiceryRX.
Kimmi is the Director of Preceptor Development/Assistant Professor at NSU College of Pharmacy. She's also the founder of Juicery Rx, an apothecary-inspired juice bar providing alchemy formulated tonics, elixirs and nutraceuticals. Stultz was selected as NSU's Pharmacist Leaders under 40. She strongly advocates campaigns that reflect health and wellness to create protocols that empower people, organizations, and communities to heal their bodies and improve their mental resilience. On top of obtaining her Doctorate degree, Kimmi is an expert at providing an incredible customer experience (at her two JuiceryRX locations) that creates raving fans and keeps them coming back for more and she'll show you how to do the same.
Melitsa Waage - Transformational Thought Leader - Fitness Champion -Author -Motivational Speaker -Life Coach
Melita's obsession with helping others began when she was just a little girl: a child with a "dark" life and no real hopes of any successes in her future, with heroin addict parents, forced into the foster care system, mentally abused and constantly being reminded she was not good enough, and that she would never amount to anything or achieve anything.
Despite these adversities she knew she was destined for more. She knew she was created for greatness! She used her troubled past as a beacon of hope, sharing her story with the world and letting people know, "Things don't happen to you, they happen for you."
Her message is clear: she wants you to know that, no matter what has happened in your life, you can rise up, conquer your life, and create the life of your dreams if you allow that to happen.
Her dedication to helping others has led to multiple business endeavors, which are her ways of "paying it forward" to those in need and individuals who are looking to amplify their lives and create the life of their dreams.
Date: Sat, October 19th, 2019
Time: 8:00am-5pm
Exclusive Networking: 5pm-7pm
Location: Hampton Inn Ft. Lauderdale/Downtown Las Olas Area
Cost:
Watch Live Online and Replay Access $30.00 USD
General Admission $60.00 USD - Valet Parking Included
VIP Ticket $110.00 USD - Valet Parking & Lunch Included
This small investment will have a BIG return. You will get the following bonuses with your VIP purchase:
Front row seating

Swag Bag

Private lunch with Jose Flores and speakers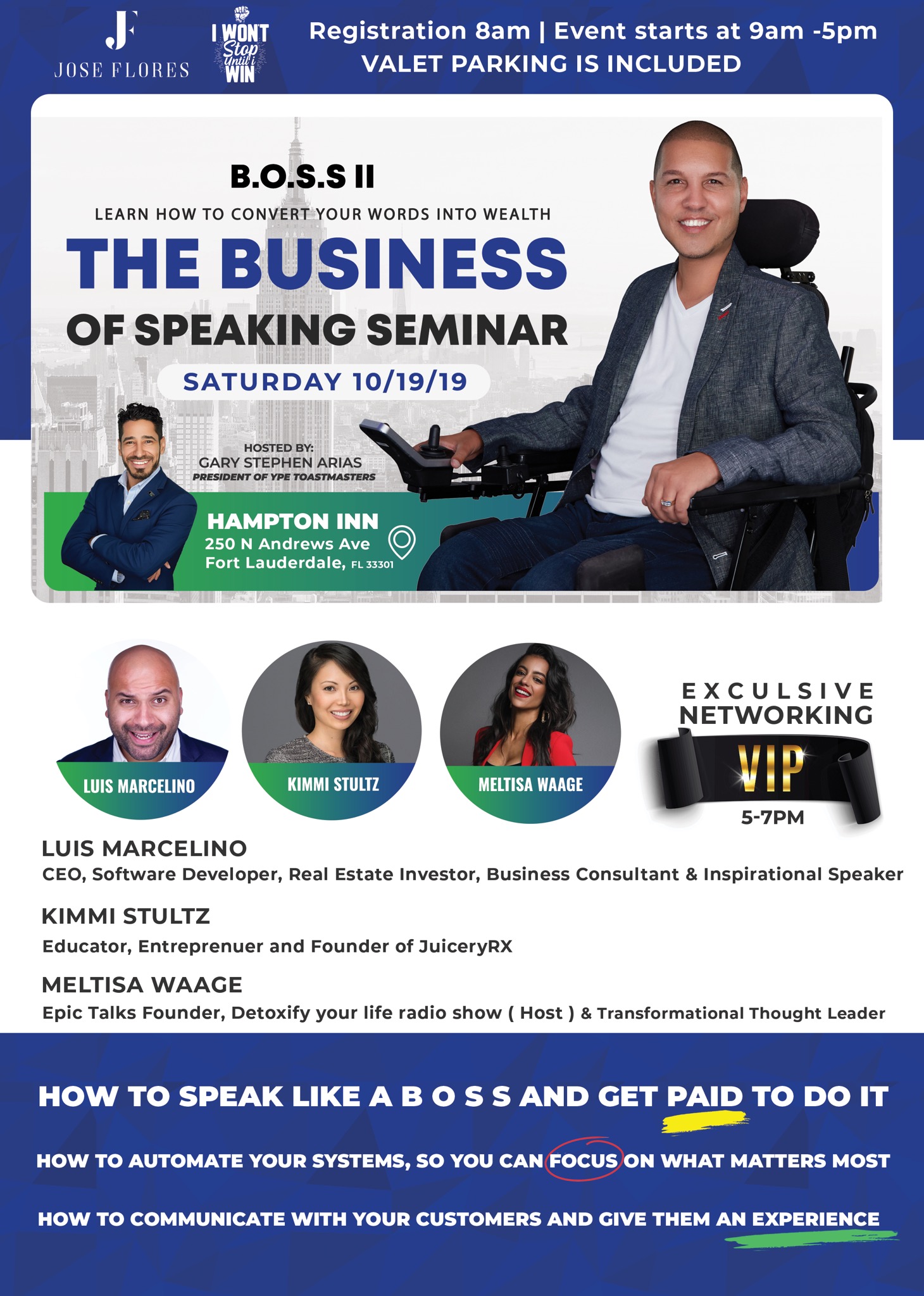 Organizer of The B.O.S.S. II (The Business Of Speaking Seminar II)