Event Information
Location
New Castle County Chamber of Commerce
920 Justison Street
Wilmington, DE 19801
Description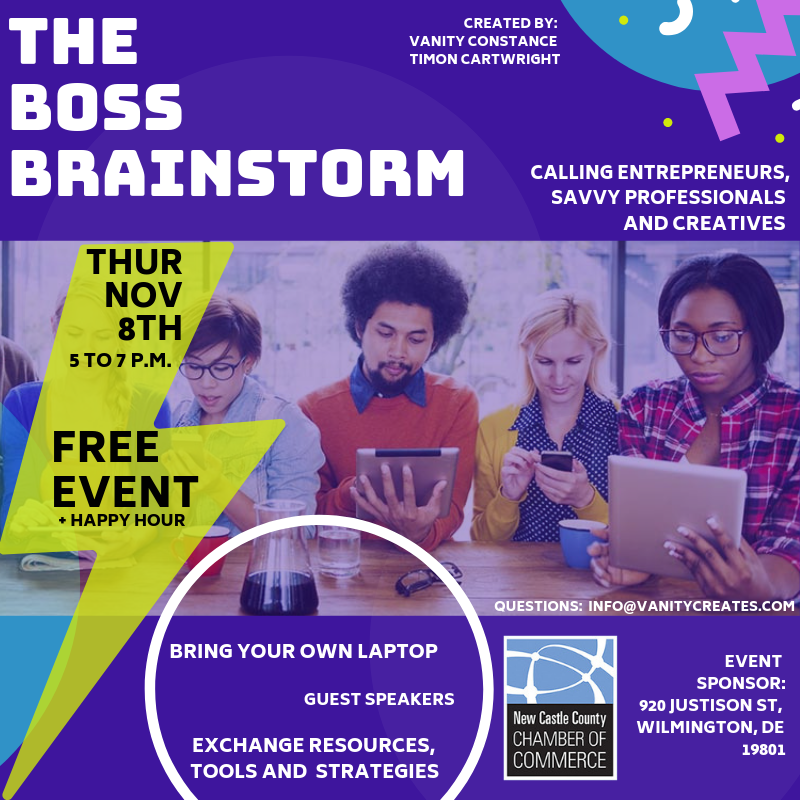 FREE experience.
Proud to be apart of Delaware Innovation Week #DIW2018
What is it?
'The Boss Brainstorm' is a
collaborative effort of entrepreneurs, savvy professionals and creatives who gather in order to exchange and receive tools, tactics and resources. Focused guest speakers are invited to join the exchange , lead conversations, and answer questions that are asked.
Those who are participating will receive tangible resources and tools + business swagg.
Why?
Often times people silo there minds, opportunity and expansion by habits and routine. 'The Boss Brainstorm' experience is an open dialog of what professionals need to hear and questions they need to ask.
Atmosphere
Dress is casual.
Thinking caps required.
B.Y.O.L - Bring your own laptop ( if you want)
Guest Speakers
Markevis Davis, managing director of Nerdit Now
Lindsey Tucker, photogrpaher and blogger
Timon Cartwright, founding member of Icon Djs production
Aaron Walker, chief operating officer for Interactive Daydreams
Event Details
Date: Thursday November 8th
Time: 5to 7 p.m.
Location: New Castle County Chamber of Commerce 4-6 p.m. , then walking right next door to Ubon Thai at 6 p.m. to get happy hour!
Parking: FREE , in front of Planet Fitness
Refreshments: YES
Date and time
Location
New Castle County Chamber of Commerce
920 Justison Street
Wilmington, DE 19801