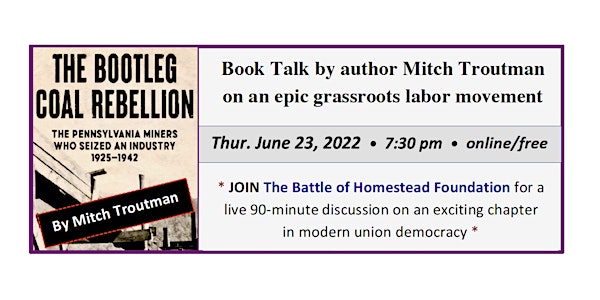 The Bootleg Coal Rebellion: Pennsylvania Miners Who Seized an Industry
Author Mitch Troutman talks about his new PM Press book on resistance and resilience among Depression-era miners in Pennsylvania
About this event
Author Mitch Troutman relates the remarkable tale of "The Bootleg Coal Rebellion" — Depression-era miners in Pennsylvania who sank their own mines on company grounds and fought police, bankers, coal companies and courts to form a union that would not only safeguard their livelihoods but also protect their collective autonomy as citizens and workers.
* Mitch Troutman is a writer, educator and organizer living in Pittsburgh, PA. He is a direct descendent of bootleg coal miners, a co-founder of Anthracite Unite and a founding member of Put People First! PA.
** You can pre-order the book before it hits the shelves in September ... order here from PM Press. **
-----------------------------------------------------------------------------
*** REVIEWS ***
"Troutman is a gifted storyteller. Combining rich imagery and down-to-earth writing with prudent historical research, he shows us what working class people are capable of when companies push them to the brink of starvation. Modern-day coal barons beware: this book will turn readers into renegades." — Jamie Longazel, author of Undocumented Fears: Immigration and the Politics of Divide and Conquer in Hazleton, Pennsylvania
"Using local newspapers and oral history interviews, gifted historian Mitch Troutman tells the story of the miners as well as the women, children, storekeepers, truckers and priests who participated in the bootleg coal rebellion. Great read!" — Karol Kovalovich Weaver, author of Medical Caregiving and Identity in Pennsylvania's Anthracite Region, 1880–2000
"The most detailed account we have of coal bootlegging in the anthracite region of Pennsylvania in the Depression decade. It shows how unemployed miners took over unused mines, asserting and defending a right to mine and market the coal to support their families and writing a remarkable chapter in American labor history. We are in debt to Mitch Troutman for telling this remarkable story." — Thomas Dublin, author of The Face of Decline: The Pennsylvania Anthracite Region in the Twentieth Century
-----------------------------------------------------------------------------
*** PLEASE NOTE: upon registration participants are given a Zoom link for the event ... scroll down to the bottom of the Eventbrite *confirmation email* for the Zoom link. ***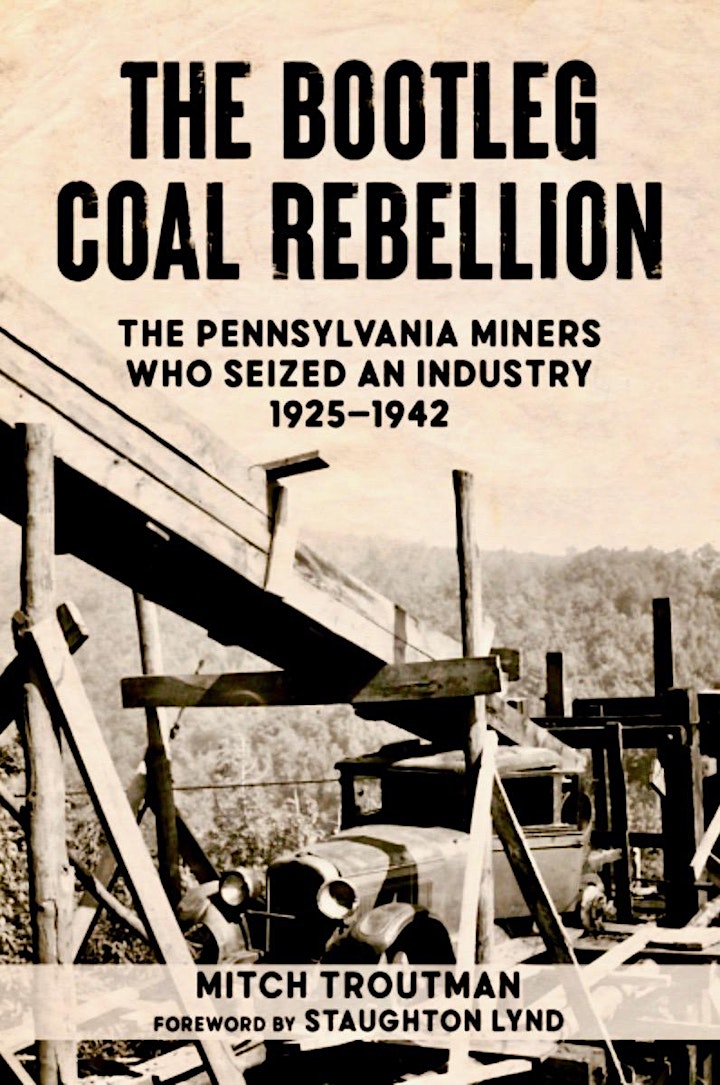 ** WHILE THIS PROGRAM is admission-free, you are welcome to make a monetary donation to offset expenses involved in producing our 2022 Program Series.