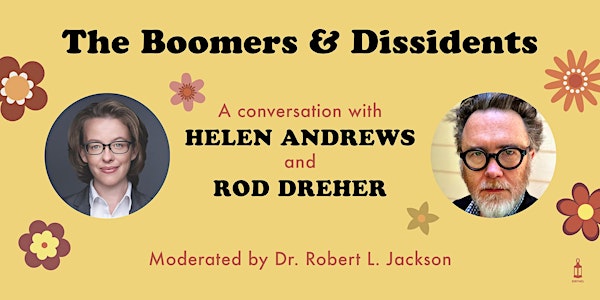 The Boomers & Dissidents: A Conversation with Helen Andrews & Rod Dreher
Join Helen Andrews & Rod Dreher, senior editors at The American Conservative, as they discuss their new books: BOOMERS and Live Not By Lies
About this event
How did our political climate get so fractured? And what are we to do in response? Helen Andrews and Rod Dreher, senior editors at The American Conservative, have both weighed in on these pressing questions in their new books from Sentinel Books.
Helen Andrews has sketched a dire view of the largest generation in American history in her new book, BOOMERS: The Men and Women Who Promised Freedom and Delivered Disaster. With characteristically scrupulous fairness and biting wit, Helen addresses the Boomer legacy through profiles of six of the Boomers' best and brightest. Ranging far beyond the usual Beatles and Bill Clinton clichés, Andrews shows how the Boomers' effect on the world has been tragically and often ironically contrary to their intentions. They tried to liberate us, and instead of freedom they left behind chaos.
So how do we pick up the mess with which we've been left? In Live Not By Lies: A Manual for Christian Dissidents, Rod Dreher sees foreboding parallels between our current cultural predicament and that of the former Soviet bloc--but also lessons to be learned from its dissidents. The totalitarianism coming to America isn't the hard totalitarianism of jackboots and forced labor camps, but a more insidious "soft totalitarianism" that is based less on overt violence and more on psychological manipulation. Through his conversations with emigres from the former Soviet bloc, Rod explains what's coming and provides practical strategies for resisting the new order. As the forces of big government and woke capitalism continue to converge, his message is more timely than ever.
Rod and Helen will explore the themes of their books in conversation with Dr. Robert Jackson, Chief Academic Officer at Great Hearts. Register today for this timely and important discussion.
*Please park in the back of the school property and enter the doors at the end of the long breezeway. Through those doors you will be directed to the Performing Arts Center.
*Due to COVID-19 restrictions, attendance capacity will be limited; register today for in-person attendance. Discussion will also be live-streamed through The American Conservative social media channels. No registration necessary for live-stream.
Organizer of The Boomers & Dissidents: A Conversation with Helen Andrews & Rod Dreher