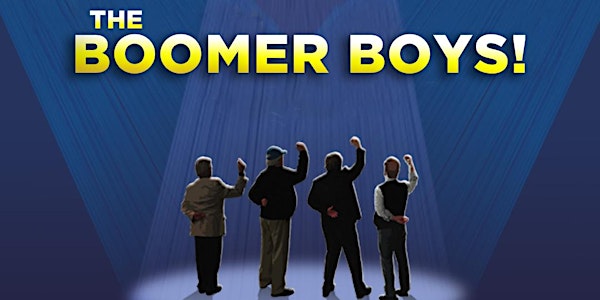 The Boomer Boys
When and where
Location
McCoole's Arts & Events Place 10 South Main Street Quakertown, PA 18951
Description
One Night Only - Saturday, November 9!
Two Performances - 5 p.m. and 8 p.m.

Women Get the Last Laugh as Men go Over the Hill!
Meet "The Boomer Boys!" In this hilarious musical revue, a fun-loving "fat pack" of middle age men realize that the best way to deal with getting older is to laugh about it with your friends. That's exactly what these guys do as they navigate everything from the depths of expanding waistlines to the heights of Viagra.
Ladies, now is your chance to find out what men are really thinking as this hilarious evening of songs covers everything from snoring and hair loss to weight gain and lost car keys. And all's well that ends well as our mid-life quartet concludes with the inspirational revelation that you'll never be younger than you are today! If a hysterical night of songs, jokes and stories is on your to-do list, don't miss "The Boomer Boys!"
"Wincingly FUNNY! A laugh from start to finish!" –The Journal
"It was like someone threw me on the floor and started tickling me. My laughter could not be contained!" – Liz Jeressi, "Lou and Liz in the Morning," 94.3 The Point (WJLK FM)
"SHEER JOY! Enjoy the goofy, good-natured, youthful spirit of "The Boomer Boys" if it ever comes your way!" – Front Row Center
About the Playwrights:
Billy Van Zandt & Jane Milmore (Book & Lyrics)have been called the "masters of modern farce." (NY TIMES). Their 23 plays, all published with Samuel French, have been translated into multiple languages and performed all over the globe. Their Off-Broadway hit "You've Got Hate Mail" ran four and a half years at the Triad Theater and has continued with multiple ongoing productions around the world. Their works have been directed by the likes of Oscar winner Olympia Dukakis, and film icon Burt Reynolds.
On television, their careers began with Bob Newhart on "Newhart". Since that time, they have written and produced countless hours of television comedy, including shows for Don Rickles, Richard Lewis, Jamie Lee Curtis, Andrew Dice Clay, the Wayans Bros., Brooke Shields, DL Hughley, Olympia Dukakis, Michael McKeon, Richard Mulligan, and John Goodman.
For more information visit www.theboomerboys.com