Sales Have Ended
Ticket sales have ended
Thank you! We look forward to seeing you there!
Event Information
Location
Lakou Cafe
195 Utica Avenue
Brooklyn, NY 11213
Sales Have Ended
Ticket sales have ended
Thank you! We look forward to seeing you there!
Bonbon Lakay Inc Celebrates One Year Anniversary with Haitian Food & Clairin
About this event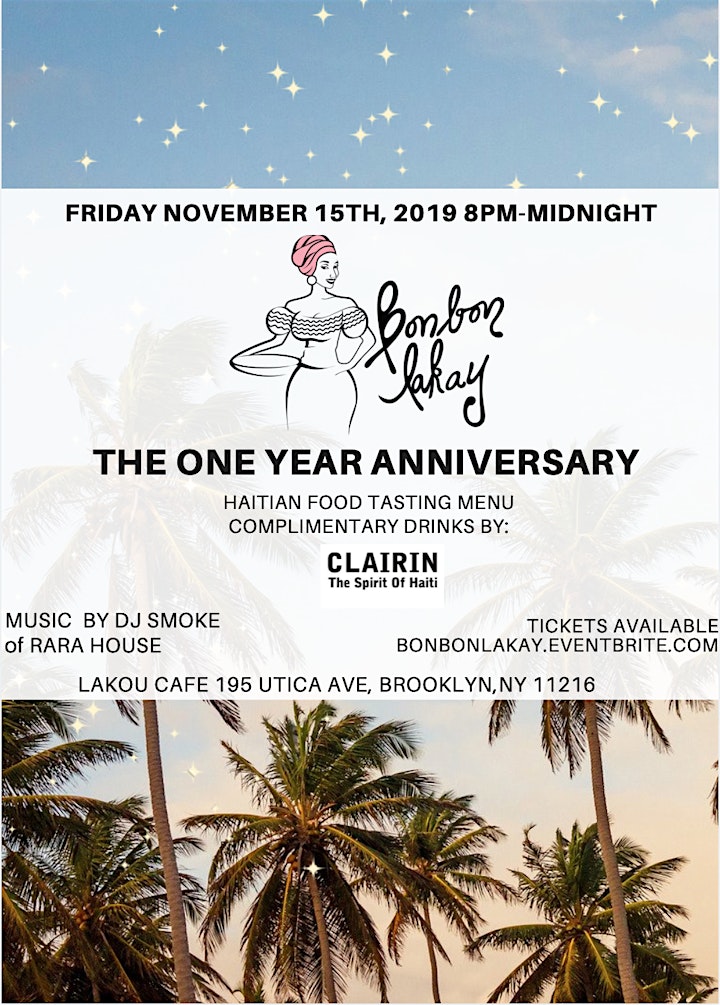 Bonbon Lakay Turns One! We are celebrating with some of our favorite Haitian dishes and of course the Haitian snacks Bonbon Lakay is now known for. Come be transported to the pearl of the Caribbean with us, with griot, clairin and good music.
MENU
Dinner
Pumpkin Soup, Avocado & Codfish Crostini, Griot: Pork, Plantain, Accra & Pikliz
Dessert
Enjoy a selection of Bonbon Lakay snacks including our famous Haitian rum cake!
Drinks
Prestige & Clairin Cocktails
Cocktails are provided complimentary of Clairin Spirit of Haiti
About Clairin Spirit of Haiti,
Haiti is the last frontier of rum and Clairin is the rum of the people. Haiti has over 500 distilleries producing diverse and incredible spirit for local consumption, until recently only available in the villages. Founded in 2012, The Spirit of Haiti represents the first time Clairin has been bottled for commercial enjoyment outside of the island. Explore The Spirit of Haiti through the distilleries of Michel Sajous, Fritz Vaval, Faubert Casimir and Le Rocher.
Visit www.thespiritofhaiti.com, follow @clairinthespiritofhaiti on Instagram
About Bonbon Lakay Inc.,
Founded in 2018 - Bonbon Lakay Inc which translates into treats or cookies from home, launched with the purpose of making a little piece of Haiti available to Foodies, Haitian Culture Enthusiasts, and Haitian Diaspora everywhere. Their ultimate goal is for all products sold on the site to be made in Haiti using Haitian ingredients, promoting sustainable farming practices, leading to job creation and wealth in Haiti. Currently the site offers traditional treats made in New York City exclusively for Bonbon Lakay customers in small batches by bakeries that uphold and value their Haitian heritage. While packaged goods like coffee, and chocolate are direct from Haiti. Treats offered include Barbencourt rhum cake, peanut brittle, cashew brittle, starch cookies(a short bread cookie made primarily with starch), langue boeuf(a crispy pastry) amongst other treats.
Since launching BonbonLakay.com has amassed both Haitian and Non-Haitian loyal customers far and wide.
A portion of the proceeds from Bonbon Lakay Inc. are donated to Anseye Pou Ayiti(APA). A Haiti based organization on a mission to raise education outcomes in disadvantaged areas of Haiti by recruiting and training outstanding teachers for existing schools.
Visit www.bonbonlakay.com, follow @BonbonLakay on Instagram, Facebook, Twitter and Pinterest
Date and time
Location
Lakou Cafe
195 Utica Avenue
Brooklyn, NY 11213
Refund policy