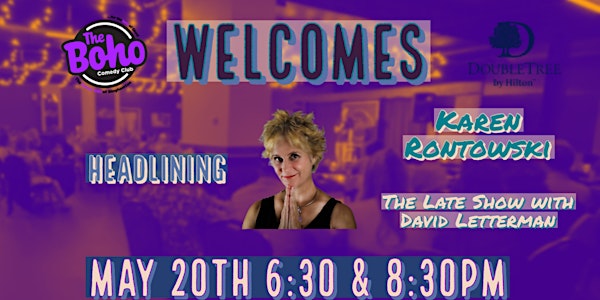 Multiple dates
The Boho Welcomes Karen Rontowski!
Join us for an evening out at the funny side of Binghamton with Karen Rontowski!
Date and time
Saturday, May 20 · 6:30 - 10pm EDT
Location
The Boho Comedy Club 225 Water Street Binghamton, NY 13901
Refund Policy
Contact the organizer to request a refund.
Eventbrite's fee is nonrefundable.
About this event
The Boho Comedy Club
Well, Hello There! If you like to laugh as much as we do, you're in good company and you've found Binghamton's first and only comedy club. First off, it's not a bar, there are not bar like distractions that you might have encountered at other 'busy, multi-purpose' venues holding comedy shows. Our comedians are not competing with TV sports anchors shouting, "Did you just see that!?' Now, as you may have guessed, The Boho is not your typical comedy club. We can pretty much guarantee that you haven't experienced a cozy and nostalgic club quite like ours before. As one of our favorite SNL characters, Stefan would say, "this club's got everything"…hand assembled IKEA chairs, Giordi's personal collection of comedy books, the delicious aroma of apple cider, instead of the smell your mind's eye naturally associates stale beer and lingering body fluids with, yes, yes, yes! It even has a stage with a huge mosaic boho sign, Christmas lights, funny comedians from late night shows getting ready to make it BIG, laughter, a cash bar, ya know the kind at a cheap wedding, and if you squint your eyes and look really closely, you can even spot the ashes of the dreamer that envisioned it all!
We've experienced first hand that life can be a real roller coaster of a challenge, so it's our mission to help you forget about your troubles and replace them with some humor, a little humility and a lot of laughter! (Even if it is only for an hour or two!) Our Boho family strives to bring you professional, quality and enjoyable shows gifting you with that NYC comedy club feel right here in our hometown of Binghamton. (Wait, did that just translate to gas savings!? Heck yes!) So, if you're asking that age old question of, 'What is there to do in Binghamton?' We have an answer... WE ARE…SOMETHING TO DO IN BINGHAMTON! Grab some friends, have a date night with us, round up your family, celebrate a birthday or gather the work crew and join us for a fun evening, while we try to turn tears to laughs, one joke at a time.
Boho Show Information:
Comedians: Karen Rontowski is Headlining and Cody Montanye is Featuring
Our shows are structured to have 3 comedians, typically a Host, Feature and Headliner. Some shows may consist of two Co-Headliners.
Showtimes:
6:30pm-8pm: Doors open at 6pm
8:30pm-10pm: Doors open at 8:30pm
Seating:
Please note you are purchasing a table that will accommodate the number of people in your party. Your party will not be seated with anyone outside of your party unless. (Please note: if you have extra chairs at your table, we may remove them in an effort to keep your party separate from other parties)
If you would like to sit with another party that purchased tickets, please text or email us so we can arrange this for you!
Location/Parking:
225 Water St. Binghamton, NY 13901, located in the lower level of The DoubleTree Hotel.
We have 2 parking lots with FREE and CONVENIENT PARKING! These lots are located DIRECTLY behind the DoubleTree hotel, by the fitness center. When on Water Street, turn right at the stop sign where all the construction to the Boscov's parking garage is and enter, it is accessible!
Entrance:
If you park in the back lots and enter through the patio doors, when you reach the elevators, take a right and there we are!
Food & Beverages:
*NEW*-We have a FULL Boho Menu and you can now enjoy dinner and a show with table service!
A cash bar is also available inside the club, if you plan on just drinks. *An ATM is located upstairs in the main lobby.
Masks:
Masks are optional. If you feel more comfortable wearing one, please feel free to do so as we want you to feel comfortable!
Group Discounts:
For groups larger than 10, celebrations or work party outings, feel free to contact, 607-221-3235 or thebohony@gmail.com
Fundraising & Donations:
We need the community's support to bring you the funny side of Binghamton and we believe it's all of our responsibility to pitch in and help give back to our community as often as we can. If you'd like to partner with us to do a fundraiser show or are requesting a donation, please contact, 607-221-3235 or thebohony@gmail.com for more information.
A Little About Us:
3 guys walk into a bar….(true story) At a Matty B's open mic they became great friends and through their love of comedy, they began partnering with restaurants and venues, producing shows and events, like The Binghamton Comedy Crawl, all around the Southern Tier. After the success of these events, their dreams grew and they observed that Binghamton's grey skies can really dampen one's mood and that the people of Binghamton needed to experience, the funny side OF Binghamton! And so, The Boho Comedy Club was born and lives on in loving memory of our beloved co-founder and "hair brained ideas man," Giordi DeAngelo. Catch our little bit of comedic magic monthly at The DoubleTree Hotel in downtown Binghamton. For more about us and upcoming show information, check out our facebook and instagram @thebohony.
We hope to see you at the funny side of Binghamton, where we soldier on and turn real-life tragedy into fun-loving comedy…one joke at a time.
#fortheloveofgiord