Description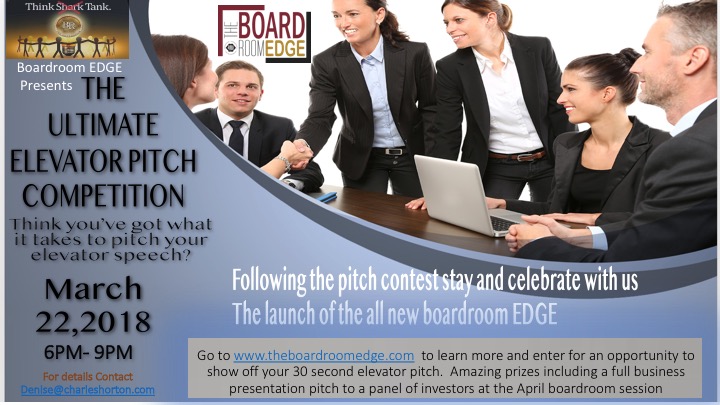 If you like Shark Tank you will love The Board Room! Mark your calendars.
The next boardroom is March 22, 2018.
Think you've got what it takes to pitch your 30 second elevator speech?
The all new boardroom EDGE presents:
The Ultimate 30 Second Elevator Pitch Competition, followed by the all new Boardroom EDGE launch party. Stay after the pitch competition and learn all about the all new boardroom EDGE
Have an innovative idea? World class elevator speech? Well we want to hear it, BUT only 30 seconds of it. No slides, No visual, just 30 seconds of pitching your innovative idea.
Contest participants will be asked to submit a 30-second, "elevator pitch" style video, make sure to include your name and the name of your business on the boardroom facebook page. https://www.facebook.com/theboardroomlesson/ The entry deadline is March 10th Make sure to Like us on FB if you have not done so. Invite your friends to like our page to increase your votes by the number of like you get on your video.
We are launching the First Boardroom EDGE Elevator Pitch Business Contest to not only highlight our support of local businesses, but also to help showcase some of most innovative and entrepreneurial companies, as we celebrate the Launch of the all new boardroom EDGE following the pitch competition.
March 22, 2018 the day of competition:
The audience, Facebook Live, and panel of outside business experts will first vote on your 30 second pitch, if the boardroom elevator doors open based on the voting pole you will advance to the 90 second pitch.
Final voting will occur in real-time via social media, and live audience with a winner selected based on the number of text to vote receivedby the audience texting in to vote
Challenge entries will be judged based on the following criteria:
1. Content (50%)
2. Creativity (30%)
3. Originality (20%)
First prize winner will be awarded the opportunity to do a full business pitch at the April 2018 boardroom Live session to a panel of investors.
Additional prizes will be awarded
NOTE: You must purchase a regular ticket to enter the pich competition.
For any questions please contact Denise@charleshorton
This will be an amazing opportunity. Get registered! Meet some highly successful people, and the networking is absolutely amazing!! Amazing prizes including a full business presentation pitch to a panel of investors at the April boardroom session

Gates open at 6 PM, event starts at 7 PM.
PLEASE NOTE: For those buying the VIP dinner tickets, gates open at 4:30 PM. Dinner at 5 PM.
Invite and share please.