Event Information
Location
Flower Mound
Flower Mound, TX
Description
$20 registration when you register in advance
*registration allows you to bring one guest for free
$35/person at the door

Space is limited so we recommend you register soon!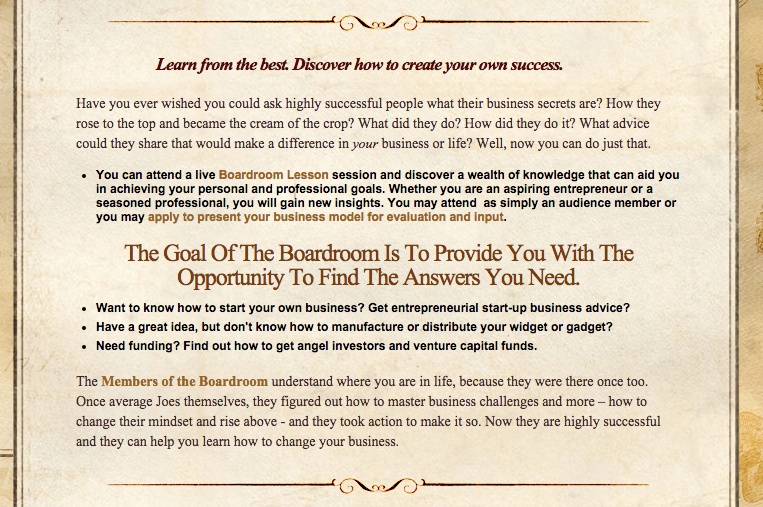 Thursday, May 25, 2017 - 7 PM to 9 PM
Have you seen one of America's favorite TV shows - Shark Tank? Attend a "Shark Tank" Event - but more educational, user friendly and local.
We are in our 6th year and our Sessions (and panelists) are outstanding as well as educational, informative, enjoyable and provide a great networking opportunity. We hope to see you.
Our Venue in Flower Mound is an awesome 7-acre gated estate. (NOTE: The address will be given when you register.) It will be an evening you will enjoy, learn from, make new friends and be glad you came & long remember.
Gates will be unlocked at 6:00pm. Please do not arrive earlier. We will start the Session at 7pm and finish about 9pm. Stick around if you want to visit and network until 10pm or so.
Click the links below to view photos from the last 4 sessions
VIPorbit 12-14-16
teleCalm 1-26-17
OpenTime 2-06-17
FANSeye 3-07-17
Visit BoardroomLesson.com for more information and to view past events.
Seating is limited so register soon!
Call John at 940-594-4409 if you have any questions.
---
KinTrans - Presented by Mohamed

Elwazer and Catherine Bentley
There is a communication barrier between Deaf and hearing people affecting experiences in the marketplace, in the workplace and socially between each other. Solutions and associated industries have been formed around solving this problem and yet it still exists. Human interpreters are neither scalable nor available all the time; texting technologies and pen-to-paper are not efficient and for Deaf signers, it's not their natural languages.

KinTrans is eliminating the communication divide between Deaf sign language users and hearing speakers. KinTrans translates sign language into voice and voice into sign language automatically, without the need for human interpreters, text technology or pen and paper. This allows Deaf signers and hearing speakers to communicate effortlessly and effectively in their natural languages at any moment, person to person.
View more information at www.KinTrans.com.
Date and Time
Location
Flower Mound
Flower Mound, TX