Event Information
Location
Flower Mound
Flower Mound, TX
Description
$20 registration when you register in advance
*registration allows you to bring one guest for free
$35/person at the door

Space is limited so we recommend you register soon!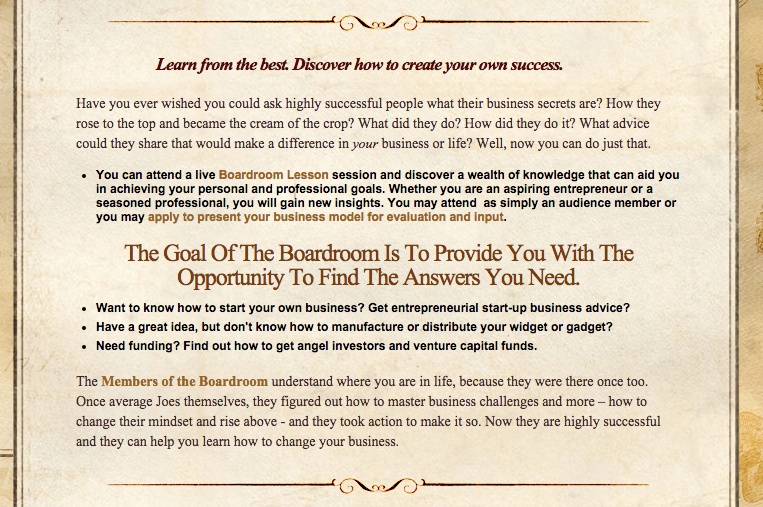 Tuesday, March 7, 2017 - 7 PM to 9 PM
Have you seen one of America's favorite TV shows - Shark Tank? Attend a "Shark Tank" Event - but more educational, user friendly and local.
We are in our 6th year and our Sessions (and panelists) are outstanding as well as educational, informative, enjoyable and provide a great networking opportunity. We hope to see you.
Our Venue in Flower Mound is an awesome 7-acre gated estate. (NOTE: The address will be given when you register.) It will be an evening you will enjoy, learn from, make new friends and be glad you came & long remember.
Gates will be unlocked at 6:00pm. Please do not arrive earlier. We will start the Session at 7pm and finish about 9pm. Stick around if you want to visit and network until 10pm or so.
Click the links below to view photos from the last 4 sessions
Pitch Competition 11-16-16
VIPorbit 12-14-16
teleCalm 1-26-17
OpenTime 2-06-17
Visit BoardroomLesson.com for more information and to view past events.
Seating is limited so register soon!
Call John at 940-594-4409 if you have any questions.
---
FansEye - Presented by Frank Provenzano
FANSeye is for NHL fans to talk about players and to get recognized for knowing their stuff. Engage with your friends through our Over/Under Challenges and by playing in our Weekly Pools!

CHECK OUT THE FEATURES:
TRENDING FEED: who are the players people are talking about? Get in on the current conversations and engage with other NHL fans. Post opinions, comments, likes & dislikes, and share to other social media platforms.

CUSTOM (MY) FEED: build your own content flow. Follow the players you want to keep up to date on and the users you find interesting. Automatically get all the latest from FANSeye Experts.

OVER/UNDER CHALLENGES: have a difference of opinion on a player? Settle the score through FANSeye's Challenge feature, where you pick the player and the scoring method for the week, with the winner getting bragging rights and FANSeyeQ points.

USER PROFILES: keep track of which users and players you follow and who is following you. Showcase your player opinions, have other people post to your "Locker Room", keep a weekly tab of your FANSeyeQ points and show off your Achievement Badge to the hockey world.

PLAYER PROFILES: see the 'wisdom of the crowd" through user-sourced player ratings. Get all the latest opinions and stats all in one easy-to-access place.

WEEKLY FANSeyeQ POOLS: want to get to the next Achievement Badge quicker? Play and win the Weekly FANSeyeQ Pool.

WEEKLY LEADERBOARD: see how your engagement efforts compare to everyone else for the week and qualify for regular contest giveaways.

FANSeye is bringing the War Room to the Living Room! Download it now. Be your own expert.

For more information, check out www.FansEyeSports.com .

Date and Time
Location
Flower Mound
Flower Mound, TX