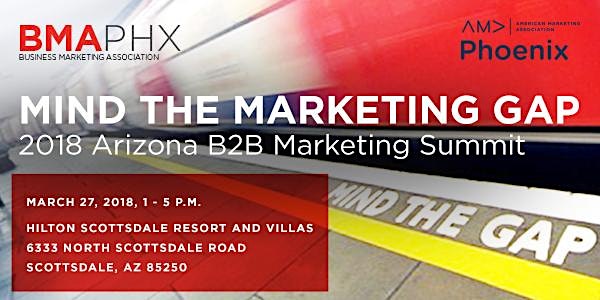 The BMA and AMA Phoenix Present: Mind the Marketing Gap
When and where
Location
Hilton Scottsdale Resort & Villas 6333 North Scottsdale Road Scottsdale, AZ 85250
Description
Finding gaps in your marketing efforts?
As marketing continues to evolve with advanced technologies, methods, and channels to improve how we promote and sell, we are now faced with gaps that need to be addressed to realize optimal performance from our marketing efforts. In this highly-valuable half-day summit, you will hear innovative strategies and expert guidance from top marketing B2B leaders on how you can bridge the gaps in critical areas of your marketing and leverage the latest marketing trends to accelerate your performance and results.
Sessions
Keynote:
Bridging the Gap Between Data and Content with Engagement Science
Speaker: Gary Skidmore, CEO/Chairman, Aberdeen
Session 1:
The 4 Big B2B Data Gaps and How to Fill Them
Speaker: John Coe, Co-Founder and President, B2BMarkeitng.com
Session 2:
Nurturing and Engagement Strategies that Bridge the Gap between Account-Based Marketing and Account-based Selling
Speakers:
Michelle Cirocco, Head of Marketing, Televerde
Ashly Hughes, Demand Generation Strategist, Televerde
Session 3: Panel Discussion
Leveraging Trends to be a Better B2B Marketer in 2018 and Beyond
Moderator: Renee Yeager, Founder, CEO, Yeager
Panelists:
Mike Barbeau, Vice President, Growth, Tallwave
Jen Spencer, Vice President of Sales and Marketing, SmartBug Media
Michael Davis, Vice President of Strategic Services, LeadMD
Kristin Hege, President, WiredPR
So, open your calendar and SAVE THE DATE of March 27, 2018 and join us at the Hilton Scottsdale for the first annual Arizona B2B Marketing Summit.
At the end of the day from 5:00pm-6:00pm, enjoy networking and a happy hour with your many of your marketing friends and colleagues here in Arizona.