Description
The Blockchain Train is a series of events happening in various locations within KL City. Hear from the former Google Agency Manager sharing his thoughts on the technology that is enabling community empowerment. Also we will bring you featured speakers as they cover how this technology can be applied to specific industries such as property, energy, transportation, retail, farming, education and many more.
---
Who should attend?
• You've been hearing about blockchain but not sure what it is
• You're only aware of blockchain due to bitcoin (Cryptocurrency)
• You want to know more about blockchain and how it can improve your business
Key takeaways
• Clear understanding of the technology
• How will it change the industries
• Capitalising the opportunities
Session requirements
• Sign up (it's free!)
• Show up (you'd miss out a lot if you didn't)
• Listen attentively & ask questions (coffee & light refreshments on us!)
Speakers Profile:
Fabien Bouhier
(Video Games, Coding, Laser Experiments)
Digital Architect by day working on algorithms and technology, a Quantum Physics enthusiast by night. After 10 years across Asia within the media industry, Fabien decided to leave his last job at Google to become an social entrepreneur focused on building digital ecosystem for the people.

After receiving a Certificate of Completion in Quantum Mechanics and Computation from BerkeleyX, Fabien entered and won the "Try Zero G" contest organized by the Malaysian National Space Agency (ANGKASA), and the Ministry of Science and Technology and Innovation (MOSTI). His experiment titled "Growing Bubble in a Glass of Water" has been performed in the International Space Station by JAXA's (Japan Aerospace Exploration Agency) astronaut, Koichi Wakata, in zero gravity conditions and was presented at TEDxKL in 2014.

Speaking Title: Introduction of Smart Contracts for Non-Techie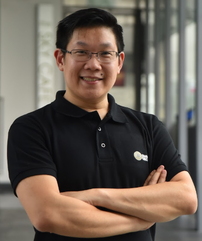 Jason Chew
(Solar Tech Entrepreneur, Steemit Blogger, Loves Tea)
Jason is the Founder of EMPOWER and Managing Partner at BitcoinMalaysia.com. Jason began his career in a renewable energy company for 8 years that currently services a portfolio of over $42 million of solar-powered homes, factories and farms in Malaysia. Jason is also a blockchain advocate who believes climate change is a solvable problem using this technology.
Jason runs a blog on Steemit.com under the moniker @buzz.lightyear where he writes to raise awareness of climate change, solutions available and what we can do about them. For his segment, Jason will be touching on the history of incentive models that has made ground for renewable energy adoption and will share a bird eyes view of various new incentive models that are shaping in this space e.g. SolarCoin, Steemit, Energimine.
Speaking Title: Practical Blockchain Implementation via Community Empowerment