Description
The Block Association invites you to join us this Memorial Weekend (Sunday May 26th) for the launch of our monthly brunch inside the beautiful Hotel on Rivington. Where it's more than just food, its a lifestyle! Think Kentucky Derby meets Fashion Night Out w/food , dancing, and mingling involved. "Who's Who" socialites of NYC and beyond will be in attendance. This month will be returning to the venue with a casual yet fashionable event titled "the Summer Open" nod to the lavish country club parties past. Fashion 500 transcended all expectations, let's do it again...but BIGGER! And experience another unforgettable holiday weekend. Sit Back, Relax and Enjoy The Ride...

[WARNING - DISCLAIMER] - the Block Association is not responsible for whatever transpires during or after brunch, including but not limited to: incident damages, hearing impairment, broken heels, loss of memory, loss of girlfriend/boyfriend, lost keys, wallets, shirts, jobs, sleep or personal belongings, You are aware of the physical requirements of the activity in which you will partake in. Brunch At You Own Risk!
SUGGESTED DRESS ATTIRE:
LADIES: Tennis skirts, Floral print dresses/pants/shorts, Sun dresses, colored slacks, printed pants.
GENTS (Pay Close Attention): Tailored jeans, polo shirts, classic colored button down shirts, V-neck t-shirts w/summer blazers, printed pants, classic white sneakers, lofters, driving moccasins, Madras pants/shirts, plaid attire as well.
EARLY ARRIVAL IS A MUST FOR SEATING FOR YOU AND YOUR GUEST!!! B'day parties , Bottle service and celebrations like wise are FREE to join us at this exclusive event, but plan NOW! and reach me at theBlockRSVP@gmail.com with Full Name # of guests attending w/ you. (MANDATORY RSVP)
the Block Association asks that you to "spread the love." If you plan to attend and during your attendance decide to Instagram, Tweet, etc. here are some helpful aids to do so.

HASHTAGS:
#theBlockBoys #HotelOnRivington, #theSummerOpen, #

May26th

, #theBlkBagatelle, #LastSundaysOfTheMonth #TeamTurnUp, #ILOVEMYLIFE


TWITTER & INSTAGRAM:

@theBlockAssociation


FACEBOOK:

Join the group here > "THE BLOCK" Facebook Group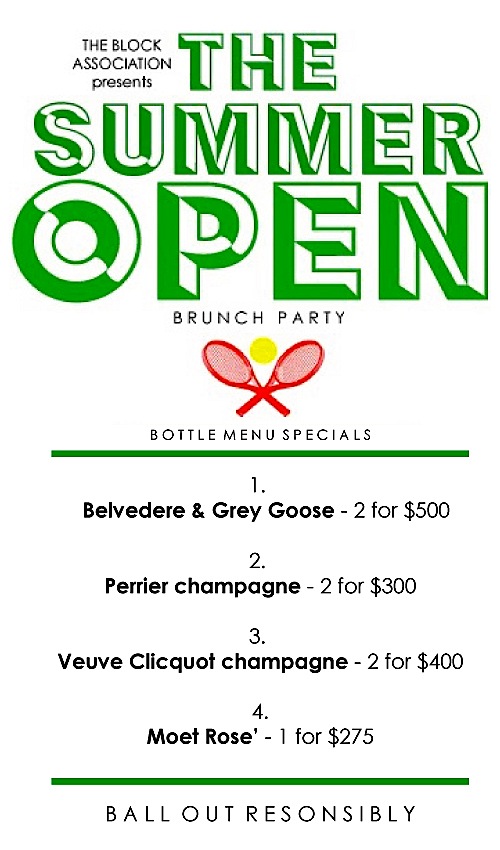 Age: 21 and Older.
.