the Block Association Present 8th Annual "Fashion 500 Gala"

Sunday, April 30, 2017 from 3:00 PM to 11:30 PM (EDT)
Event Details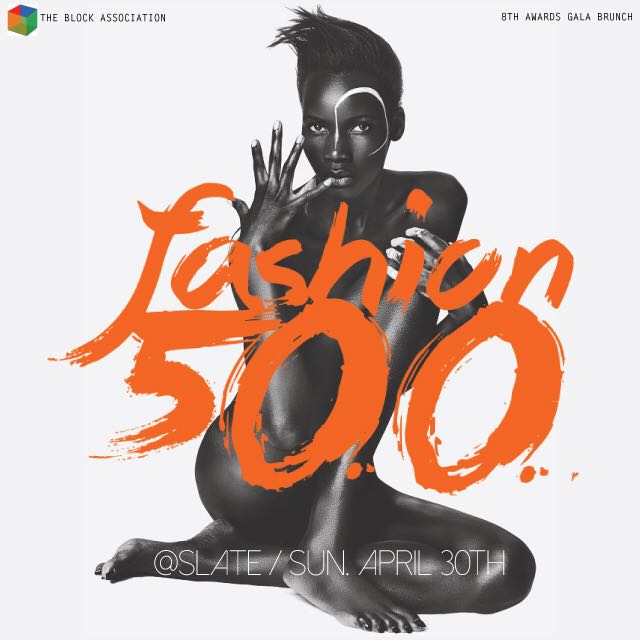 The long awaited, but never rushed, #thegrammysoffashion aka THE "FASHION 500" is but only 2 WEEKS AWAY ! Sunday April 30th to be exact, it's the #aprilisblackfashionmonthfinale event honoring people of color who have made an impact to the fashion industry over the years, to be held at @ SLATE ( 54 West 21st bet 5th & 6th Avenue ).  Start shopping now for "stylish & fashionable spring-like "GALA attire" for this 8th year edition event. 

The Block Association is responsible for pioneering the grassroots movement to get April recognized as Black Fashion Month & are the only NYC group honoring people of color that excel in fashion w/ an award show. 8 years and counting and it's only getting better each time.
We are setting up the largest gathering in one room of ppl of color that contribute daily to the fashion industry EVER! Fashion is a BILLION DOLLAR industry that ppl of color have made an impact in, not just by our spending power, but also simply the way we DRESS! We influence style just by how we WEAR something! But there's NO accolades for the ppl in our community that have become pioneers for it! We're beyond pats on the back...you deserve better! @thefashion500 recognizes those individuals that DO. Even if "they" DON'T! Sunday April 30th at @slateny will be that day! Don't be fashionably late to this! We promise you BIGGER & BETTER this year.
This event is a NO COVER event but there is only ONE requirement for admission. You must attend in high fashion attire, Fashion 500 ready is a must to get into this event. Come support your favorite Honoree looking your Sundays Best!
Gents: Suits , tuxedos , Formal Attire ,Hard Bottom Shoes 
( No Denim , Athletic wear , Sneakers , hats )
Ladies: Formal/Gala Attire , Cocktail dresses and Heels 
( No Denim , Flats , sandals )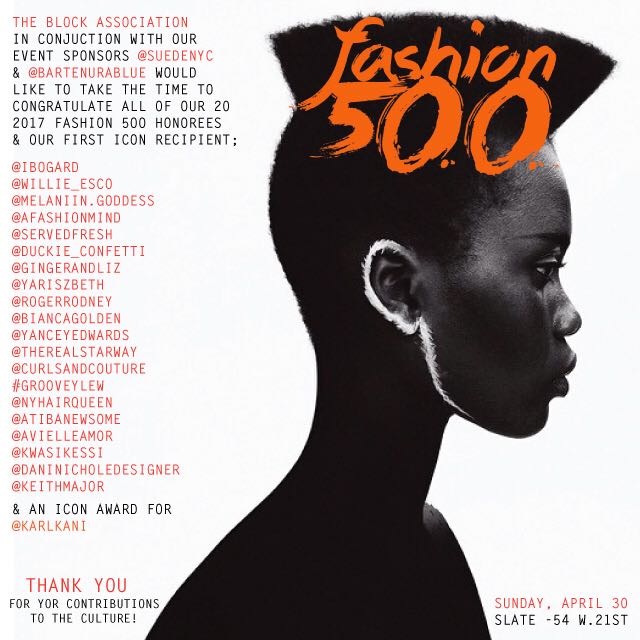 FOR TABLE RESERVATION AND BOTTLE SERVICE
theBlockRSVP@gmail.com or Text 347.598.2447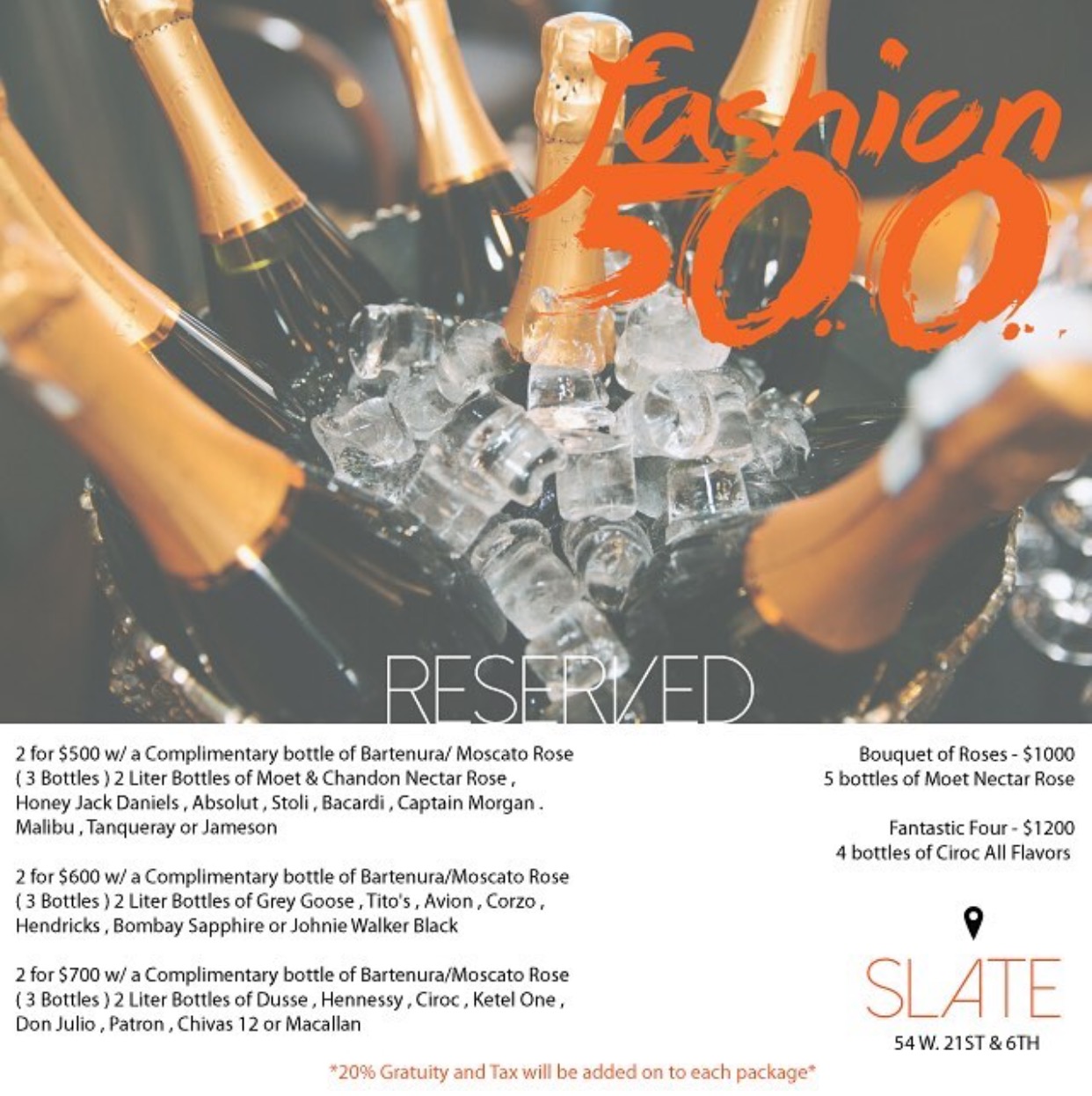 Fashion 500 Bottle packages 
with a Complimentary bottle of Bartenura/ Moscato Rose
2 Liter Bottles of Moet & Chandon Nectar Rose , Honey Jack Daniels , Absolut , Stoli , Bacardi , Captain Morgan . Malibu , Tanqueray or Jameson 
with a Complimentary bottle of Bartenura/Moscato Rose

2 Liter Bottles of Grey Goose , Tito's , Avion , Corzo , Hendricks , Bombay Sapphire or Johnie Walker Black 
with a Complimentary bottle of Bartenura/Moscato Rose

2 Liter Bottles of Dusse , Hennessy , Ciroc , Ketel One , Don Julio , Patron , Chivas 12 or Macallan
5 bottles of Moet Nectar Rose
4 bottles of Ciroc All Flavors 
*20% Gratuity and Tax will be added on to each package*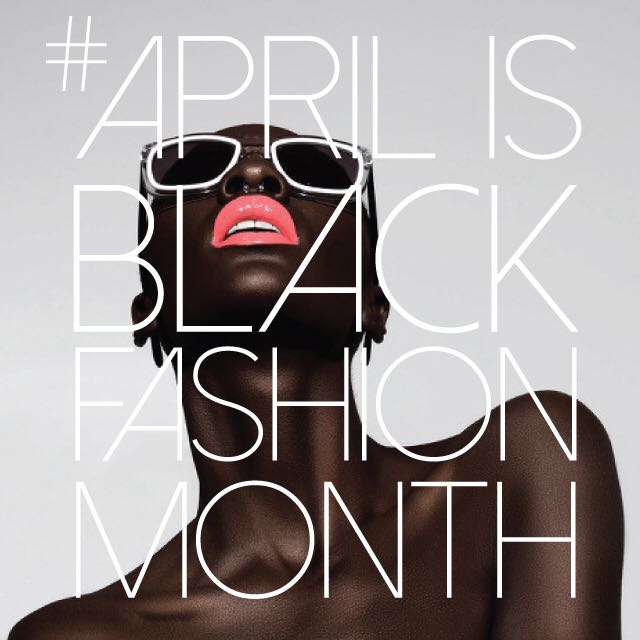 To view the full Honoree list. 
Please follow @thefashion500 & @theblockassociation 
#AprilIsBlackFashionMonth
When & Where

Slate NY
54 West 21st Street
New York, NY 10010


Sunday, April 30, 2017 from 3:00 PM to 11:30 PM (EDT)
Add to my calendar
the Block Association Present 8th Annual "Fashion 500 Gala"