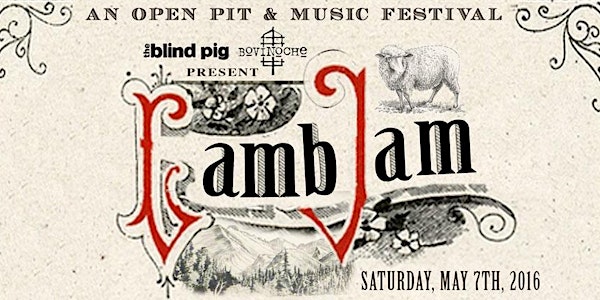 The Blind Pig & Bovinoche presents: Mountain Lamb Jam. A Food and Music Fes...
Location
Buncombe County
NC
Description
The Blind Pig Supper Club & Bovinoche in collaboration with The American Lamb Board present: Mountain Lamb Jam- An open pit and music festival held on Franny's Farm in beautiful Western Buncombe County Saturday May 7th, 2016.
Join us for a day of delicious food, education and fundraising as we also host butcher and writer Meredith Leigh, local author the new Ethical Meat Handbook, with an Ethical Meats Workshop for guests attending. This day festival event is a fundraiser and will offer live music and entertainment with numerous local chefs preparing specific cuts of lamb at tasting stations, and a delicious wood fired & pit cooked family style meal.
Our focus for this event brings pitmasters and chefs together from three states and features American pasture raised lamb with Border Springs Farms in Border Springs, Virginia. Featuring tasting stations from chefs Jacob Sessoms of Table, Tod's Tasties & Imperial Life, Ryan Kline of Buffalo Nickel, Nate Allen of Knife & Fork, Sam Etheridge of Ambrozia Bar & Bistro, Steve Goff of Standard Foods, Raleigh, NC, Michelle Bailey of Smoky Park Supper Club. Featuring a wood fired and pit cooked family style meal (Bovinoche style) with pitmasters Jeff Bannister of Bovinoche, Suzy Phillips of Gypsy Queen Cusine, Asheville, NC, Elliott Moss of Buxton Hall Barbecue, Bryan Furman of B's Cracklin Bbq, Savannah, GA and Tank Jackson of Holy City Hogs Charleston, SC. Proceeds proudly help to support the ABCCM- Veterans Restoration Quarters of Asheville.