The Blind Pig & Beaufort Wine & Food present: 'Brogue' The Sea & Farm Dinner of Down East

Saturday, October 10, 2015 from 5:00 PM to 9:30 PM (EDT)
Event Details
'Brogue'- The Sea and Farm Dinner of Down East.
Date: Saturday October 10th, 2015
Beaufort, NC
 The Blind Pig in collaboration with Beaufort Food & Wine present a sea & farm to table dinner experience exemplifying the very best flavors of this charming and historic seaside town in Beaufort, NC.
The far Eastern regions of North Carolina from Beaufort to the Outer Banks is known historically as a region which has been called 'Down East' by locals. Beaufort, once simply called, Fishtowne is the third oldest city in North Carolina and its history and culture date back prior to the American Revolution. The region has been steeped in historical significance from the colonization of the New World to piracy and as a bastion of salt works and a major sea trading port in the state of North Carolina since the American Revolution in 1776 to the Union occupation during the American Civil War which preserved the town and region and accelerated education then to African American children. Food resources and culture have always been rich in this part of the state, which today continues to boast fresh bounty from local farms and the sea. This dinner experience is meant to highlight and sample Beaufort's culinary history that is deep rooted with Native American, European and African influence by select chefs which believe in using cuisine to preserve culinary history of the South.
This dinner will be seven courses and include a pairing with distinct wines from local purveyors and include fresh and locally supported cuisine from some of the best creative chefs of various regions of North Carolina, Virginia and Tennessee. The cuisine will feature Travis Milton of Shovel & Pick Richmond, VA, Nate Allen of Knife & Fork Spruce Pine, NC, Kyle Mcknight of Highland Avenue Hickory, NC, Clarke Merrell of Circa 81 Morehead City, NC, Levon Wallace of Cochon Nashville, TN, Jason Scott of Island Grill Atlantic Beach, NC and Mike Moore of The Blind Pig Asheville and formerly of Seven Sows Asheville, NC. The chefs will visit with local farms choosing seasonal produce for the menu as well as join an excursion of fishing and shrimping in support of local fishermen and assisting in the catch of the bounty for the menu.
Join us 10.10.15 for this unforgettable dinner experience in collaboration with Beaufort Wine & Food. $30 per seat of proceeds of 'Brogue' The Sea & Farm Dinner will go to financially benefit The Boys & Girls Club of Beaufort, NC.
Location is undisclosed. Menu is undisclosed. Gratuity is not included.
For questions or to relay specialty diets and allergen information please contact mike@blindpigofasheville.com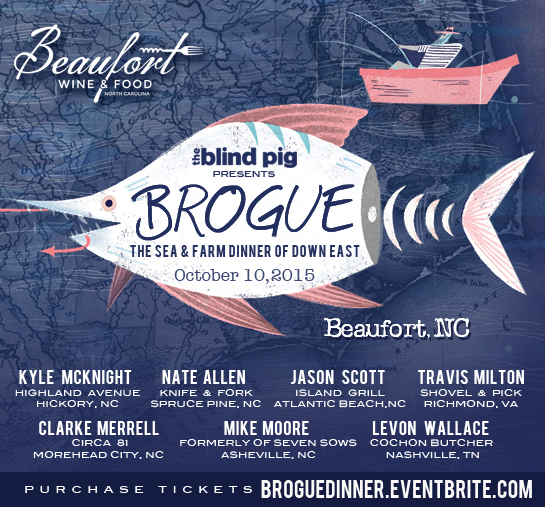 When & Where

Beaufort

Harker's Island, NC


Saturday, October 10, 2015 from 5:00 PM to 9:30 PM (EDT)
Add to my calendar
Organizer
It is building community that makes us stronger.