Description
During this very special event, the Resident Teacher of Mahakankala Buddhist Center, Keli Vaughan, will grant the blessing empowerment of White Tara.
White Tara is a female enlightened being whose function is to bestow long life, wisdom, and good fortune. Because Tara is also the manifestation of the wind element of all Buddhas we can receive her blessings quickly, and by relying on her with faith we quickly receive her protection from contagious diseases, the dangers of fire, and other disasters.
The empowerment is a blissful guided meditation through which we make a deep connection with this Buddha and receive her healing, joyful and protective blessings.
The empowerment commentary will focus on the tantric meditation practice known as self-generation. These meditations help us to develop White Tara's special qualities swiftly. Everyone is welcome.
Schedule:
10:30 AM - 11 AM Registration

11 AM - 1 PM - White Tara Empowerment
1 PM - 2:30 PM Lunch Break
2:30 PM - 3:45 PM - Empowerment Commentary
4:15 PM - 5:30 PM - White Tara Practice
A guided 4-session retreat on the Four Great Seals will follow on Sunday, April 7. Information about schedule and price of this retreat can be found HERE.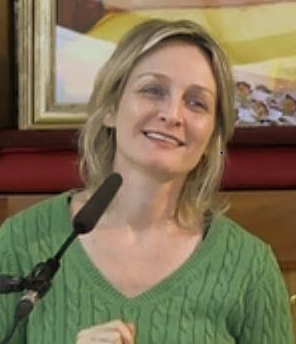 More About the Teacher
The Resident Teacher at Mahakankala Buddhist Center in Santa Barbara is Keli Vaughan. Keli is a long-time student of Geshe Kelsang Gyatso and studied to become a teacher under the direct guidance of our General Spiritual Director, Gen-la Kelsang Dekyong, at Manjushri Kadampa Meditation Centre. She has served as the assistant teacher for both KMC California and KMC Hollywood, the principal Temples in Southern California.