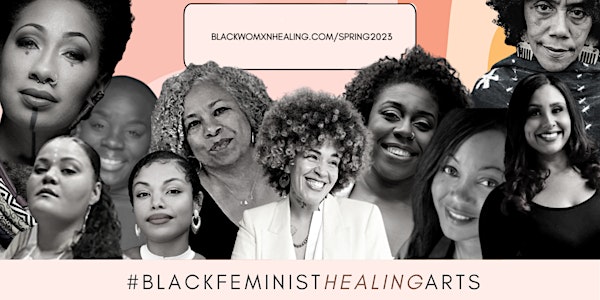 The #BlackFeministHealingArts Teach-In Series
inviting community folks+ university folks to learn alongside each other about Black feminist approaches to integrative health + healing
By reelaviolette botts-ward
Date and time
Wednesday, April 12 · 5 - 6pm PDT
About this event
The #BlackFeministHealingArts Teach-In Series, hosted in partnership with The #BlackFeministHealingArts Communiversity Course, blackwomxnhealing, and UCSF REPAIR, invites folks from the community+ folks from the university to learn alongside each other from radical scholars, artists, healers, and practitioners about Black feminist approaches to holistic health, communal care, & collective healing.
Inspired by The 1970s-era Black Studies Movement's call for community-centered learning, and contemporary projects like the University of California, Berkeley's Black Studies Collaboratory Open University and The Communiversity South, this Communiversity model affirms that knowledge must be transferred across generation, affiliation, and rank for us to truly get free. When we center everyday knowledge and communal care as central to the project of Black Studies and Black Feminist Studies, we make room for radical ways of knowing, being, and thinking that are often decentered within university spaces.
Therefore, this course, and it's accompanying Teach-In Series, calls forth the mothers, grandmothers, cousins, aunties, homegirls and friends to celebrate our everyday round the way praxis of finding wellness, wholeness and healing while being Black and womxn in America.
PANEL #1
Sisterhood, Integration, and Wholeness: How Communal Care Serves as the Antidote
Featuring Dr. Denicia Carlay & Dr. Farima Pour-Khorshid, this panel affirms the sacred art of sisterhood. With an exploration of inner child healing, inner elder reconnection, ancestor work, spirituality and embodiment, we explore the ways in which sisterhood has saved our lives. We frame communal care as a healing art and share our own personal journeys of finding and sustaining sisterhood with each other in ways that brought us home to ourselves in the midst of our suffering.
Dr. Denicia Carlay (also lovingly referred to as Docta Neesh) has served as a Family Healing Specialist within the field of child welfare over the last 16 years. She specializes in bringing healing centered engagement and somatic based practices into our ongoing work with ourselves and with the young people we serve. Her experience as a foster care impacted youth shaped the unique lens that she brings to every situation. It has cultivated a rootedness of tending to our holistic needs as a multidimensional and multi-generational people. It is through this engagement (with ourselves, with nature, ancestors, creator, and one another) that we grow as people and are able to work through some of the toughest ailments plaguing our generation. Docta Neesh holds a Bachelor of Arts (B.A.) Degree from the University of Southern California, Masters of Social Welfare (MSW) with an emphasis in Children and Families from UC Berkeley, Pupil Personnel Services Credential (PPSC) from San Jose State University, and a Doctorate in Educational Leadership (EdD) from San Francisco State University. Docta Neesh is also a Licensed Clinical Social Worker (LCSW).
Dr. Farima Pour-Khorshid was born and raised in the Bay Area where she later taught at the elementary grade levels in her community for over a decade. She has supported educators locally, nationally, and internationally through her roles as a university professor, teacher supervisor, educational consultant, and community organizer. She is committed to abolition and healing-centered engagement within and outside of the field of education. Much of her work is rooted in healing centered initiatives with Flourish Agenda across the country, as well as community based and education organizing as she serves in leadership roles within the Teachers 4 Social Justice organization, the Abolitionist Teaching Network, and the National Education for Liberation Network, which organizes the Free Minds Free People conference.
PANEL #2
Matrilineal Healing Arts: How Mothers and Daughters Learn Intergenerational Healing
Featuring Colette LaViolette Mayfield in an intimate dialogue with her youngest daughter, dr. reelaviolette botts-ward, this panel explores the everyday crafts arts that mothers and daughters share across matrilinial lines. It explores the healings journeys of Black mothers and Black daughters - how they intertwine, part ways, and come together anew.
Colette Mayfield worked as an EPA environmental chemist and USDA food safety instructor, using her chemistry degree and MPH to protect public health. After 31 years of federal government service, Colette is happily retired. The mother of two adult daughters, (including reelaviolette), she is now dedicating her time to self care and healing including self reflection through journaling and art.
dr. reelaviolette botts-ward, instructor of The #BlackFeministHealingArts Communiversity Course, is a homegirl, an artist, and a nontraditional community curator from Philadelphia, PA. Currently a Postdoctoral Fellow with the REPAIR Project at UCSF, her research explores Black women's healing spaces in Oakland as radical sites of health care and spiritual well-being. As founder of blackwomxnhealing, ree curates healing circles, exhibitions, courses, and research for and by Black womxn. She remains invested in making her academic work accessible to community audiences, using art, poetry, and the digital humanities as tools of translation. Her first book, mourning my inner[blackgirl]child (Nomadic Press, 2021), uses poetics as praxis to explore embodied trauma, ancestral grief work, and spiritual healing. Her work has been featured with platforms like Elle Magazine, The Griot, and the NAACP, and supported by the UC Berkeley Arts Research Center, the Woodrow Wilson National Fellowship Foundation, and the Alliance for the Arts in Research Universities, among others. She received her PhD in African Diaspora Studies from the University of California, Berkeley, her MA in African American studies from UCLA, and her BA in Sociology and Anthropology from Spelman College. She has also taught courses in the African American Studies department at Merritt College and the University of California, Berkeley, and is currently teaching a course called #BlackFeministHealingArts in UCSF's Medical Anthropology department. For more on ree's work, visit blackwomxnhealing.com / @blackwomxnhealing / @dr.reelaviolette on instagram.
PANEL #3
Community Health Work: How the Ashè Center Uses Cultural Healing Arts for Holistic Wellness in New Orleans
Featuring Sunni Patterson, Jamie Berry, and Monica Millon from the Ashè Cultural Arts Center's Community Health Workers in New Orleans, Louisiana, this panel explores how the I Deserve It! program uses cultural healing arts to support the holistic wellness of New Orleans' Black communities. For more information about Ashè and I Deserve It!, visit https://www.ashenola.org/ideserveit.
Sunni Patterson, New Orleans Native and Visionary, is an internationally acclaimed Poet, Performer, Workshop Facilitator, Certified Spiritual Life Coach/Consultant, and an Initiated Priestess and Minister. She began her career as a full-time high school Teacher, and much of her life since has been devoted to serving as a Cultural Worker and Activist. Armed with an engaging story and voice, Sunni deliberately uses art, poetry, and praise (Ancestral remembrance) to encourage dialogue, connectivity, spiritual awareness, and healing. She has had the privilege of studying under great Scholars and Teachers, allowing her to become a diligent student in the Healing and Spiritual Arts. Her Artistry and Gift has allowed her to grace a plethora of stages and platforms. Whether speaking at TEDWomen, featuring on Grammy award winning Hip-Hop albums, officiating a wedding, or cooking up breakfast for families in the Community, you can rest assured, Sunni's way and words bring us all to a place of recollection, remembrance, and hope. Sunni is a 2020/2021 John O'Neal Cultural Arts Fellow. She currently serves as a Resident Artist for both the City of New Orleans' Claiborne Corridor Cultural Initiative and Junebug Productions. She is also co-founder, along with Scientist and Atmospheric Chemist, Cherelle Blazer, of Environmental Arts and Public Health Organization, Breath is Lyfe. She is also a Community Health Worker with Ashè Cultural Art Center's I Deserve It!
Jamie Berry is a Mother, Doula, Theater Maker, and Community Advocate. She is also a Community Health Worker with Ashè Cultural Art Center's I Deserve It!
Monica Millon is a Community Coordinator, Wife, Mother, and Stylist. She is also a Community Health Worker with Ashè Cultural Art Center's I Deserve It!
I Deserve It is a collaborative effort between Ashé Cultural Arts Center, New Orleans East Hospital, Tulane University School of Public Health and Tropical Medicine, and Institute of Women & Ethnic Studies. Our team members are your neighbors and our extended family. Our trained staff of Community Health Workers are influencers, musicians, artists and health professionals from our communities.
PANEL #4
Choreographing Sacred Movement: How Embodiment Informs Conjure Art & Ancestor Work
Featuring Amara Tabor-Smith, and guest moderated by Ramona Webb, this panel brings together two Bay Area creative giants in the world of Black feminist healing arts to discuss the relationship between embodiment, ancestor work, and communal care. For more about Amara's work, visit https://www.deepwatersdance.com/housefullofblackwomen. To learn more about Ramona's work, visit https://womenshealth.ucsf.edu/coe/ramona-laughing-brook-webb.
Amara Tabor-Smith is a dancer, choreographer, and the artistic director of Deep Waters Dance Theater. Tabor-Smith's work, as described by the artist, is Afro Futurist Conjure Art. Her dance making practice utilizes Yoruba spiritual ritual to address issues of social and environmental justice, race, gender identity, and belonging. House/Full of Blackwomen, her current project is a multi site-specific dance theater work that addresses the displacement, well-being, and sex-trafficking of black women and girls in Oakland. Tabor-Smith is a recipient of the 2016 Creative Work Fund grant, the 2017 MAP Fund grant, and the 2017 Kenneth Rainin Foundation grant, and a co-recipient of the 2016 Creative Capital Grant with longtime collaborator, Ellen Sebastian Chang. In 2017, she received the UBW Choreographic Center Fellowship. Her work has been performed in Brazil, the Republic of the Congo, New York, and throughout the San Francisco Bay Area where her company is based. Additionally, Tabor-Smith has performed in the works of Ed Mock, Joanna Haigood, Ana Deveare Smith, Marc Bamuthi Joseph, and she is a former member of Urban Bush Women. She received an MFA in Dance from Hollins University. Tabor-Smith is an Artist in Residence at Stanford University and faculty at UC Berkeley.
Ramona Laughing Webb is a Poet-in-Residence at the UCSF National Center for Excellence in Women's Health working at the intersections of performance art, culture change and improved communications around gender and racial/ethnic disparities and health disparities. Scholar practitioner, teaching performance artist and Afro-Creek queer activist Ramona "Mona" Webb serves as the Assistant Artistic Director of San Francisco's Queer Cultural Center which is the producer of the National Queer Arts Festival. Mona formerly served as Artistic Director of Project ABLE and Lyrical Minded415, which is an Art Based Learning for Equity seasonal course implemented in SFUSD's Title I Neglected school sites. For 10 years Mona served as poetry Slammaster of San Francisco. Mona is a conservatory trained artist who writes and performs in "docu-ritual- drama theater" and attended the dual Theater Performance Making MFA program at California Institute of Integral Studies in San Francisco and Chichester University in Chichester, England. "How to Catch a Rapist in 12 Parts", is her current one person show and it chronicles her journey to seeking justice for a rape committed 20 years ago. Ramona's pronouns are she, her, them and they.
PANEL #5
Black Music, Feminist Medicine: How Sonic Healing Arts Saved Us in Quarantine & Beyond
*THIS EVENT IS ALSO A PART OF OUR BLACKWOMXNHEALING REUNION EXHIBITION SERIES
IF YOU PLAN TO ATTEND, PLEASE REGISTER HERE
(please note: space is limited, and registration does not guaruntee entry. we encourage you to arrive early to reserve your seat)
Black Music, Feminist Medicine is the #blackgirlquarantine Pop-Up Exhibition + Sonic Artist Talk.
#blackgirlquarantine is a virtual, multimedia exhibition curated by blackwomxnhealing that celebrates 100+ artworks for and by Black womxn made during the COVID-19 quarantine.
Hosted at the Museum of the African Diaspora in San Francisco, California, this gathering features an in-person pop-up installation of the #blackgirlquarantine exhibition, alongside an intimate artist talk and live performances by Destiny Muhammad and the ladies of SOL Development (Brittany Tanner, SoLauren Adams, and Felicia Gangloff-Bailey.  
By honoring Black feminist music as medicine, and affirming that music is an essential mode of knowledge production, this gathering makes room for Black women to be heard through sacred storytelling, testimonial witnessing, and sonic healing arts. 
Destiny Muhammad is a Recording/ Performing Artist | Band Leader | Composer & Producer. Her genre Celtic to Coltrane is cool and eclectic with a feel of Jazz & storytelling to round out the sonic experience. Destiny has curated concerts for Grace Cathedral Christmas Concert Series, SFJAZZ Tribute to Jazz Harp Legend Alice Coltrane, S F Symphony SOUNDBOX Series featured guest for GRAMMY Winner Kanye West 'Sunday Service', shared the stage with Jazz Masters Marcus Shelby, Omar Sosa, Blue Note Artist Ambrose Akisemuire and Azar Lawrence to name a few. She has headlined The Healdsburg Jazz Festival, Sunday's in the Redwoods Concert, Seattle's Fest Sundiata ButcherTown Jazz Fest. Destiny is The Healdsburg Jazz Festival 2022 Artist in Residence Guest Workshop Presenter for Amateur Music Network. Destiny is Governor Emeritus and Educational Chair Emeritus of the Recording Academy, ASCAP Songwriter Awardee, California Entertainers Music Awards Female Jazz Artist of the Year Winner, SFJAZZ Teaching Artist, Bay Area Jazz and Blues Award Winner (BAJABA) and RaiseKarma Virtual Residency Alum.
@harpistfromthehood / destinymuhammad.net
Brittany Tanner is a musical artist, mother and serial entrepreneur based in the Bay Area. All of her enterprises center the enrichment of community through healing arts. She is the founder of The Song Remedy, a collective of Black and Brown women-identified educators and facilitators cultivating sacred spaces for communities to heal from oppression individually, interpersonally and institutionally through rituals, song, affirmations work, critical consciousness development, and bearing witness to collective struggle and healing. Every session is intended to be accessible for community members, educators, caregivers, and families seeking social, emotional, and spiritual support to combat the spirit-murdering we experience ranging from the violence of carceral schooling, education organizing shaped by white supremacy culture, community violence exacerbated by systemic displacement, disinvestment, and incarceration, or the everyday indignities that BIPOC face navigating a society shaped by oppression.
Brittany is also a member of Emmy award winning group SOL Development, a hip-hop/soul/jazz ensemble and a founding artist of the powerful healing collective BE-IMAGINATIVE collective of artists, healers, and community leaders who are dedicated to healing our black and brown communities through multidimensional storytelling. She's performed with the likes of artists such as India Arie, opened for Monica, sung with Robert Glasper and D Smoke. She's been highlighted in publications like KQED, Okay player, The Root, SF Chronicles and had appearances on the World Channel, MLK NOW Revolt TV and curated multiple series of healing events. Through all of her endeavors, she uses her voice, her talents and her vision as a healing agent for herself, her family and her larger community.
@brittctan/ thesongremedy.com
SoLauren Adams is an Emmy award winning artist from San Francisco, CA. She is a singer, songwriter, and producer, a proud graduate of Hampton University, and an even prouder Black native of San Francisco. She has seventeen years of experience teaching Music & Theater to students of all ages, and she recently released two solo albums in the summer of 2020. Her musical gifts shine and heal in her role as the Music & Arts Director at The Way Berkeley, and as a co-facilitator & member of Emmy Award winning collectives, SOL Development, & BE-IMAGINATIVE.
@solauren/ solaurenmusic.com
Felicia Gangloff-Bailey is an Angel Mother, Author, and the cofounder of SOL Affirmations, a multi medium providing tools, experiences, and products for self-reflection and the exploration of grief as Love. A graduate of Howard University, Felicia earned her PhD in Educational Psychology. Her research focused on racial socialization messages in hip-hop music and their relationship to African American college students racial identity and achievement motivation. Felicia is also a member of the hip hop, jazz, and soul ensemble, SOL Development and a member of BE-IMAGINATIVE Collective that supports Black and Brown communities through multidimensional story telling of Mothers who have lost children to gun violence. She currently is a data collection and analysis collaborator with Digital Organizing Power-Building and Engagement (DOPE) Labs, and is the cohost of the twice AMBIE nominated podcast SOL Affirmations with Karega and Felicia on the Black Love Podcast Network. Her latest release is SOL Affirmations: A toolkit for Mothers investigating grief's process. She is from Sacramento, California, has a Bachelor's of Arts in Music Education from Hampton University.
@fefemonique/ SolandLove.com
PANEL #6
Reiki & the Energetic Body: How We Gradually Release Intergenerational Trauma from Our Bodies & Our Psyches
Featuring Estee Dillard and Blu Nyle, two reiki practitioners with years of experience in ancestor work and intergenerational healing, this panel explores reiki as a tool for healing from intergenerational trauma.
Estee Nena Dillard is a SpiRitualist Scholar. Ancestral Storyteller. Queer Sexologist. A Free Black Girl curating sacred space for others to discover the freedom and wellness within that are their own ENDless possibilities. A native of Macon, Ga., Estee Nena Dillard's work is discovering the ways that theological formation, spiritual care and ritual transform wellness, especially for African Diasporan people. As a black feminist/womanist practitioner, her foci are the interconnectedness of spirituality/sexuality and embodiment, expanding the discourse on [Black][Queer] erotic power through a womanist methdology, and spiritual formation particularly through ritual. Estee attended Spelman College and earned a Bachelor's of Arts in Comparative Women's Studies with a minor in Public Health. She was licensed and ordained in the gospel ministry at Rize Community Church where she continues to serve as the Minister of Ritual and Spiritual Formation. Estee also earned a Master of Divinity with Graduate Certificates in Black Church Studies and Faith/Public Health Collaborative from Candler School of Theology, Emory University. Through work in the West African Orisa Tradition and the Nation of Ndugu and Nzingha, she studies and curates African ancestral traditions and spiritual practices of the diaspora. In 2020, Estee became a certified Reiki Practitioner and was also affirmed as Iyalosa. Above all, Estee seeks to answer Rev. Dr. Prathia Hall's ancestral, clarion call, "I stood in the authenticity of my being: Black, preacher, [priest], [ritualist], Baptist, [Southern] [queer] woman. For the same God who made me a preacher made me a woman(ist), and I am convinced that God was not confused on either account." She resides in Atlanta with her amazing partner Brandisha and their loving dog Reese.
https://esteenenadillard.com/about/
BLU NYLE IS A Musical Artist, Actor, Poet, Author, Film Maker and Motivational Speaker! Blu is also a Reiki Master and Spiritual Empowerment Coach. Her Company is ROOTED IN POWER. Her story of triumph inspires everyone who comes into her presence. Blu is currently finishing her first poetry book: TRAUMA THRIVER. Blu Nyle is a force. Living her Art Limitlessly. Blu Nyle Stands for The Solution. As an advocate for Mental Health & Healing ourselves to truly achieve genuine happiness. BLU is dedicated to do her part in helping heal the world! Standing up for people who might not have the strength to share their stories yet. Through her Entertainment & Healing Arts, Blu shares her truth with the fire of 1,000 suns.
https://blunyleworld.com/
PANEL #7
Everyday Black Feminist Art Making in Pandemic Times: How Visual Healing Arts Saved Us in Quarantine & Beyond
*THIS EVENT IS ALSO A PART OF OUR BLACKWOMXNHEALING REUNION EXHIBITION SERIES
Everyday Black Feminist Art Making in Pandemic Times is the #blackgirlquarantine Virtual Artist Talk.
#blackgirlquarantine is a virtual, multimedia exhibition curated by blackwomxnhealing that celebrates 100+ artworks for and by Black womxn made during the COVID-19 quarantine.
Hosted virtually, this panel offers audiences an inside look into the #blackgirlquarantine virtual exhibition alongside an intimate dialouge with featured visual artists Lizette London and Jessica Allen.  
Lizette London (formerly Terry) is a researcher, visual artist, and community organizer from New York. She is a proud Black feminist artist and daughter of two dreamers: mother emigrating from the city center of Manila, Philippines, and father, hailing from the American South. Liz's love for Black feminist visual art and cultural studies, image-making, and community comes from her love for the archives and temporality. She is most interested in crafting stories that focus on the journeys of Black women and girl protagonists who must deal with the present, past, and future socio-economic-cultural climates of the world using magic and ancestral wisdom whether it be intuitive or skillfully learned. Liz earned her MA in Black Feminist Visual Arts and Cultural Studies from NYU Gallatin School of Individualized Study in 2020 and her BA in Comparative Women's Studies from Spelman College in 2017. While completing her Master's Thesis from 2018-2020, Liz had the great honor and privilege of TA'ing for Deborah Willis and Spike Lee. Lizette most recently worked as a Researcher and Director's Assistant on Spike Lee's HBO NYC Documentary NYC EPICENTERS 9/11➔2021½. Following that project, Lizette worked as an Associate Producer on an indie music doc.
Jessica Allen is a doula, artist, and visionary with a relentless determination to ignite families towards large-scale revolution and intergenerational healing. As a first-generation college student, she is studying Human Geography and African-American studies at UC Berkeley with a commitment to researching black genealogies, the science of epigenetics, and the racialization of poverty and location. Jessica Allen's leadership has been immense in the UC Berkeley community and the local Bay Area. Currently, she is an executive board member of nonprofit (SFWAR) San Francisco Women Against Rape and a Peter E. Haas Service Leader, which includes her community service project of leading pregnancy and parenting support groups to local Bay Area communities. Through offering community love and care in her doula work, she has proudly supported over a hundred births in her community and addressed chronic stress, social isolation, and emotional hardship within her practice. She has been in service to San Francisco Bay Area's most disenfranchised populations (LGBTQ youth, formerly incarcerated people, and women's reproductive health) for over a decade.