Description
You are cordially invited to The Black Wall Street Symposium sponsored by I BUY BLACK (www.iBuyBlack.org) a Tribute to The Tulsa Race Riot which took place on May 31 and June 1, 1921. Mobs of whites attacked black residents and businesses of the Greenwood District in Tulsa Oklahoma and destroyed one of the most successful Black Communities in America affectionately called Little Africa and Black Wall Street.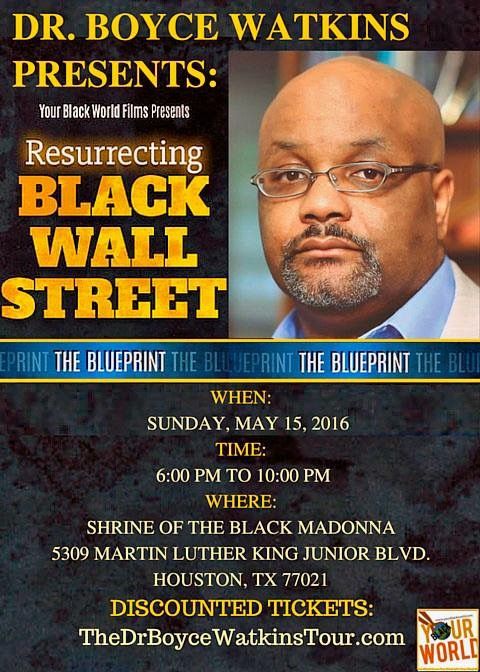 Join us as we commemorate the 98th Anniversary with a film screening of the documentary

Resurrecting

Black Wall Street produced by Dr Boyce Watkins and guest speakers who will discuss " 1921 to 2019 Where Do We Go From Here " This event will take place at

THE 2019

AFRICAN AMERICAN

HISTORY &

CULTURE SHOWCASE. Saturday APRIL 20th Pennsylvania Convention Center. 12th & Arch St from 2.30 to 4 pm in room 110 The Symposium is free and open to the public, space is limited so please REGISTER TODAY!
The History and Culture Showcase is a 2 day event FREE for the entire family open from 11 am to 6 pm April 20th and 21st to learn more about the Showcase visit www.blackhistoryshowcase.org/
---------------------------------------------------------------------------
I BUY BLACK 2nd Saturday Business Owners' Breakfast! (April 13, 2019)
Sat Apr
13,

2019

8:00 am

-

10:00 am | Atiya Ola's Spirit First Foods, 19143

BUY Tickets >>> BuyTickets.at/iBuyBlack <<< | Event: https://www.facebook.com/events/2537804769780020/

Come network and enjoy an incredible breakfast with other enterprising Black Business Owners, Entrepreneurs. Nonprofit Stake Holders, Thought Leaders, Creatives and Community Progressives and enjoy a timely keynote addresses and invaluable information.
MENU
* Fresh Fruit * Assorted Pastry * Coffee * Tea Corn Grits * Oatmeal * Avocado Toast * Sweet Potato Home Fries * Veggie Sausage * Pancakes * Salmon Croquettes * Eggs * Turkey Bacon * Chia Pudding *