Event Information
Performers
Location
Nectar Lounge
412 North 36th Street
Seattle, WA 98103
Description
Nectar, Da808 & SolidSound present:
THE BLACK SEEDS
Sol Seed
DJ Solid Sound
$17 - 25adv,
Nectar Lounge
412 N 36th St
BOOTH RESERVATIONS NOW AVAILABLE!
We are a majority standing-area venue with seating on our heated and covered patio as well as our newly remodeled mezzanine. All seating is first come first serve however, we do have eight booths available for reservations on our mezzanine. Booths 1-6 seat two to four people, booth 7 seats five and booth 8 seats six to eight.
All table reservations are now made at checkout.
Booth reservations are sold on a first come first serve basis.

Reserve multiple booths for larger parties and we will seat you together.

See "Additional Items" on the bottom of checkout page for available booths. If you do not see "Additional Items" unfortunately all booths are SOLD OUT.

We try our best to guarantee your reservation all night, though we ask you to arrive within 2 hours after doors open.

We no longer reserve high top tables behind booths but we encourage people to arrive early to claim available space.

We offer food service once doors officially open. See listing above for specific door time.
THE BLACK SEEDS

Long established as one of New Zealand's top bands, South Pacific reggae-soul shakers The Black Seeds announce their long awaited return to the U.S for a run of West Coast dates in June.
Described by Clash Magazine as "one of the best live reggae acts on the planet," The Black Seeds infuse their legendary eight-piece live show with raw energy and good vibes wherever they go, fueling multi-platinum sales and a growing worldwide following. With countless sold out tours behind them and performances at many of the world's leading festivals, The Black Seeds live show delivers a party for the soul every time.
With their much-anticipated new album set for release in September (via Easy Star Records) The Black Seeds' return to the U.S in June will be their first in 5 years. Fans can expect their first taste of the album with the first single set to drop in May.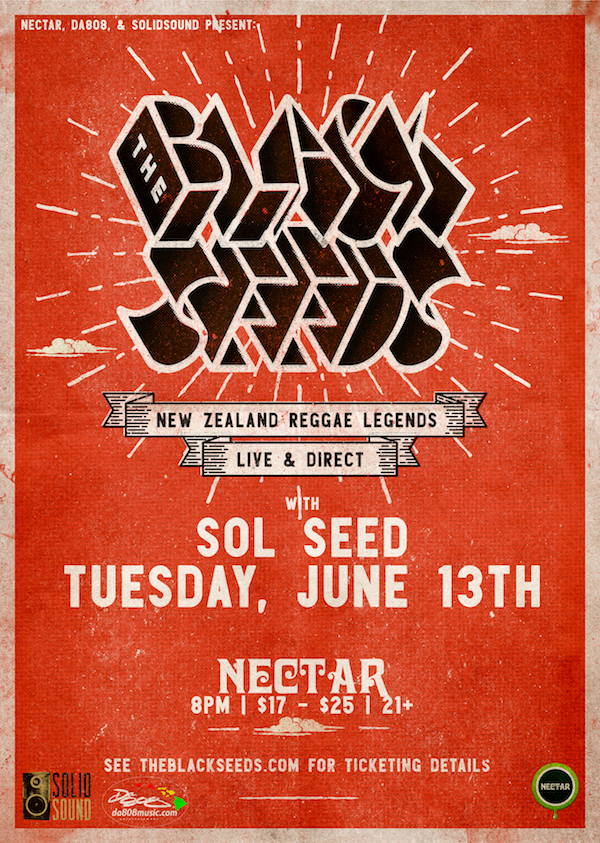 Performers
Date and time
Location
Nectar Lounge
412 North 36th Street
Seattle, WA 98103