The BLACK GIRLS ROCK! THiNK TANK Presents: CHECKIN' OUR FRESH

Wednesday, December 11, 2013 from 5:00 PM to 9:00 PM (EST)
Event Details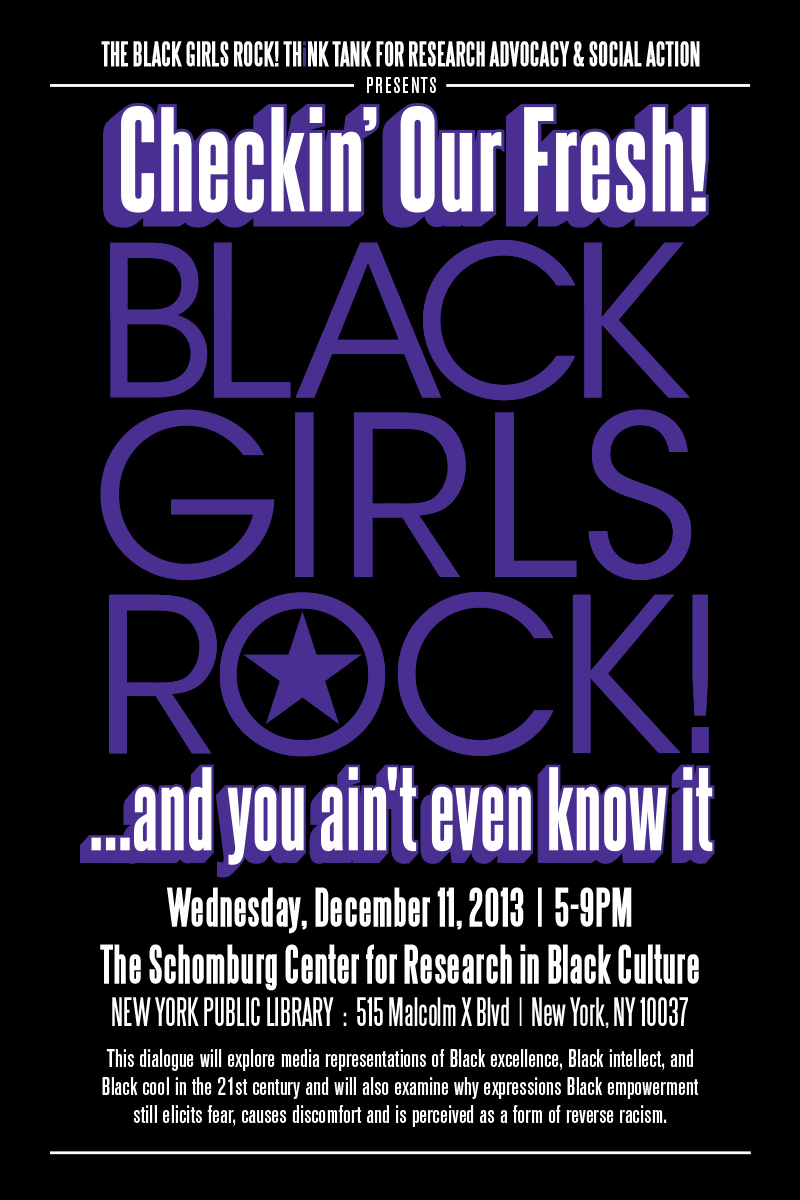 On the heels of the successful 2013 BLACK GIRLS ROCK!™ Awards on BET, which garnered over 2.7 million viewers, there was a huge social media conversation that questioned the need for a show like BLACK GIRLS ROCK! to exist today. Some criticized BLACK GIRLS ROCK! by calling the movement and our trending Twitter hashtag an example of reverse racism and exclusion. Many started tweeting the hashtag #whitegirlsrock to spark a counter-conversation. However, in the midst of this media mayhem a writer for the Huffington Post, Olivia Cole, wrote a powerful article in defense of BLACK GIRLS ROCK! In her article, "Why I am Not Here for White Girls Rock," Cole explains that BLACK GIRLS ROCK! is a necessary movement that counters the overwhelming absence of Black womenin most mainstream media spaces and the profusion of negative stereotypical images of Black women that are often projected in pop-culture. Cole, who is white, also brilliantly addresses the racism embedded within the discomfort that white critics expressed about the existence of BLACK GIRLS ROCK! on BET.


The plethora of remarks that flooded the Internet before and after Cole's article, demonstrates a need to host a productive and comprehensive public forum on the intersection of race, media, and identity development in our society. On December 11, 2013 the BLACK GIRLS ROCK! THiNK TANK for Research, Advocacy & Social Action will bring together a panel of dynamic scholars, educators, journalists, artists, activists and celebrities for a community conversation onthe history of Black images in media; the dearth of diverse media messages; the lack of discourses on Black women and our history; and the impact that media messages have on the identity development of Black women and girls.
- ARRIVE EARLY -
THE RECEPTION STARTS AT 5PM | THE PANEL STARTS AT 6PM SHARP
AUDITORIUM DOORS WILL OPEN AT 5:45PM | REGISTRANTS MUST CLAIM SEATS BY 6PM (walk-ins will be seated between 6-6:15PM)
BEVERLY BOND | FOUNDER, CREATOR, EXECUTIVE PRODUCER BLACK GIRLS ROCK!
Beverly Bond is the Founder, Creator and Executive Producer of BLACK GIRLS ROCK! A dynamo in true form, Bond, has blazed trails in the music, entertainment and social entrepreneurship industries.  Her body of work, across sectors, has made her one of the most celebrated DJs, television producers and social entrepreneurs of our time. Beverly's work as a businesswoman, mentor, philanthropist and community leader has earned her a number of prestigious recognitions. EBONY magazine listed Bond amongst its Power 100 list from 2008-2012 – making it five consecutive years that Bond has been recognized as one of Ebony's "Most Influential Blacks In America."
MODERATOR 
JACQUE REID | Journalist, NBC + Social Entrepreneur
Jacque Reid is a long time journalist with a background in entertainment and news. Reid, can currently be seen daily as a co-host on NBC 4 New York's much celebrated celebrity and lifestyle show, New York Live. Jacque is also a regular part of the nationally syndicated and hugely popular radio program, The Tom Joyner Morning Show, where she reports on women and women's issues during the Inside Her Story segments.
SHOLA LYNCH | CEO of Realside Productions, Inc. + Film-maker
Shola Lynch is an award-winning American filmmaker. Her first full-length documentary, Chisholm 72 Unbought & Unbossed, premiered at the Sundance Film Festival and garnered two Independent Spirit Award nominations and a prestigious Peabody for excellence. Shola's most recent documentary, FREE ANGELA & All Political Prisoners, was released in 2012 and is a first hand account of the events that thrust Angela Davis into the national spotlight, from a young college professor to a fugitive on the FBI's Ten Most Wanted list. As a testimony of her calling to be a steward of preserving the history of Blacks in moving images, Lynch also serves the Director of Film at The Schomburg Center for Research in Black Culture Department.
TRICIA ROSE, PhD | Professor of Africana Studies, Brown University
Professor Rose is an internationally respected author and scholar on post civil rights era Black U.S. culture, popular music, social issues, gender and sexuality. Dr. Tricia Rose is currently a professor of Africana Studies and the Director of the Center for the Study of Race and Ethnicity in America at Brown University. She has also taught at NYU and UC Santa Cruz. She will serve as the Lund-Gill Chair at Dominican University during the Spring 2014 semester.
OLIVIA COLE | Poet, Journalist, Author and Contributor to the Huffington Post
Olivia Cole is a poet, author and activist. As a professional writer for the past decade, she has written and edited a vast range of material: articles, essays, books, poetry, fiction, nonfiction, and educational content. Her novel, "Panther in the Hive," is due to release in 2014. She is currently a contributor to the Huffington Post and the Social Media Manager at a startup in Chicago called Ifbyphone.
ALEXIS GARRET STODGHILL | Editor, theGRio.com
Alexis Garrett Stodghill is an award-winning journalist and the Living and New York editor for theGrio.com. In addition to covering topics ranging from fashion to politics for theGrio, she has written for Ebony, Jet, BlackVoices.com, Clutch Magazine, News One, The Atlanta Post, Madame Noire and BlackEnterprise.com. In addition, she provides on-air commentary regarding social issues, African-American women, and culture for MSNBC. She writes frequently about social trends on the web, how black women are portrayed in media, and female figures who are empowering to the black community. Alexis graduated from Brown University with a degree in Modern Culture and Media, and lives in New York City.
JAMILAH LEMIEUX | Writer/Editor, EBONY.com
Jamilah Lemieux is the News & Lifestyle Editor for EBONY.com, a title that cleverly covers many hats. A Chicago native and graduate of Howard University, Jamilah describes herself as "a Hip-Hop Denise Huxtable, who dreams of growing up to be Claire." In 2005, she created a blog, The Beautiful Struggler, where for more than six years, she galvanized a broad national audience with her meditations on race, relationships and her own less-than-ordinary life. What began as a hobby quickly became a critically acclaimed online destination establishing Jamilah as an emergent and important voice on issues of gender, race and popular culture.
AMANDA SEALES
Poet, writer, artist, DJ and on air personality 
Amanda Seales (formerly Amanda Diva) is a true Renaissance woman. She has become a respected voice providing commentary for major outlets such as VH1, HLN, CNN, MTV, AOL, Huffington Post, and more. For years Amanda has cultivated her brand of one of a kind interviews, sidesplitting sketches and thought provoking commentary. Along with her electric personality her veteran experience as an entertainer, host, DJ, and painter give her an artistic perspective that along with her electric charisma create a rapport with guests unlike any other. Currently a comedian on Vh1's "Best Week Ever" and the host of VH1 & Smirnoff's "Master of the Mix" season 3, DJaying all over the world, and recently selling 6 original pieces at her first solo art show "Warrigirls & Hairoines", Amanda Seales has created her own niche for years keeping audiences and readers riveted by keeping it funny while keeping it real.  
SPECIAL PERFORMANCE
QUEEN GODIS
MC, Poet, Art Therapist
Queen GodIs is a Poet, MC & Performance Art Therapist who serves a host of communities seeking transformation through art. With a holistic approach to content & development, her inter-disciplinary work engages audiences in dialogue and activism that extend beyond the page and stage. A provocative blend of Hip Hop, Story-Telling & Soul, her work has been featured across the United States, South Africa, throughout Europe, India and the Caribbean. In 2001, Queen established QGUniversity (an inter-generational traveling school of healing arts and creative activism). Her creative process and mentorship practice have been documented by MTV Radio, NPR, BBC, WBAI, MSG Network, Channel 13's Many Voices and the HBO documentary series Brave New Voices. She has written and performed three solo off-Broadway shows, produced two independent albums, and been published in several international poetry anthologies. She is currently completing new work and generating content for The Adventures of Auntie Queen - a family-inspired, multi-media project that chronicles lessons and diversions from her travels. Queen GodIs is the recipient of the 2013 Creative Capital Award in Performing Arts. To find out more visit: QueenGodIsUniversity.com
BEVERLY BOND, CEO, FOUNDER AND EXECUTIVE DIRECTOR OF BLACK GIRLS ROCK!™, PARTNERS WITH THE SCHOMBURG CENTER FOR RESEARCH IN BLACK CULTURE TO PRESENT A TOWN HALL ON BLACK WOMEN & MEDIA
 
The BLACK GIRLS ROCK! THiNK TANK for Research, Advocacy, and Social Action presents, "CHECKIN' OUR FRESH: BLACK GIRLS ROCK! and You Ain't Even Know It"
 
NEW YORK, NY, December 6, 2013 – The BLACK GIRLS ROCK! THiNK TANK for Research, Advocacy, and Social Action has partnered with the Schomburg Center for Research in Black Culture to produce a panel discussion and town hall on race, gender and media messaging in the 21st century. The conversation will explore the impact that media has on social identity development and the cognitive dissonance that some audiences have when confronted with portraits of Black excellence in media versus the relative comfort that audiences have with conflict heavy, violent, hyper-sexual or degrading content featuring Black women.

"We are very excited to partner with the BLACK GIRLS ROCK! THiNK TANK for Research, Advocacy, and Social Action," said the Schomburg's director, Khalil Muhammad. "This panel discussion and town hall will present the community with an opportunity to assess the relationship between race and media and to examine how the most pervasive images and media messages impact our identity development, group economics, values, and cultural legacy."

The BLACK GIRLS ROCK! THiNK TANK announced that Jacque Reid (NBC) will moderate the dynamic panel featuring scholar and activist Tricia Rose, PhD (Professor, Brown University), filmmaker Shola Lynch (Unbought and Unbossed + Free Angela and all Political Prisoners), writer Olivia Cole (Huffington Post / "Why I'm Not Here for #WhiteGirlsRock"), writer and editor Jamilah Lemieux (Ebony.com) and journalist Alexis Stodghill (NBC/Grio). Beverly Bond, will open the event with a keynote address.

"Media is a significant vehicle for sharing Black history, culture, news, and entertainment. In addition, media messages have a major stake in social identity formation globally. It's critical to look at how these messages directly impact the Black community, but also how media influences the ways other communities view, receive and connect with Black people and Black culture," said Beverly Bond. "We have to probe and challenge the fact that damaging images of Black people are dominant in popular culture, while more holistic and empowering messages are sparse. Our event will address this issue and also examine why there continues to be an overwhelming discomfort and resistance to manifestations of Black empowerment in the 21st century."

The BLACK GIRLS ROCK! THiNK TANK's panel will be held at the Schomburg Center for Research in Black Culture located in Harlem, New York at 135th & Lenox on December 11, 2013 from 5-9PM. For more information, please visit: https://www.eventbrite.com/e/the-black-girls-rock-think-tank-presents-checkin-our-fresh-registration-4449971986.
 
About BLACK GIRLS ROCK!
Founded by celebrity DJ and Philanthropist, Beverly Bond, BLACK GIRLS ROCK! is dedicated to promoting positive images of women of color in mass media. BLACK GIRLS ROCK! Inc., is a 501(c) (3) nonprofit organization, that has been dedicated to the healthy development of young women and girls since 2006. BLACK GIRLS ROCK!™ Inc. seeks to build the self-esteem and self-worth of young women of color by changing their outlook on life, broadening their horizons and helping them to empower themselves. For additional information on BLACK GIRLS ROCK!™, visit http://www.blackgirlsrock.org
Organizer
Founded by celebrity DJ, model and executive producer, Beverly Bond, BLACK GIRLS ROCK!™ is a multifaceted movement dedicated to shifting the culture of media images depicting Black women and girls. Since 2006, BLACK GIRLS ROCK!™ has been committed to committed to empowering women through media and enriching girls through leadership, education and positive identity development programs. For additional information on BLACK GIRLS ROCK!™ , visit http://www.blackgirlsrock.com and follow @BLACKGIRLSROCK on social media.