Location
Westminster Hall & Burying Ground
519 W. Fayette Street
Baltimore, MD 21201
The Official Party of the 2022 International Edgar Allan Poe Festival & Awards.
About this event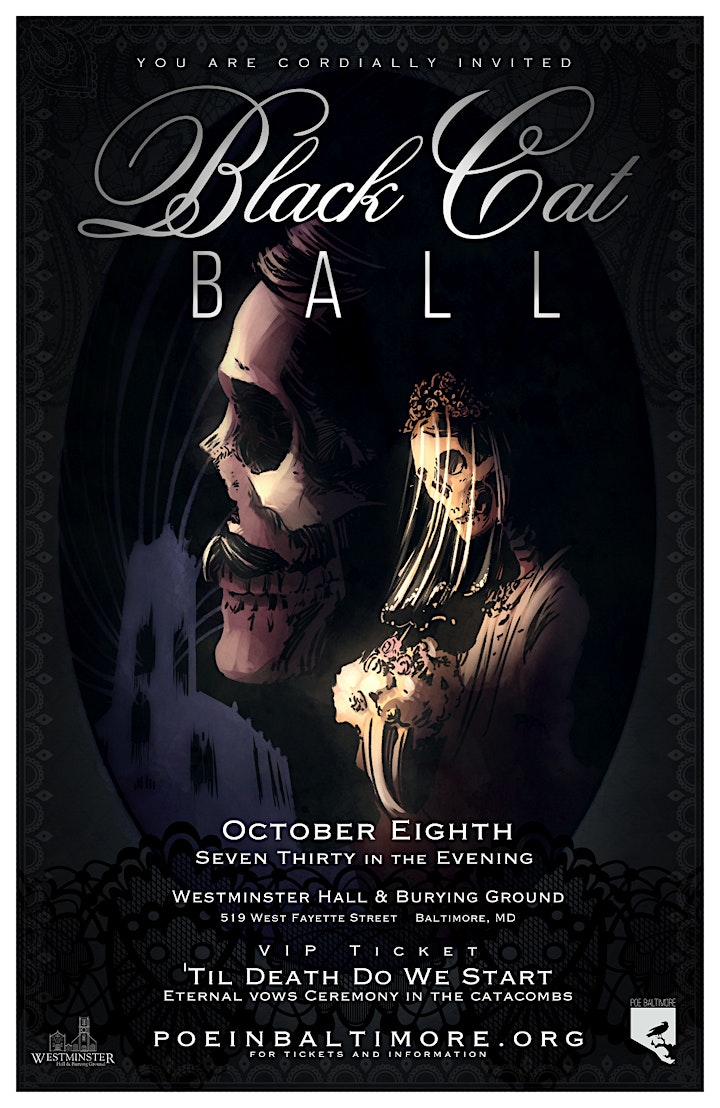 The Black Cat Ball at Westminster Hall: Til Death Do We Start
The Black Cat Ball at Westminster Hall : Til Death Do We Start is the Official Party for The International Edgar Allan Poe Festival & Awards, Saturday, October 8th. Doors open 7:30 PM (VIP 7:00 PM) Dress to impress and walk our Gothic Red Carpet!
2022 marks the 200th birthday of Edgar Allan Poe's Beloved wife and muse, Virginia Poe. Join us for an Edgar and Virginia Wedding-themed masquerade as we dance into the night, explore a garden of culinary delicacies, then raise a glass at a grave-side toast to the eternal couple! Guests will enjoy passed hors d'oeuvres and complimentary beer & wine while they peruse the "Virginia Poe Bicentennial Death Exhibit" featuring memento mori and death tableau of Virginia and Edgar.
Tickets are all-inclusive for food, beer/ wine/ soft drinks, and entertainment, plus:
Private Viewing & Reception at The Virginia Poe Bicentennial Death Exhibit
Winners of the 2022 Saturday 'Visiter' Awards, presented by author Lynn Cullen
Grave-side Cognac toast to Edgar Allan Poe and Virginia
This party is 21+ over restricted; 100% ID Check!
LIMITED EXCLUSIVE VIP packages also available; includes early entry and wedding march played on the famed Westminster Hall organ, plus a tour and special exchange of "Eternal Vows" in the famed Westminster Catacombs! Couples, Partners, or even friends will plight their eternal troth with candle-light ceremony performed by an undead officiant. Ticket includes wedding cupcake and mini-split of champagne or cider.
VIP ticket holders take note: this ceremony is for entertainment purposes only, although you may check the Circuit Court of Baltimore City for license requirements. If you want to renew your vows or make the Black Cat Ball your wedding, we won't stop you!
NOTE TO POE FESTIVAL ATTENDEES: The party takes place at a location away from festival grounds. Westminster Hall & Burying Ground at 519 W. Fayette Street, is just over one mile from Poe House. Paid parking available at University of Maryland garages.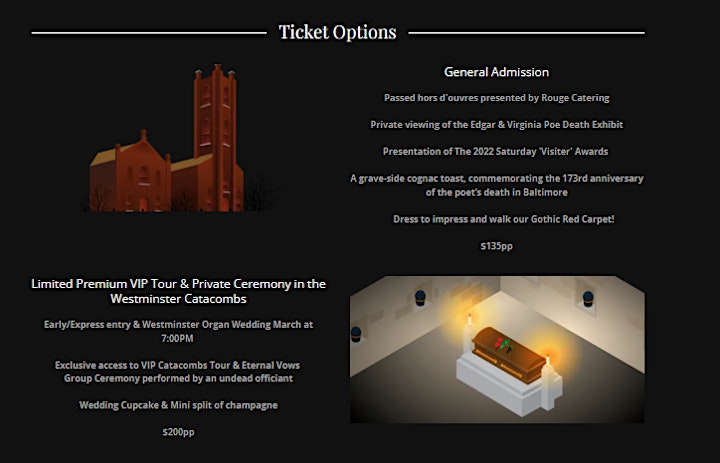 Included with your Black Cat Ball Ticket: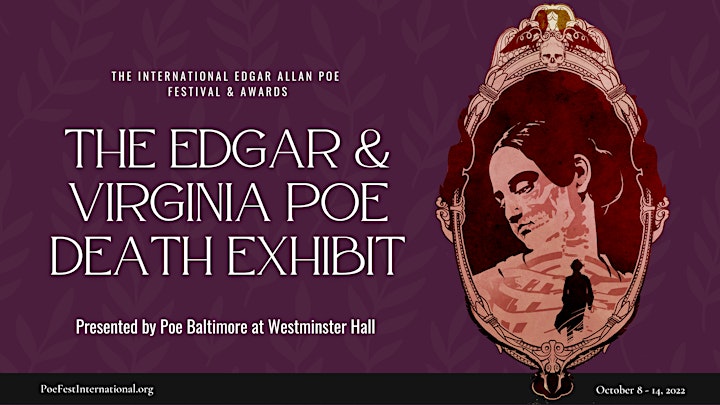 The Edgar Allan Poe Funeral Re-enactment, Candlelight Vigil, and the Virginia Poe Bicentennial Death Exhibit (NEW for 2022!)
Visit an interactive art installation at the historic Westminster Hall & Burying Ground, where Poe's body and casket will lie in state in a re-enactment of the dark and somber day Poe was laid to rest. Tour the various conspiracies that plague Poe's legacy and learn how the very clothes he wore offer clues to his mysterious death. Pay your respects at a special candle-light vigil for the master of horror and mystery. Included this year: the NEW "Virginia Poe Bicentennial Death Exhibit."
Presented by Poe Baltimore at Westminster Hall, the "Virginia Poe Bicentennial" exhibit explores the hidden history of Virginia Poe, the beloved wife and muse of Edgar Allan Poe, and how she shaped her husband's work even from beyond the grave. The exhibit also includes the morbid story of Virginia's death and afterlife, plus a memento mori collection of mourning jewelry and sentimental art made from human hair. A mobile app and live guide are included to answer your questions!
NOTE: Death and funeral imagery (including body in an open casket), may not be suitable for young children. Viewer discretion advised.
Exhibit presented by Poe Baltimore in cooperation with Westminster Hall & Burying Ground, The Dr. John W. Hawkins & Mark T. VerValin Collection, The Enoch Pratt Free Library, The Maryland Women's Heritage Center, The Poe Cottage at Fordham & Bronx County Historical Society, The Poe Museum (Richmond), The Edgar Allan Poe Society of Baltimore, Michael & Jaime Fawcett, Thomas Brown Woodwright, LLC, Christopher Schafer Clothier, Michael Davis, Jason Strutz Illustration, The Baltimore Camera Club and Carroll Museums. This event is made possible by a grant from the Maryland Heritage Areas Authority and The Baltimore National Heritage Area, with kind assistance from the B&O Railroad Museum and the Babe Ruth Birthplace and Museum.
***COVID-19 UPDATE: 2022 will see the return of in-person stage, vendors and tours, all proceeds to benefit The Edgar Allan Poe House & Museum in Baltimore. Public health guidance is SUBJECT TO CHANGE , and thus safety measures such as masks or proof of vaccination may be required for select ticketed events. Purchase tickets at your own risk as all sales are non-refundable. Our aim is to make this death commemoration as lively (and safe!) as possible. Please follow all safety protocol and guidelines as well as local mandates. ***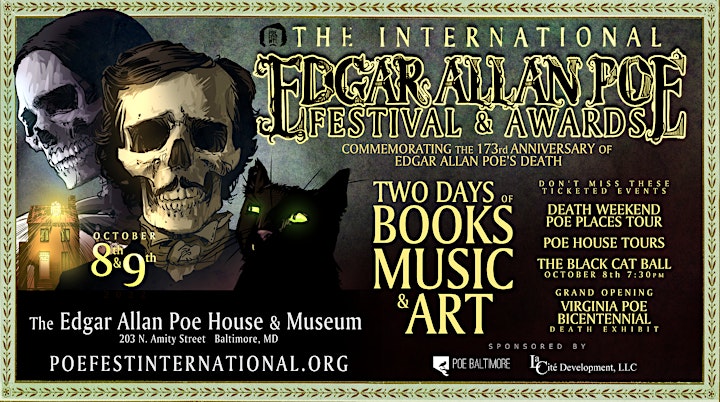 October 8 & 9 is "Death Weekend", commemorating the 173rd anniversary of Edgar Allan Poe's death in Baltimore. Visit PoeFestInternational.org for more vendors and program details/schedule.
Admission to Poe Fest International is FREE. Tours inside the Edgar Allan Poe House and additional exhibits at Westminster Hall are not included as part of the general festival program and require paid tickets. Visit PoeFestInternational.Eventbrite.com for ALL festival events and available tickets.