Description
2017 Black Brain Campaign's Conference will provide an opportunity for individuals to attend the following workshops: Understanding My Teen, Drug & Alcohol and the Impact on the Family, A Candid Conversation for Men, and a Pathway to Understanding the Special Education. Lunch will be provided with resources followed by a panel disucssion around how mental health impacts the family. The day will end in a panel discussion including clinician's servicing constituents in the City of Philadelphia while helping attendees understand their specific responsibilities and how to utilize and access their services to obtain the optimal therapeutic experience.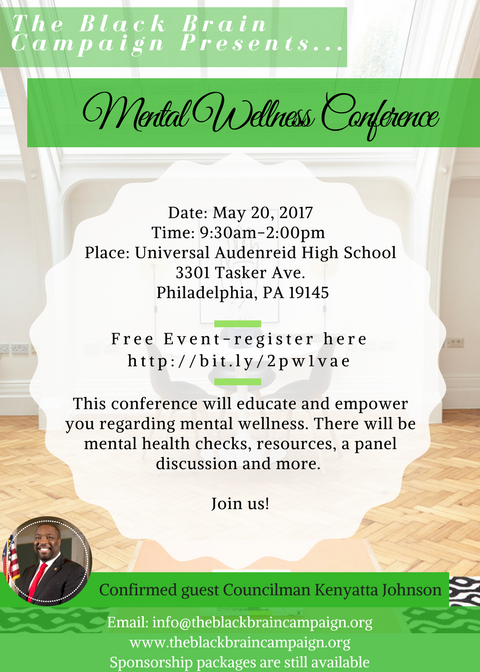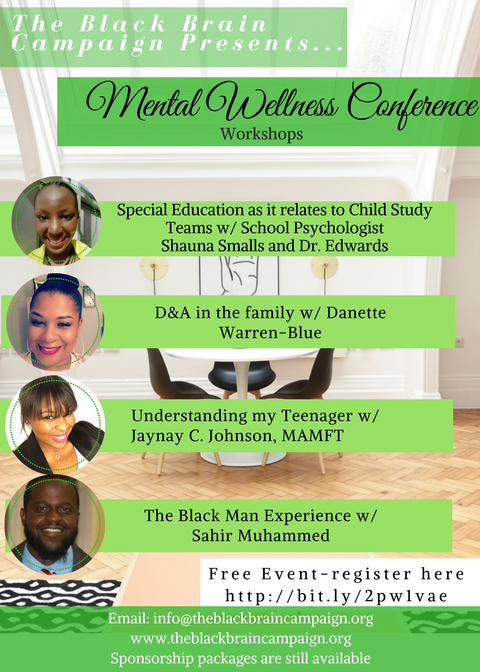 ---
Outline of the day
9:30am- Registration/ Welcome
CHOOSE ONLY ONE WORKSHOP PER HOUR
10am*** 1a-Special Education or 1b D&A in the family
11am*** 2a- Understanding my teenager or 2b The Black Man Experience

12pm-12:30 pm Lunch/ Resource tables
12:30pm 1:30 pm-Panel discussion featuring Laura Dupiton, Ryan McMillian and more. Moderated by Ann L. Coley
1:30pm- Closing Remarks
* There are 2 workshops being hosted per hour. As a participant, pick the workshop you want to attend for the 10am and 11 am hour. You cannot pick both workshops in the same hour as they are only offered during that hour.*
Mental health assessments will be availbe during the conference adminstered by Center for Families and Relationships
YOU DO NOT WANT TO MISS THIS!