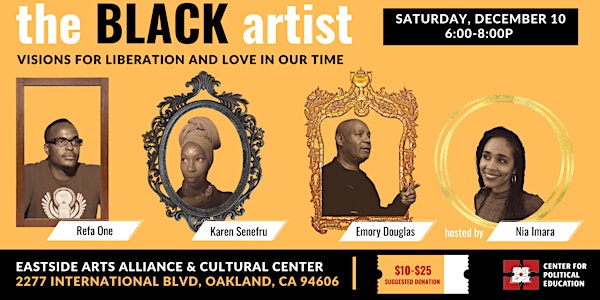 The BLACK Artist: Visions for Liberation and Love in Our Time
a special evening of music, art, and conversation about the work of Black artists creating visions for liberation and life in our times.
When and where
Location
Eastside Arts Alliance 2277 International Boulevard Oakland, CA 94606
About this event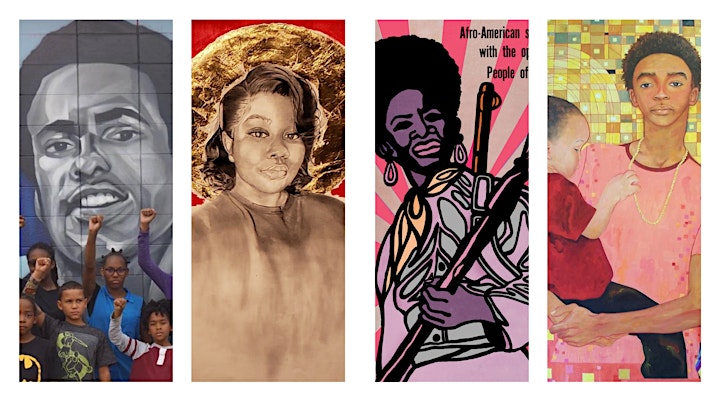 Join Center for Political Education and some of Oakland's most visionary Black artists to discuss artmaking for Black liberation and love in a new time of revolutionary energy. Together, these artists have given shape and color to Black freedom struggle spanning more than half a century of work. They offer us unique insights into the process of bringing revolutionary politics into the dimension of imagination and culture. As Black graphic artist and sculptor Elizabeth Catlett once described, these artists help "to reflect us, to relate to us, to stimulate us, to make us aware of our potential."
Our conversation will be hosted at Eastside Arts Alliance & Cultural Center by Oakland arist and astrophysicist Nia Imara, and will include music, visual art, and light refreshments.
*COVID safety: For the safety of our community and attendees, we will be asking guests to wear masks during our program.
Suggested Donation: $10 - $25 | All proceeds benefit the Center for Political Education and its work.
Artist bios:
Emory Douglas is a graphic artist who joined the Black Panther party in 1967 and served as the Minister of Culture. His powerful illustrations portrayed the oppressive conditions facing the African American community while also promoting community empowerment. The imagery and hard-hitting slogans in his artwork became symbols of a movement and inspired many to act.
Karen Seneferu was born and raised in Oakland California, and her childhood was fed by revolutionary politics and the Black Panther Party's free breakfast program. She earned a B.A. in English from the University of California at Berkeley and has dedicated her life to working as an educator and artivist. Self taught in her artistic craft, Senefuru is obsessed with gathering information, imagery and ideas. As a result, her work contains a completeness that belies her brief tenure as a multimedia artist. Using natural and manufactured materials she boldly examines the ancient and contemporary, turning modern objects into artifacts. This Afrofuturistic aesthetic provides a curative intersection between technological and the spiritual. Senefuru's is grounded in the philosophy that space has hidden meaning. Therefore, her work seeks to enter into and transform the meaning of space.
Refa One is from Oakland California and has been instrumental in the development of the innovative, unorthodox genre of art known as "Aerosol Art" (Graffiti Art/Style Writing). Immersed in HipHop culture as a youth, the walls of urban structures became his canvas. Refa's refined HipHop calligraphy speaks to a legacy of style writing, a cultural tradition born from the NYC subway painting movement. A lifetime of involvement in HipHop culture via the Universal Zulu Nation combined with his radical political awareness, has translated into a successful career as a HipHop calligrapher, muralist, illustrator, activist, and educator. 

Refa's design aesthetic promotes African culture as a vehicle for radical political and social change. His pieces are maps of vision and reflection that capture the intellectual value and heritage of the HipHop vernacular. His themes materialize in the fusion of his unique stylized letters and his use of eclectic cultural iconography. That fusion result is a multitude of powerful works engaging the spirit, intellect, and the imagination. His work has been featured nationally and in various countries throughout Europe and the African continent. Refa One is currently the director of AeroSoul, an international organization of spray can artists from the African Diaspora.
about our host for the evening:
Nia Imara is an artist and astrophysicist whose body of work reflects her love for vibrant color, people, and their stories. She is currently a professor of astronomy at UC Santa Cruz, where she investigates how stars are born in the Milky Way and other galaxies throughout the universe. Nia is the founder/director of Onaketa, a nonprofit that provides free STEM tutoring and other educational resources to black and brown youth.