The BIZ of Money M.A.T.T.E.R.S.
Description
The "M" in our STEM (science, technology, engineering and mathematics)!
For the FIRST of its kind ... In partnership with Houston Money Week, SUPERGirls SHINE Foundation Presents ... The BIZ of Money M.A.T.T.E.R.S., a day of resources bridging gaps in financial literacy, responsibility and access to capital for building families & communities within the Houston and surrounding areas.
Expert Speakers, sponsor a workshop to help us help families rebuild! Application Deadline: March 23, 2018. Click here to complete.
Families and individuals, this day is ALL about you! ... Family, Finances and Freedom!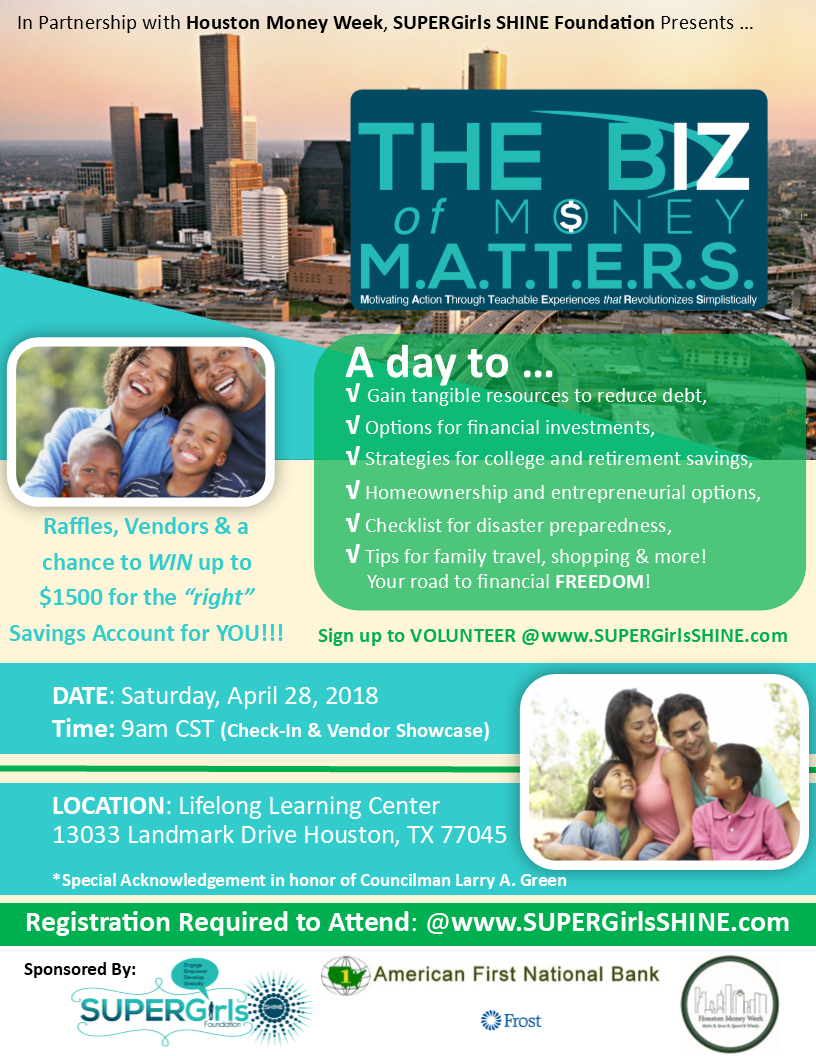 Raffles, Vendors and a Chance to WIN up to $1500.00 to open up the right Savings Account for YOU!
WHY? #TOGETHERWeAreSTRONG #hoUStonSTRONG
Workshop Areas ... *Estate Planning, *How to restore credit *Access to capital, * Investments, *Savings, *Entrepreneurship, *Retirement, *Travel, *Home Ownership, *Insurance, and *Disaster Preparedness
Classes for youth, young adults and adults! Great for the family.
Houston Money Week (HMW)
is a community-wide financial education initiative that empowers families and individuals to be successful in making financial choices. HMW serves individuals, families, veterans and small business owners across the greater Houston area, offering free financial education events and raising awareness of community resources.
SUPERGirls SHINE Foundation
(
SGSF
) -
501(c)3 Non-profit Organization which seeks to
engage
>
empower
>
develop
>
girls globally by exposing 10-17 & 18-24 to STEM professions, leadership development & character building strategies with exposure to the arts.
AMAZING Vendor Opportunities Available!