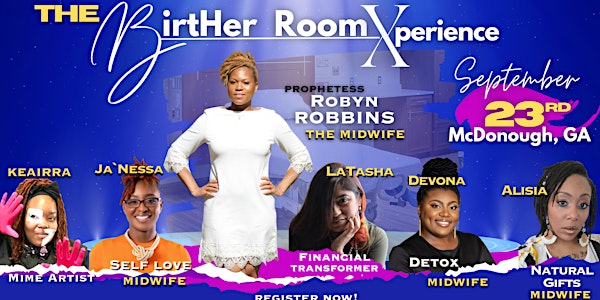 The BirtHer Room Xperience
It's your Divine Time to PUSH! A Curated Space for female aspiring & emerging visionaries & leaders...
Date and time
Saturday, September 23 · 8:15am - 4:30pm EDT
Location
Comfort Suites McDonough Atlanta South 64 Highway 81 W. at Exit 218 Mcdonough, GA 30253
Refund Policy
Contact the organizer to request a refund.
Eventbrite's fee is nonrefundable.
Agenda
8:30 AM - 9:00 AM
Registration Check-In Conference Materials Pick-up
9:15 AM - 9:25 AM
Official TBR Xperience Welcome
9:25 AM - 9:35 AM
1 n Worship Mime
9:45 AM - 10:00 AM
Distorted Identity
10:05 AM - 10:35 AM
The Relational Detox: Let Go & Let God
10:40 AM - 11:10 AM
BirtHer in Love
11:10 AM - 12:05 PM
Vendors Intermission/ Brunch Served
12:10 PM - 12:40 PM
Birth Your Natural Gifts
12:45 PM - 1:15 PM
Transform & Birth Your Finances
1:20 PM - 2:15 PM
Produce: It's Your Divine Time 2 P.U.S.H
2:15 PM - 3:00 PM
Vendor Intermission/ Prepare for Conference Conclusion
7:15 PM - 9:15 PM
A Night of Impartation (Conference Conclusion)
About this event
8 hours 15 minutes

Mobile eTicket
It's your Divine Time to PUSH!
Welcome to the BirtHer Room Xperience....
An interactive experience for female aspiring & emerging visionaries that seemingly merges life - changing personal development & faith for explosive, result-oriented, purpose-centered execution. A spirit-filled, supercharged atmosphere that makes birthing & producing easy!
Don't Despise the journey, and experiences you've had to go through while carrying!
These birthing pains, these contractions have led you here. ....
It's time to Birth YOU!
Birth the vision, birth the business, birth the book, birth the calling, BIRTH YOUR NEW!
Be Empowered, Liberated & Equipped to not only produce your NEW, have longevity in your NEW.
ONLY 20 EARLY BIRD TICKETS LEFT
Join us in McDonough Georgia for a life-altering experience!
Conference Location & Lodging:
Our selected Hotel where the conference is being held is Comfort Suites McDonough Atlanta South
Call 678-216-1900 & give our group name TBR Xperience to reserve your hotel room today for our special weekend rate (September 22nd Friday-Sunday September 24th)!
All rooms have double Queens so feel free to lodge with your bestie, family member etc.
Conference Give Aways:
*Get 2 extra raffle tickets thrown in the raffle for Give Aways when you purchase an Early Bird ticket.
That's a total of 3 raffle tickets that Increase your chance to win*
Conference Attire:
Conference DAY SHADES OF YELLOW
Conference EVENING SHADES OF PINK with a bathing suit underneath clothing
*CONFERENCE SPEAKERS & OR ITINERARY ARE SUBJECT TO CHANGE*
Friday, September 22nd Hotel Check-in & Settle in
Saturday, September 23rd The BirtHer Room Experience
Conference Day All Attendees 8:30 am-4 pm est
Vendors
Brunch
POWER Packed Presentations:
"Distorted Identity"
"The Relational Detox: Let Go & Let God"
"BirtHer in Love"
"Birth Your Natural Gifts"
"Transform & Birth Your Finances"
"Produce: It's Your Divine Time 2 P.U.S.H"
A Night of Impartation: The BirtHer Room Conference Conclusion
ALL Attendees 7:15 pm - 9:15 pm est
High Prophetic Worship & Prayer
Prophetic Utterances
Activation, Birthing & More
Sunday, September 24th Check -Out
Devona Natalie Boone is Dual Certified as a Relationship Life Coach & Healing Midwife AKA (The Relational Detox Coach & Detox Midwife), an Author, Motivational Speaker, Domestic Violence Advocate and Serial Entrepreneur. She is the founder of the non-profit organization, Natalie's Place. Transitional Housing offering supportive services for women who were victims of domestic violence. Through her passion of advocacy, Devona found her voice and courage to share her story in hopes to offer strength, healing and hope to other women.
Devona has fought to become a high-achieving woman of grace and resilience through life's difficult moments where she has had to take a self-examination of the impact she wanted to make in the lives of others. Years of self-discovery, building courage, healing, recovery, and perseverance, have led Devona to lead a successful thriving life.
We all have a journey but we all must learn to travel through it with grace!
Ja'Nessa is an educator, a mother, a Minister of Movement, and a Certified Life Coach & Level I Healing Midwife who specializes in Self-Love relationships.
When she's not imparting knowledge to young minds & empowering their self-esteem, she is empowering women who have disconnected to themselves due to trauma, abuse, and abandonment, to reconnect to their true self by working to transform their relationship with themselves. Coach Ja'Nessa founded and established the Agape: The Best Love Coaching, LLC. to allow her to do this great work.
Coach Ja'Nessa spent MOST of her life battling, anger, depression, and suicidal thoughts as a result of trauma, abandonment, and abuse. It wasn't until she was pregnant with her first child and picking up the pieces of yet another failed relationship that she began her journey to heal for real. She invested in herself and worked HARD to do the work and show up for herself each and every step of the way. During this process of healing, she was able to FINALLY meet herself and began the journey of truly loving who she was and everything that showed up. Now, she uses everything she has learned to help other women, like her, who want to walk free, show up different for their families & themselves, and be the source of the unconditional AGAPE love they have been searching for their whole lives.
Keairra's love for God's presence, heart posture of feeling or expressing adoration for Him is a conduit for authentic worship. The yielded willingness to be a vessel empowers her to be an atmosphere shifter whereever she goes.
Get ready for spirit filled, heartfelt explosive worship! Join me in lifting Jesus up at The Birther Room Xperience. Let's Birth out a new praise!
-Love, Key .Lathan
Alisia (AJ) Cooper The Natural Enlightenment Coach
I partner with divine beings to challenge disempowering crown-sets and birth abundance from their natural gifts. I believe God is above all things and I set the bar in love.
I promote wellness and sacred self-care. I am community-based, and have a collective/village mindset. I believe the fulfilment of an individual purpose will positively impact our connected experience. I have an attitude of gratitude and believe every divine being is a natural gift. I work with earth's natural gifts because there is an infinite supply of vegetables, fruits, plants, flowers, and herbs that can be used to heal and maintain healthy mindsets and physical bodies. I include Reiki in my coaching approach. Reiki is a combination of two Japanese words together meaning "universal life energy". Reiki practitioners use "palm healing" or "hands on healing" to channel and transfer energy through their palms. In the church, this is called "healing hands" or "laying of hands".
The Visionary & Keynote Speaker of The Birthing Room Xperience
Prophetess Robyn Robbins is a Certified Master Life Coach, Empowerment Teacher, Trainer and Movement Storyteller affectionately referred to as The Midwife due to her unmatched ability to partner with others and empower them to give birth and produce. She is the steward owner of Robyn Robbins Enterprises LLC. where she empowers YOU to transform, develop, and produce. She is also the steward owner of R.H.E.M.A. which is an acronym for Running His Elect Mana Abroad where she equips and empowers others to live in their God-given identity, authority, and purpose to ultimately walk out their destinies. This is done through inner healing, teaching, prophetic ministry, in-depth training, and worship. Robyn's life mission is simply to enrich, empower, equip, and liberate all those who cross her path! To date, Robyn has empowered powerhouse leaders from all over the U.S., Canada, Africa, & Jamaica through her services. Her coaching clients have produced their best selves, goals & businesses. These goals and businesses include self-publishing books, launching book brands, businesses, non-profits, becoming international speakers, increasing their clients, profits, and speaking engagements.
However, it didn't begin this way...
Her personal life experiences such as surviving traumatic childhood, cyclic abuse, adult entertainment, the sex industry & divorce serve as fuel to show up and empower others daily. Read her full bio via her website today!
LaTasha Webb is
A mother, a business owner, and a woman of God: Native Atlantan
Born with a passion for helping others, bred with the desire to overachieve, and after an education at Howard University, LaTasha secured her own financial service firm; Specializing in Small Business Setup and Consultation, Payroll Services, Accounting Services, Bookkeeping, Tax Preparation, Credit Repair and Restoration, and so much more: Webb CFS has solidified its position in the Metro Atlanta area as a staple in the financial services in the community, serving tens of thousands of people each year, and has grown to have offices in multiple states across the country.
With over 13 years of experience, The Financial Transformer is "firmly planted to educate our community: one business owner at a time." It is time to Transform your Finances and Take Over Your Freedom.