Description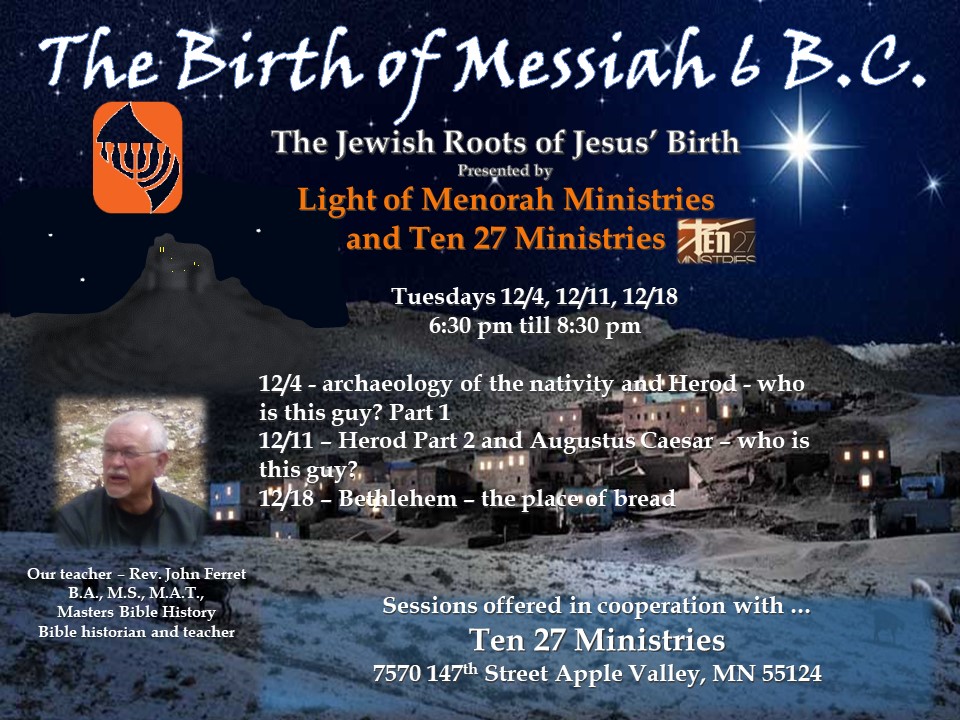 This is a Bible study - three sessions on 12/4, 12/11, and 12/18. Registration is required but there is NO COST to attend. Please note - this class will not be held unless at least 20 have registered.

Archaeology of the Nativity
Biblical archaeology helps us today to recapture what it was like that night Jesus was born. Was He born in an inn? A stable? Once we know what it was like, does it give us a better picture of the true meaning of Christmas??
Augustus & Herod
Jewish scholars teach us that each word in the Bible is designed by God on purpose. So, why is Caesar Augustus and Herod brought up in Luke 2:1 and Matthew 2:1? What did those people 2000 years ago understand that we don't? This is more than we thought.
Bethlehem – "House of Bread"
People in Israel 2000 years ago thought in picture and action – very different than us in 21st century America. What did they see and understand knowing that Jesus was born in the House of Bread – Bethlehem? Is there something we missed since we are disconnected from the culture of Israel 2000 years ago?
This Bible study will focus on the archaeology, history, geography, customs, culture, and even the ancient languages of the ancient Middle East. We will study the birth of Jesus as we have not seen it before - through the eyes of the Jewish people of the 1st century A.D. How may have they looked upon His birth, His coming? Do they see it differently based upon what they knew then?
As Christians we have His word that helps us with understanding His birth and why He came. But, this Bible study will answer the WHO, WHAT, WHERE, and WHEN so we can understand the WHY. This study will enhance and expand our view of this awesome event of the coming of Emmanu El ( עִמָּנוּאֵל ) God with us - just like in the garden, at Sinai, and the coming of the Lord's in Solomon's Temple, and someday in the New Jerusalem.
Remember - registration is required. It will be held if at least 20 register. This class is being offered jointly by Light of Menorah Ministries and Ten 27 Ministries. Each class will start at 6:30 p.m. and end approximately at 8:30 p.m. The dates for the classes are 12/4, 12/11,and 12/18. There is NO COST to attend but we do hope you will consider a free-will donation for the continued work of Light of Menorah Mininstries.