Description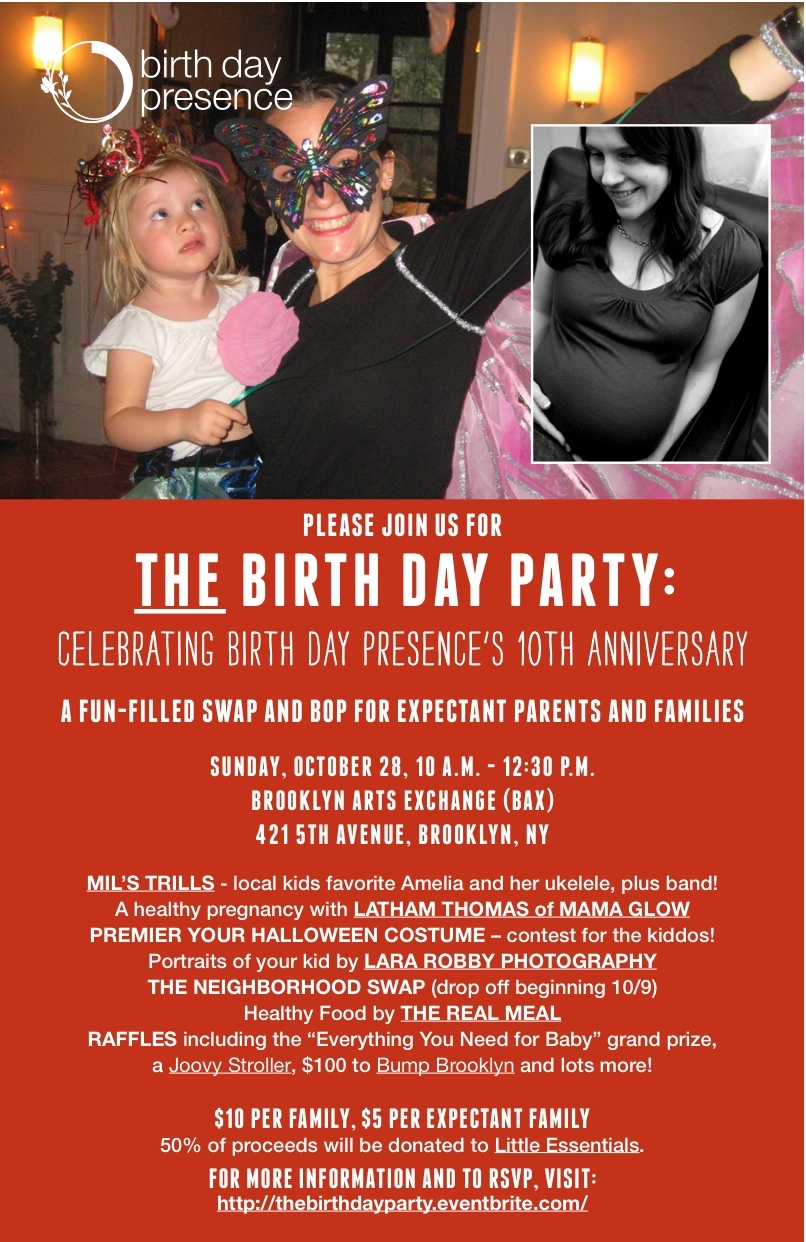 In honor of our 10th Anniversary celebration..
We're welcoming you to join us at a fun-filled SWAP and BOP for EXPECTANT PARENTS and FAMILIES featuring:
MIL'S TRILLS - local kids favorite Amelia and her ukelele, plus band!
A healthy pregnancy with LATHAM THOMAS of MAMA GLOW

Premier your HALLOWEEN COSTUME - contest for the kiddos!

THE NEIGHBORHOOD SWAP (drop off beginning 10/9)

Healthy food by THE REAL MEAL

RAFFLES including the "Everything You Need for a Baby" grand prize!

Half of our proceeds from the event will be donated to Little Essentials.
THE NEIGHBORHOOD SWAP
• We welcome maternity to 6 yrs. clothing and baby gear in good to great condition (no tears, not damaged, no stains, working properly if gear).
• Please drop-off 10/9 - 10/26 during Birth Day Presence business hours (Monday and Friday 10am-12pm in SoHo, and Tuesday-Thursday 10am-5pm in Park Slope) or on 10/28 at BAX.
• Leftover items will be donated to Little Essentials – a community-based organization that provides clothing and gear for local families in need.
Organizer of THE Birth Day Party
Founded in 2002, Birth Day Presence has assisted thousands of families in a nurturing, non-judgmental way. Birth Day Presence is also proud to have created and administered the Bellevue Hospital Birth Center Volunteer Doula Program, which, for five years, assisted over 500 underprivileged women per year through their childbearing experience.