The Biology of Joy: Becoming a force for good with ease and flow
About this Event
The Biology of JOY
The body's emotions are tantamount to gauges on your car's dashboard, they provide feedback on the operation of the vehicle, in this case a body. The body's equivalent of a life "performance gauge" may be expressed as the range of emotions between joy, as a positive accomplishment, and misery, reflecting a negative achievement.In the face of today's global crises, a portent of an imminent evolutionary upheaval, joy is a vanishing emotion. The majority of the world's population is having a difficult time in creating a joyful life filled with health and happiness. Yet, quantum physics, the most tested and validated of all sciences, acknowledges that our consciousness, our mind, is responsible for creating our life experiences. Since we are consciously driven to seek joy, where is the problem?
In an informative and self-empowering presentation, Bruce H. Lipton, PhD, will take you on a journey of self-discovery from the chemistry of atoms to the chemistry of joy. Along the way, we come to understand the science of how our life experiences are neither accidents nor coincidences but personal creations. Bruce's dynamic illustrated and animated presentation illuminates the biological and psychological mechanisms by which developmental programming shapes the invisible and unconscious behaviors that create or undermine our wishes, desires, and aspirations.
Knowledge is power. The new knowledge of "self" provided in this program empowers participants to take back creative control over their own lives and evolve from passive victims to responsible co-creators of the world to come. The new science will inspire your spirit, engage your mind and challenge your creativity, as you comprehend the enormous potential for applying this information in your life.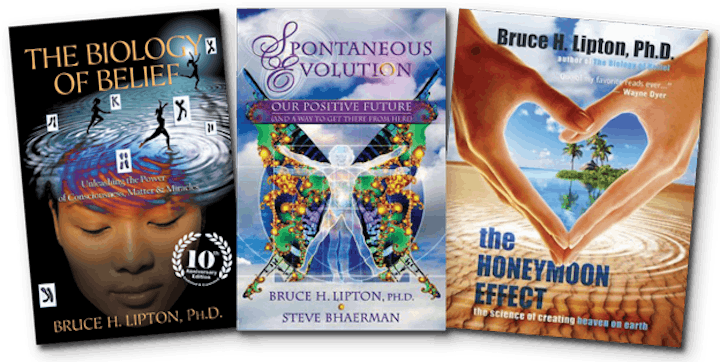 In this session you will:
Be able to describe the relevance of epigenetics and how it reveals that perception of environmental signals controls behavior and gene expression.
Become aware that prenatal and perinatal experiences provide programmed perceptions, relegated to the subconscious mind, that primarily shape an individual's physiology and behavior.
Discover the biological pathways that bridge mind - body interactions that in turn, educates, empowers and promotes self-responsibility
"We are not victims of our genes, but masters of our fates, able to create lives overflowing with peace, happiness, and love."― Bruce H. Lipton, The Biology of Belief: Unleashing the Power of Consciousness, Matter and Miracles
About Bruce H. Lipton, Ph.D
Bruce H. Lipton, Ph.D., stem cell biologist and bestselling author of The Biology of Belief, Spontaneous Evolution and The Honeymoon Effect, served as Associate Professor of Anatomy in the School of Medicine at the University of Wisconsin (Madison, 1973-1982). In the medical curriculum, Bruce lectured in Cell Biology, Histology and Embryology. His pioneering research on cloned human stem cells presaged today's revolutionary new field of Epigenetics. Dr. Lipton later served as a Research Fellow in the Department of Pathology in Stanford University's School of Medicine (1987-1992). Groundbreaking research at Stanford revealed the nature of the biochemical pathways by which the mind (perceptions/beliefs) controls behavior and genetic activity. In addition to being listed in the top 100 of "the world's most spiritually influential living people" by United Kingdom's Watkins Journal, Bruce received the 2009 prestigious Goi Peace Award (Japan) in honor of his scientific contribution to world harmony. Bruce has lectured in 7 of the 8 continents, and is still awaiting an invitation from the penguins to present in Antarctica. For more information visit www.brucelipton.com.
Dr. Lipton is a guest faculty at GW CEPL's e-Co Leadership Coaching Certification(e-CLC), an ICF-aligned professional foundational coaching program, attending to the whole-person and whole-systems framework, supporting individuals to deepen and expand their contribution in the world towards a vision for One Humanity. Our program supports individuals to become certified coaches, who want to do good in the world.
You can learn more about e-CLC here: https://leadershipcoaching.cepl.gwu.edu/
Contact:
Ina Gjikondi, Director, Executive Education & Coaching Founder & Director e-Co Leadership Coaching Certification, Center for Excellence in Public Leadership: gjikondi@gwu.edu, 202-994-5313
Host: The GW Center for Excellence in Public Leadership
The Center for Excellence in Public Leadership (CEPL) at The George Washington University offers cutting-edge leadership and management programs for managers in the public sector. Through interactive training sessions that combine academic research with real-world case studies and practical simulations, participants sharpen the tools they need to be effective leaders.

Partner Host: Mindful Leader
Our mission is to foster the advancement of mindfulness and compassion in the workplace.
Through collaboration and alliances with non-profits, universities, corporations, experts in neuroscience, organizational behavior, leadership development, mindfulness, and compassion, we curate and convene events, learning communities and educational resources to inspire, develop and connect Mindful Leaders. Yeah, that's a mouthful.
Mindful Leader is a social impact for profit organization, headquartered in the Washington DC Metro Area, USA.
https://www.mindfulleader.org/