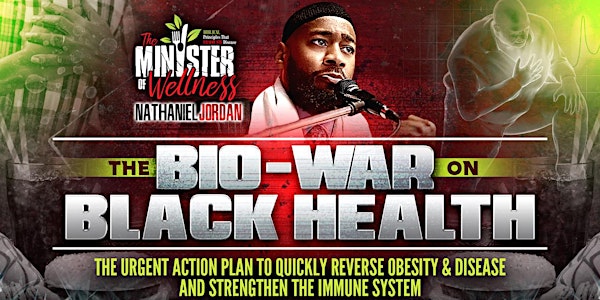 THE BIO-WAR AGAINST BLACK HEALTH | URGENT ACTION PLAN FOR IMMUNE STRENGTH
The Minister Of Wellness will deliver an urgent message to The Black Community on quickly strengthening the Immune System for Bio-Warfare.
When and where
Location
ELife Restaurant (Everlasting Life Vegan Restaurant) 9185 Central Avenue Capitol Heights, MD 20743
About this event
WARNING TO THE BLACK COMMUNITY! BIOLOGICAL WARFARE IS UPON US!
"Biological warfare, also known as germ warfare, is the use of biological toxins or infectious agents such as bacteria, viruses, insects, and fungi with the intent to kill, harm or incapacitate humans, animals or plants as an act of war. Biological weapons are living organisms or replicating entities."
Will your IMMUNE SYSTEM be READY if SMALLPOX is RELEASED upon the masses? If you are not 100% sure you will survive a far deadlier pandemic than COVID, this message is for YOU!
The Minister Of Wellness, Nathaniel Jordan, will give you the knowledge and action plan to quickly reverse every single leading cause of death for Black People, so you can achieve the invaluable status of having SUPER IMMUNITY.
By the end of this Health Sermon, you will be FREE from the spirit of FEAR once and for all!
There is NO SUCH THING as BLACK POWER without HEALTH! It's been past HIGH TIME for a HEALTH REVOLUTION!