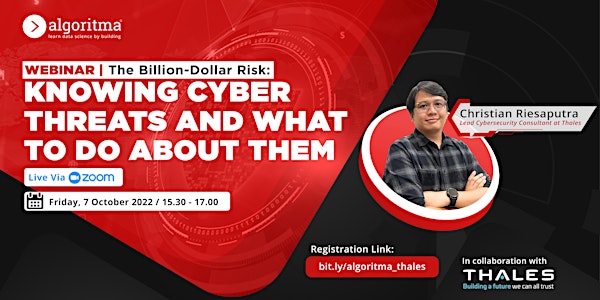 The Billion-Dollar Risk: Knowing Cyber Threats And What To Do About Them
Our speaker will share his knowledge about cyber threats and how you can prevent your business from data breaches. Register today!
About this event
BACKGROUND
Digital technologies lie at the heart of nearly every industry today. Automation and technological advancement has revolutionized the world's economic and cultural institutions — but they've also brought risk in the form of cyberattacks. Threat intelligence is the knowledge that allows you to prevent or mitigate those attacks. Rooted in data, threat intelligence provides context — like who is attacking you, their motivation and capabilities, and what indicators of compromise in your systems to look for — that helps you make informed decisions about your security.
In this session, we will cover the continuously changing forms of cyber threats and how you can prevent, respond and choose cost-effective solutions to safeguard your business from data breaches.
SPEAKER
Christian Riesaputra, Lead Cybersecurity Consultant at Thales
Christian has more than 10 years of experience in IT & information security field. His professional experience includes security audit, information security assessment, penetration test, design of IT security awareness program, design of cybersecurity roadmap, ISO 27001, PCI DSS assessment, and some other areas.
As information security consultant, Christian took part in the delivery and support of security professional services to enterprise in various industries in the Asia Pacific region, such as Banking, Financial, Mining, Oil & Gas, as well as some Government sector.
ABOUT THALES
Thales is a global technology leader with more than 81,000 employees on five continents. The Group is investing in digital and "deep tech" innovations – Big Data, artificial intelligence, connectivity, cybersecurity and quantum technology – to build a future we can all trust. Trust is essential for societies to flourish, with humans playing a central role in every critical decision.
Thales's high-tech solutions, services and products help companies, organisations and governments to achieve their goals and ambitions. And in each of their five vertical markets — digital identity and security, defence and security, aerospace, space, and transport — their customers play a vital role in society.
RUNDOWN
15:30 - 15:35: Opening by Moderator
15: 35 - 15:40: Speaker Introduction by Moderator
15:40 - 16:15: Presentation by Speaker
16.15 - 16.20: Presentation by Algoritma
16:20 - 16:25: Photo session
16:25 - 16:55: Talk Show and Q&A session
16:55 - 17:00: Closing