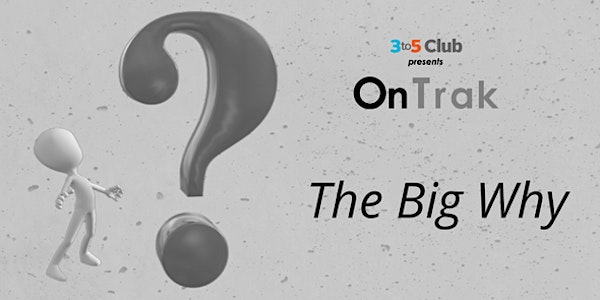 The Big Why - January 2019
Date and time
Thursday, January 10, 2019 · 12:30 - 4pm MST
Location
3to5 Club Business Transformation Center 5670 Greenwood Plaza Boulevard Ste LL100W Greenwood Village, CO 80111
Description
"Why" is the one question that will give you direction more than any other question. And yet we rarely ask it. Why? Good question.
Lifetime Goals bring clarity by answering Why at the highest level in our business: It's the Big Why. It's the same clarity we get before we go on vacation, only at a much higher level.
He who aims at nothing hits it everytime
So if you decide to actually find out The Big Why and answer the real question as to why you're in business, kudos to you. You will join the ranks of the few who have not only planned a vacation, but the rest of their lives, too. And you will be one of the few who have learned how to use their business to get them to their Lifetime Goals.
There are three very important things we need to clarify before starting to build our Lifetime Goals.
Making money is not an empowering vision.

A goal realized is no longer motivating.

We are made to do something significant.
Chuck Blakeman is a successful entrepreneur, best-selling author, and world-renowned business advisor. He built ten businesses in seven industries on four continents and now uses his experience to advise others. Chuck founded Crankset Group and 3to5 Club, which provide outcome-based mentoring and peer advisory for business leaders worldwide.


Are you ready to transform your business and your life? Join us to get started!
About the organizer
We help business owners make more money in less time, get off the treadmill, and get back to the passion that brought them into business in the first place.