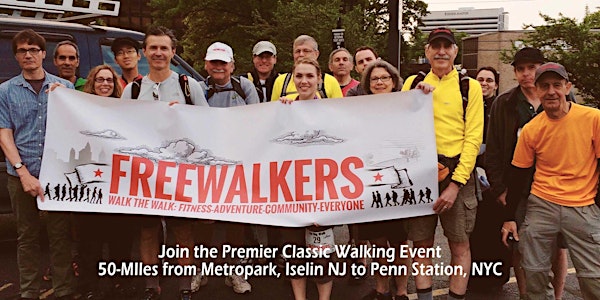 The Big Walk 2023-- Cross-Jersey Challenge
The original FreeWalk. Our premier challenge event.
Date and time
Saturday, May 20 · 6am - 11pm EDT
Location
Metro Park Rail Station Thornhall St Iselin, NJ 08830
Refund Policy
Contact the organizer to request a refund.
Eventbrite's fee is nonrefundable.
About this event
Start: Metropark Station, Iselin, NJ
Finish: NY Penn Station
Distance: 28-50 miles
Where to find us: Parking lot south of the station
Optional endpoints: Newark Penn Station: 28mi, Jersey City PATH: 41mi
Mini: Metropark to Rahway Station (4mi)
Terrain: paved
Transit: NJ Transit to Metropark
Return: NJ Transit: Penn to Metropark
Parking: Parking at Metropark
Difficulty: Expert
Category: urban, scenic
Return: NJTransit train
Coordinator: David Ascher 973-715-1517
Highlights: Merrill Park, Nomahegan Park, Rahway River Parkway, Weequahic Park, Ironbound, Lincoln Park, Liberty State Park, Statue of Liberty, Manhattan skyline views, Hudson River Greenway.
As always, this walk primarily follows the East Coast Greenway. We walk from Metropark station in Iselin, NJ to Penn Station, NYC. This is a somewhat fast-paced walk generally 3.5-4.0 MPH.
This is our most diverse walk, from tranquil parks and rivers to friendly communities to industrial parks and cities - this one has it all. The walk is conveniently located near rail lines which makes using mass transit a plus. If you prefer, create your own challenge by jumping on or off the walk at various schedule points. It is self-guided so please be prepared in case you get separated from the group to manage yourself or get back to where you need to be.
Here are the 3 major segments of the walk. We suggest if you want to walk only part of the 50 mile total, join us that day roughly according to the scheduled time we expect to be there:
Segment 1 - Metropark to Cranford - 6:00 a.m. to 9:30-10:00 ETA (12 miles)
Segment 2 - Cranford to Newark - 9:30 a.m. to 5:00 p.m. (16 miles)
Lunch is usually a stop at Boston Market in Union about 11-12 noon - straddle in.
Segment 3 - Newark to NYC Penn Station - 5:00 - 11:00 (13 / 20 miles)
These are only estimates. Speed of walkers, weather and other conditions may affect arrivals and departures at various points.
This year again, The Big Walk is an important segment event for our Cross-Jersey Walking Challenge encompassing most of the miles of the 100 total goal for the year. Join the challenge and walk the entire state at your own pace for your own glory.
Partners:
The East Coast Greenway Alliance is a non-profit organization developing a public multi-use 3,000 mile trail from Canada to Key West through New Jersey and New York. Donations and memberships help make this dream trail a reality.
The 9/11 National Memorial Trail is a network of over 1,300 miles of trails connecting New York City, the Pentagon and Shanksville, Pennsylvania, in tribute to the heroes who perished on September 11, 2001, and the heroes who, in response, answered the call for their country.
About the organizer
FreeWalkers is a non-profit 501(c)3 social organization and network for individuals interested in participating in distance walking events. Our group is free and open to everyone. We encourage each member to accomplish challenging goals as we work together, experience, and promote pro-pedestrian issues. Paricipants accept responsibity for themselves on the walk.